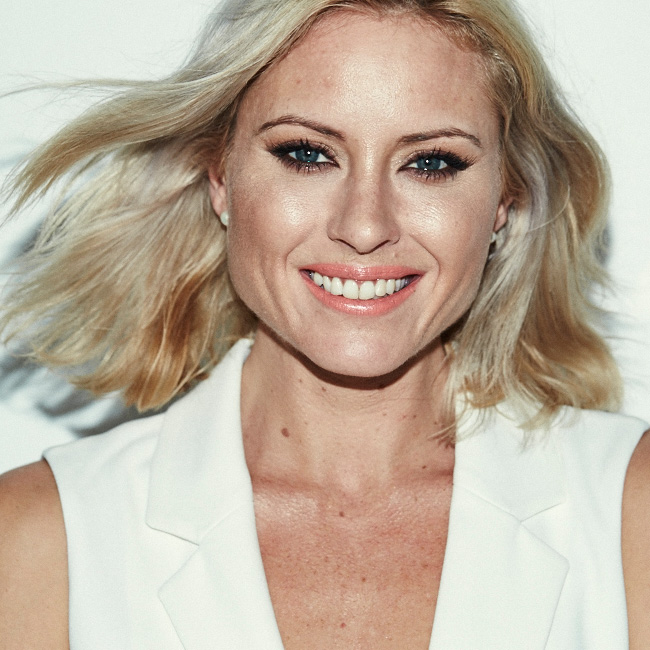 When you hit your forties, the key to keeping your hair looking fresh and modern lies in a combination of the right cut, the right colour, and the right attitude. Strategic hair styling and parting can help to mask limp locks, so get a haircut that flatters your face shape. If you're in a rut, let a new hair stylist guide the way; blunt fringes and long layers will revive your style by restoring movement and body to your hair. "It's important to go for styles that are easy to maintain," says hair stylist Jasmin Giamattei, "simple styles with added layers to provide texture and movement are vital."
To keep your newly-cut style fresh, invest in a do-it-all styling product that can be applied in seconds, and with immediate result. Sebastian's Potion 9 is a favourite for its ability to perform on all manner of hair types, lengths, and styles. Part styling cream and part leave-in conditioning treatment, the weightless lotion is a fuss-free, inconspicuous daily inclusion which, when blow-dried into damp hair, quells frizz, and leaves locks smooth, soft, and bouncy. "It's a bestseller for a reason" says Giamettei, who recommends Potion 9 to clients looking to restore lost moisture. The smoothening serum results in texture with finesse, giving hair a natural movement that looks far more youthful than stiff, straight styles.
As you age, you may notice your hair starts to become thinner and finer; hair follicles shrink due to hormonal shifts and hereditary factors, so strands are thinner and more fragile. Whilst volumising shampoos contain proteins that coat hair and make it look fuller, in your forties it's wise to adopt a long-term approach to maintaining healthy hair. Try adding a supplement to your routine to boost volume and stimulate growth. Designed to be taken three times daily, Michael Van Clarke's 3 More Inches Capsules are packed with multivitamins and minerals (including folic acid, copper, zinc, and vitamin A) proven to restructure and strengthen hair, promote pigmentation (for vibrant colour), and boost cellular growth.
The key to youthful looking hair is radiance. As we age, dull locks are inevitable, but the good news is that there is a quick fix. This Works' Sleep Plus Hair Elixir is an overnight shine treatment designed to give hair a healthy sheen – vital for a more youthful appearance.
Enriched with jojoba, argan, and baobab oils, the intensely conditioning treatment nourishes and strengthens hair at a cellular level to boost vibrancy and glossiness whilst you sleep.
Michael Van Clarke 3 More Inches Supplements >
When you reach your forties, it's tempting to want to mask those initial grey hairs with a quick-fix dye. However, intense colour processes make hair more porous and susceptible to damage, so go easy on the colouring; keep dye jobs as minimal as possible and stick to shades that don't require bleach, or partial highlights instead of one all-over shade.
If you do decide to dye, religiously apply a colour enhancing shampoo 1-2 times a week to help prevent colour from fading. We love Sachajuan's Colour Save Shampoo, which contains a blend of proteins and minerals specifically formulated to boost colour vibrancy and prevent colour-treated hair from fading.
Sachajuan Colour Save Shampoo >