When you reach your fifties, hormonal changes cause more problems than usual in skin. Due to lower levels of oestrogen, skin is more likely to react to complex and potent ingredients, so anticipate redness and sensitivity issues if you bombard your skin with too many new products. You'll notice that lines will deepen and skin will show the signs of having suffered at the hands of lifestyle factors, so scultping, toning and moisturising your limbs become priorities. Ensure that your products multi-task in order to act on the five signs of ageing: dryness, skin slackening, lack of tone, fine lines, and skin irregularity.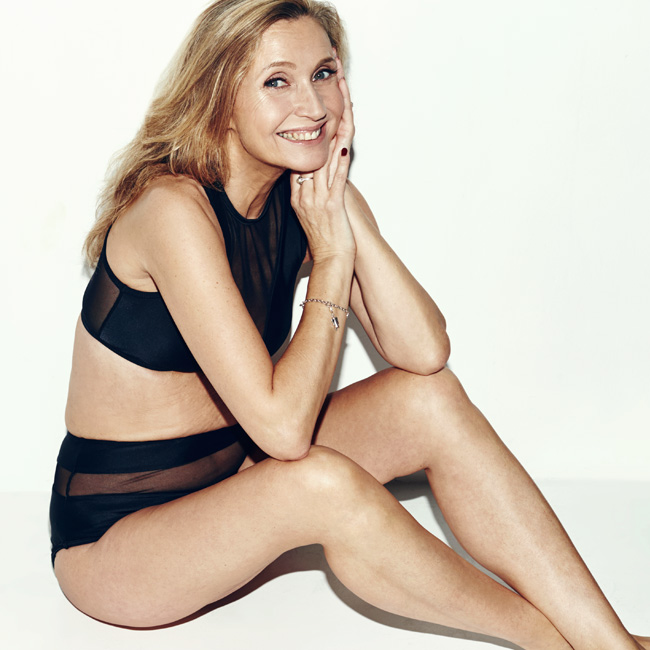 Regular exfoliation will not only help to brighten your skin (by eliminating impurities and removing the dead skin cells that cause dullness), but will also improve the absorption and efficacy of consequently applied products. Rather than opt for a gel-based scrub, invest in a cream formula which will combat dehydration and prevent oils from being stripped from the skin (as well as buffing away roughness and boosting circulation). Grainy but not scratchy, Payot's Gommage Amande Body Scrub contains finely-milled almond and pistachio grains which buff the surface of the skin to polish away dead skin cells, leaving limbs bright, and silky soft to touch.
Payot's Gommage Amande Body Scrub >
We're prone to forgetting that the skin on our body gives away our age just as much as our faces do. And whilst the focus is on facial skincare, our bodies tend to be neglected. Areas such as hands, feet, arms, neck and chest – as more exposed to the elements – show the tell-tale signs of having aged a lot quicker if they're not cared for as well as the rest of the skin. Prevention is always better than cure, but if you've already observed the first few signs of ageing in your hands, using a hand cream day and night will help to fade age spots and keep skin supple. The bio-active ingredients in Pai's Fragonia & Seathorn Instant Hand Therapy Cream are designed to boost cell renewal and regenerate dry skin, and will leave hands luxuriously soft.
Sagging skin and cellulite are hard to eliminate without resorting to the extreme of cosmetic surgery. Whilst not quite so effective (nor as expensive), there are tried and tested remedies you can employ in the pursuit of firmer and higher skin. Peptide-rich serums will stimulate collagen production and temporarily tighten the skin, and will decrease the appearance of cellulite when massaged into the skin on a consistent basis. The active ingredients within Anne Semonin's Firming Body Serum help to soften curves and drain water retention with regular use, targeting the appearance of slackening skin and providing an immediate lift.
Anne Semonin's Firming Body Serum >