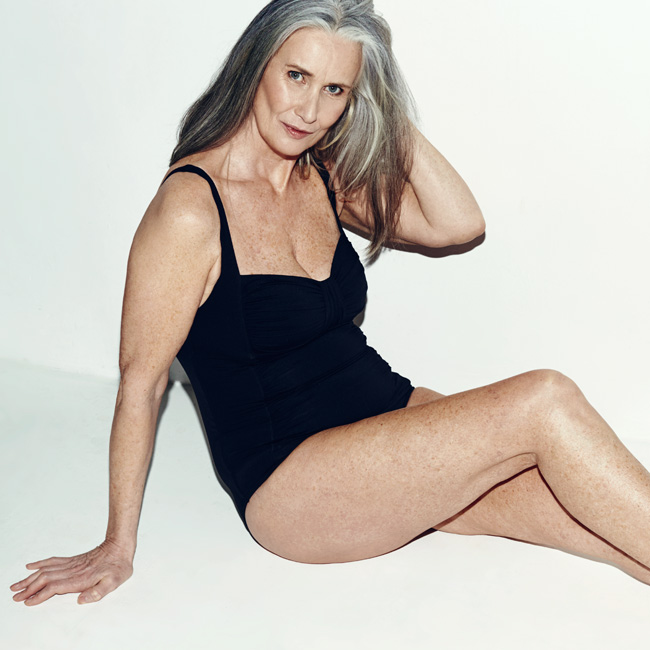 During your sixties and beyond, the focus should be about looking the best you can at your age and feeling vibrant and healthy – not necessarily looking younger. So whilst your top skincare concerns will include sagging, coarse skin texture, increased discolouration, deep lines and an increasingly obvious lack of moisture, it's impossible to reverse skin's ageing process (without resorting to surgical meanss). Instead, look to products that will support self care and well being, whilst suiting your lifestyle.
At this age, plenty of moisture is key to maintaining healthy skin. Ensuring that every product in your routine (and not just your moisturisers) are focussed upon hydration will ensure that skin looks and feels its best around the clock. Even shower gels rich in basic hydrators like glycerin and ceramides will help to plump furrows and grooves, and keep skin smooth and soft. The rose, chamomile, and jojoba oils in Jurlique's Rose Shower Gel soothe and soften dry skin, whilst coconut gently cleanses. To reduce moisture loss, avoid over-washing or taking excessively hot baths and showers in order to retain moisture levels and protect skin's increasingly delicate barrier function.
When it comes to moisturising, get the benefits of scientific advancements on your side and invest in a high-quality, age-appropriate cream that will keep your skin hydrated for longer. Based on the work of Nobel Prize winning scientists, Argentum's La Lotion Infinie has a patented formula that makes a noticeable difference in the overall appearance of skin. The star ingredient, a high power marine extract called DNA HP, promotes and increases skin hydration by carrying 10,000 times its weight in water, whilst Silver Hydrosol encourages cell regeneration and restores the protective outer layer of skin which defends against external aggressors. Moisturising twice daily will help to keep hydration levels at optimum proficiency, and is the most efficient treatment for coarse sagging skin, lines, and discolouration.
As we age, many of us make the mistake of ignoring skin below the chin. Whilst keeping limbs hydrated is vital to maintaining good overall skin health, targeted treatment can be used to speedily solve problem areas – eradicating cellulite, smoothing lumps and bumps, reducing water retention, and minimising stretch marks. Our necks and chests are often neglected, but are amongst the areas of our bodies most effected by sun's ageing rays. Targeted treatments such as Radical Skincare's Firming Neck & Decollete Gel are the perfect antidote to a loss of elasticity and discolouration in this area. The souped-up formula cushions skin, replenishing it with powerful ingredients that repair damaged tissue, prevent the formation of wrinkles, and firm and tone loose, fragile areas.
Radical Skincare's Firming Neck & Decollete Gel >