It's super easy just to pick up the first/cheapest brush you see on the shelf, but the thing is, each brush has a different purpose, and there's certainly no 'one size fits all' brush for one person. Just as you wouldn't use an eyeshadow brush to apply foundation, hairbrushes come in multiple shapes and sizes and have different purposes, so you're going to need a few.
With so many options out there, we asked session stylist Tom Gilling to help us suss out which brushes are best for different effects and hair types.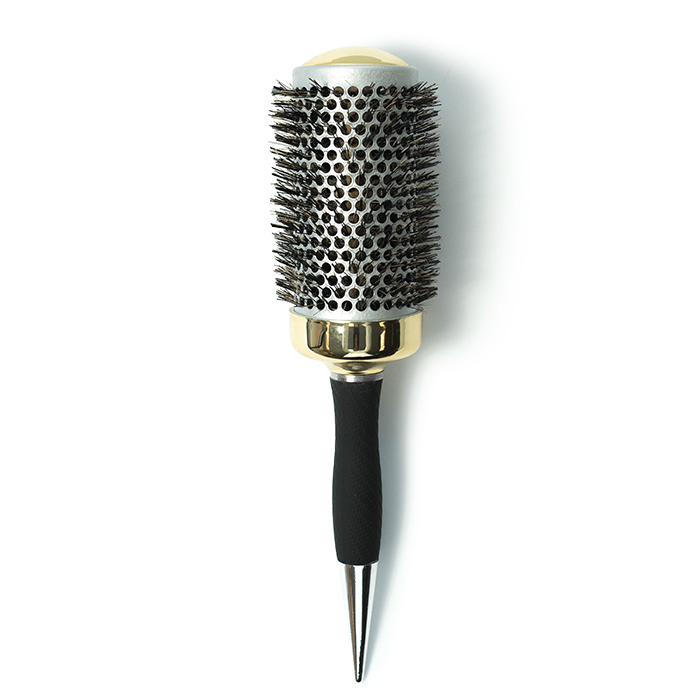 Round Brush
Best for: Styling hair with heat
Result: Root lift and shape in the lengths
"When it comes to round brushes, the longer the hair the larger the radial" says Tom, who recommends using a smaller barrelled brush on fringes to keep them the right length but also to add volume. Specially designed to be used with a hairdryer, the best round brushes have vent holes that allow for easy circulation of air when blow-drying – this in turn takes the weight from thick hair and leaves it sleek and smooth.
Pro pick: Head Jog Gold Thermal Ceramic Brush – The ceramic barrel heats up immediately, absorbing the heat of your hairdryer and utilising it (like an iron does) to smooth the lengths and speed up the hair-drying process for faster results.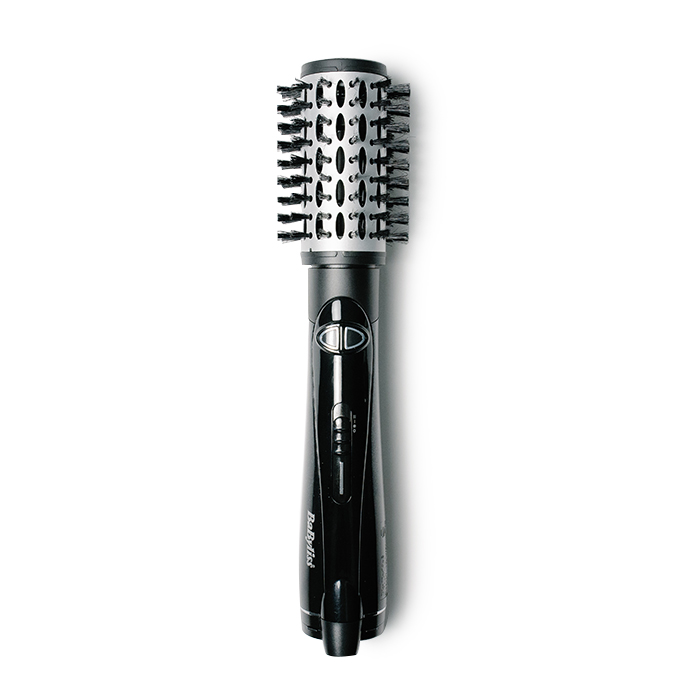 Hot Brush
Best for: A blowdry finish
Result: Smooth, voluminous, bouncy waves
If you struggle to recreate the post-salon finish of blow-dried hair with a round brush and a hairdryer, hot brushes combine the merits of both (but with less arm-work), cutting styling and drying time in two and mimicking the results of your fancy blowout – without the hefty price-tag.
Pro pick: Babyliss Diamond Radiance Big Hair Dual – This loads hair with volume right from the root – all thanks to a rotating brush that recreates the 'twist' that hairdressers make look effortless (but that always end up in disaster when you try it at home).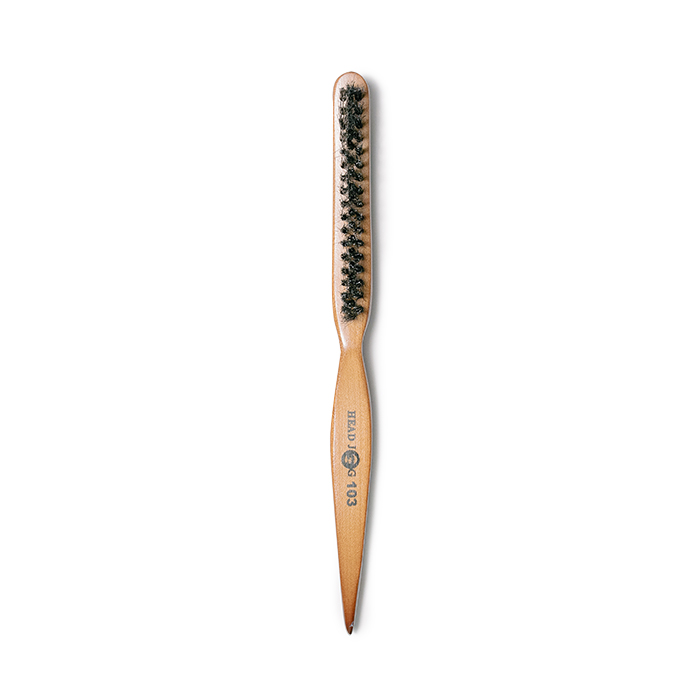 Teasing Brush
Best for: Fine, limp hair
Result: Texture and volume
The small, dense bristles of a teasing brush help to lock strands together, building a base of volume that effortlessly results in major volume – ideal for backcombing at the root to create a beehive or to boost the crown of a ponytail. And the best part? They're small enough to toss in your handbag for flat hair emergencies.
Pro pick: Head Jog 103 Teasing Brush – The staggered levels of bristles allow you to get the best volume by reaching every strand. What's more, the handle also doubles up as a sectioning pick, and the brush is light enough to smooth over hair to tame flyaways and reduce static without flattening volume.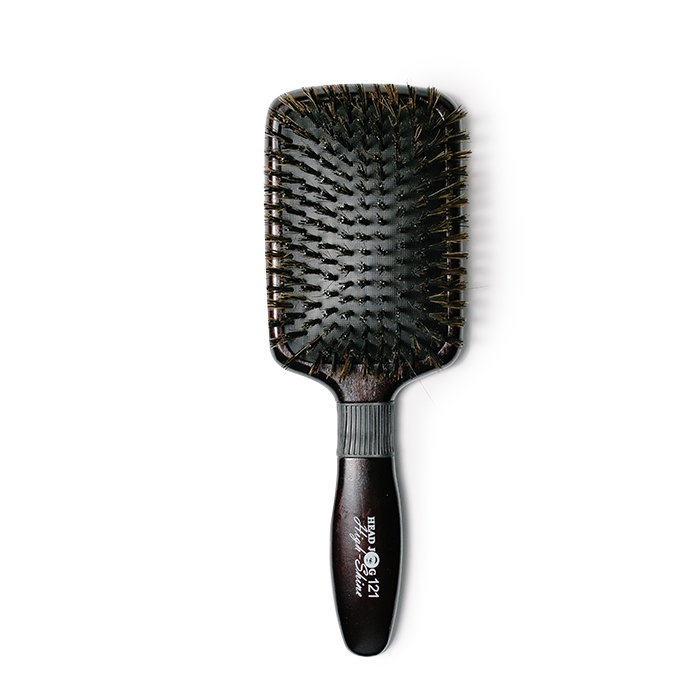 Paddle Brush
Best for: All hair types
Result: A smooth, sleek finish
The size and shape of these brushes mean they can cover a large surface area quickly. The widely spaced bristles are perfect for curly or just-curled hair as they tame frizz without breaking up the shape – perfect for taking pageant style ringlets to effortless waves in one go. They're also great for hair that straightens easily. Tom recommends using paddle brushes to finish off a blowdry by smoothing the ends without losing the volume on top.
Pro pick: Head Jog High Shine Paddle Brush – Tom recommends this brush as it has angled bristles which reduce snagging, and an air-filled cushion that bends to minimise pulling.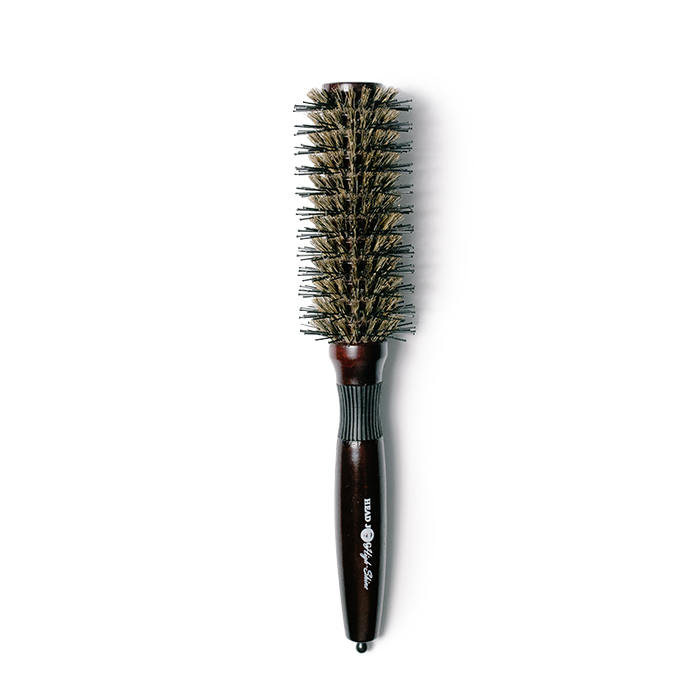 Mixed Bristle Brush
Best for: Medium to thick hair
Result: Soft, sleek, healthy hair
While an all-natural bristle brush is kindest to the hair, a combination of natural and synthetic brushes gives the most even brushing. The natural bristles help to work through knots, distribute natural oils through hair, and remove dry flakes and debris, leaving a smooth, groomed finish. Meanwhile, the nylon bristles provide grip and control that makes the brush easier to style with and results in a sleek, brushed-out texture.
Pro pick: Head Jog Shine Radial Brush – According to Tom, a little known perk of this design (aside from the fact that it's lightweight and comfortable to use) is the flamed tips of the bristles, which stimulate the scalp to improve circulation and encourage hair growth.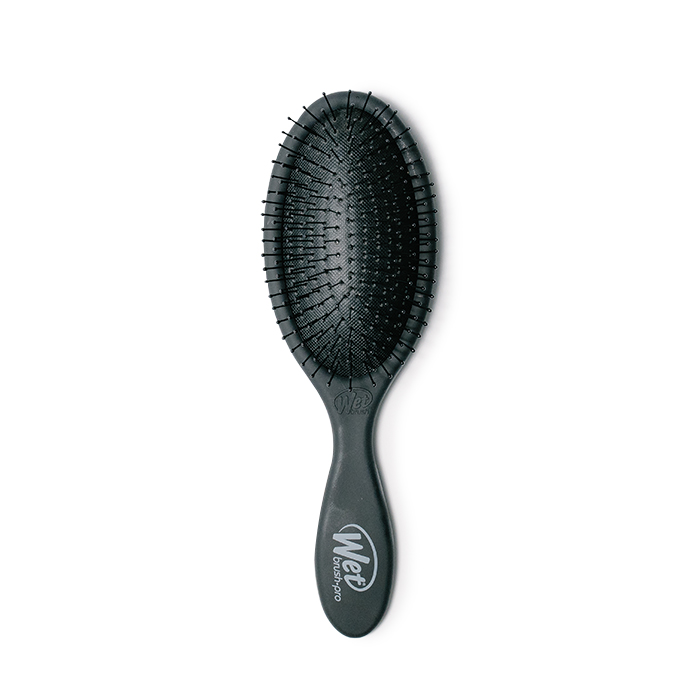 Detangling Brush
Best for: Wet detangling
Result: Tangle- and knot-free hair
Brushing hair when wet might be considered a beauty cardinal sin, but these brushes are specifically designed for use in wet hair – you can even use them in the shower to distribute conditioner. Whilst it's not ideal for styling or grooming hair, this style of brush is really effective at detangling without causing pain or damaging hair (wet hair is more vulnerable to breakage), it loosens knots really easily.
Pro pick: The Wet Brush – This is the kind of brush I really wish I'd had throughout my childhood – it would have saved me a lot of tears. The robust design has extra-firm bristles that free even the thickest hair of the worst knots without tugging.