As a beauty editor, mascara is the item I'm quizzed about most often. And no wonder! That unassuming little tube is something of a beauty marvel – a single coat of rich, glossy formula and your eyes are brighter, wider. Your face, awakened, more defined. Your makeup-look, intensified.
But which one works? Which of those magic wands will curl, lengthen, volumise and define all whilst imparting an inky hue that will last throughout the day and well into the night without crumbling and flaking? Well, the truth is, when it comes to mascara, there's no one-size-fits-all super product, sadly. Your best mascara depends entirely on you; how long, thick and dark your natural lashes are, the type of lash-look you're hoping to achieve and how long-wearing you need it to be!
So although I can't offer you a definitive answer, what I can offer are a whole host of insider tips to help you choose your best mascara yet, and application tricks to give you next-level lashes.

There's no doubt mascara-shopping is a minefield. But be aware, what you're hunting for is not the perfect mascara, but rather the perfect mascara brush! Because,  despite an influx of modern mascaras boasting 'fibre-lash' (tiny fibres that build out your natural lashes) , 'tubing' (a smudge-proof. water-resistant formula that wraps around each eyelash), and 'lash-growth' (enriched with nourishing, strengthening ingredients) formulas, eyelash enhancers have remained pretty much unchanged over the past 50 years – based around a tried-and-tested blend of waxes, pigments, polymers and preservatives.
So, take your pick between waterproof or none and then focus your attention on the wand, because that's where the real beauty breakthroughs happen. . .

Innovation is rife within the mascara world and the choice of mascara is becoming increasingly overwhelming.
Knowing the difference between traditional nylon-fibre brushes, rubber-molded tips, curvy spiral combs or skinny and sparse mini-wands is the key to unlocking your best ever lashes. Read on to decipher which wands work best to lengthen, volumise, plump, curl and add drama.
1. Oversize
Big, fat, extra-long mascara wands are great for adding volume – getting down into the base of the lash line to build from root to tip. But those with smaller eyes and thin, sparse lashes should be cautious as an oversize brush can quickly add too much product, leaving lashes overloaded and weighed-down.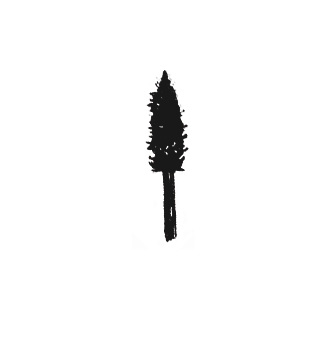 2. Skinny
Thin, skinny brushes are perfect for those with shorter lashes, adding length and separating individual eyelashes for definition. The slim design grabs each and every hair, from the inner-eye to the lower-lashes. A smaller brush head allows for an even build-up of colour that can be built up with multiple sweeps.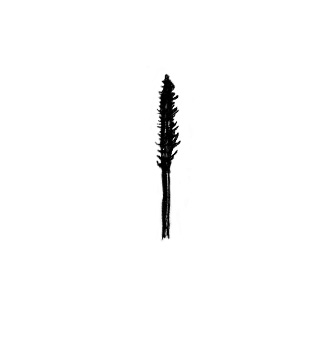 3. Curvy
Wands with a curve are designed to open up lashes. Where the curve sits on the wand determines which lashes are lifted, so, curvature at the base or tip will fan the outer lashes into a winged shape. Whilst a curve at the centre will grab the lashes at the middle of your eye for a brighter, wide-awake look.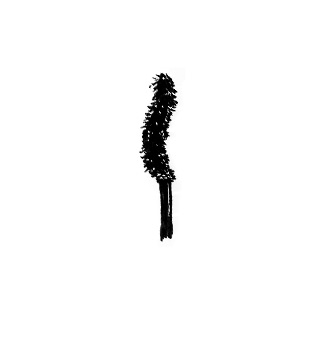 4. Tapered
Cone-shaped or tapered brushes are engineered to give you the plumping of a fat wand combined with the definition created by a slimmer comb. The fine end will allow application super-close to the lash line, separating and lengthening as it goes, whilst the larger side will give fullness through the lash lengths.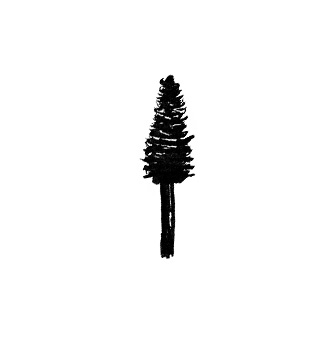 5. Bristles
Plastic or fiber bristles? Believe it or not, the bristles are just as important as the wand shape. Molded bristles get close to short lashes and tend to clump less (reservoirs in the plastic pull away excess formula), whilst classic fiber bristles naturally give a more fluttery effect, working through each lash, pulling it upwards and outwards.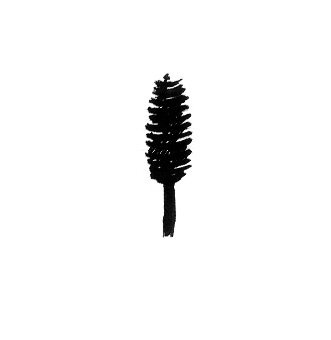 6. 360 Balls
These are those quirky wands you see with the bulbous ball at the tip. Designed to reach intricate areas such as the outer and lower lashes, grabbing each hair no matter how tiny, whilst the main body of the wand can be worked up from under the upper lash to add volume.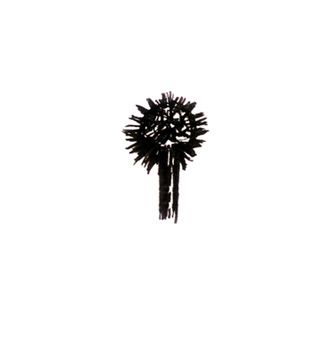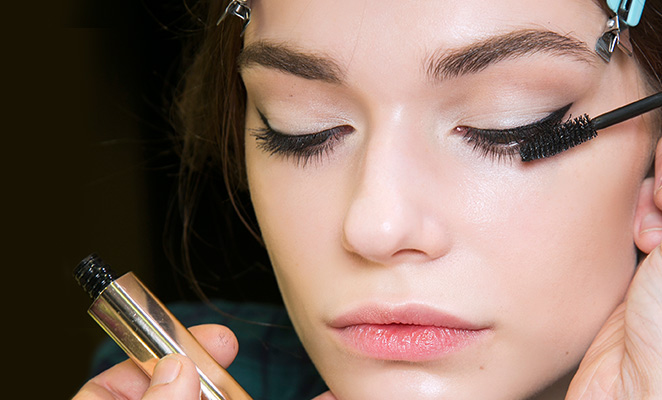 As with most beauty looks, preparation is key. So, before hitting the mascara bottle, start with an (underused and underrated) eyelash curler. If you don't own a pair, now is the time to invest as these nifty beauty tools are a game-changer; opening up the eyes by creating a natural-looking curl and giving the impression of longer lashes to boot. Direct a little heat (using the nozzle of a hairdryer) onto the silicon pad of the eyelash curler and gently squeeze over clean lashes. Start at the root and work your way up to the tip, lifting and curling as you go. The following sweep of mascara will then seal the curl in place all day.
If you typically whip out your mascara, pumping the wand in and out of the tube before going straight in for the lashes, not only are you missing a vital step, you're actually depleting the shelf life of your mascara. Instead of pumping the wand (which pushes air into the tube, aiding bacteria formation and fast drying-out the formula), remove any excess mascara first, using a tissue. This ensures you don't overload your lashes, and can sweep the brush through, lightly coating and colouring without clumps.
How you apply your mascara can transform your lash-game. If you're a time-poor, brush-it-through kind of girl, add a little wiggle to your application. By gently moving the wand from side to side as you sweep it from the base to the tips of the lashes, you'll not only encourage any natural curl, but your lashes will also appear thicker due to the extra product at the base.
"To avoid 'panda eyes' when applying mascara, look down into a mirror to apply to the top lashes (this creates a larger space between the lash and lid), and tilt your head back, looking upwards to apply to the bottom lash."
For those of us with longer lashes, hooded lids or a tendency to apply on public transport, it's all too easy to catch lids with the wand, sabotaging your perfect eye makeup. Don't panic and remove the whole thing – simply dampen a cotton bud with makeup remover and carefully dab away the splodge. Then if needed, you can simply blend eye shadow back to its former glory.
If you're left wanting more from your mascara, why not try cocktailing a few different ones to achieve the perfect flutter. . .