Anyone who works in beauty will tell you that it's a fun, inspiring place, full of creative ideas (and the occasional free sample!), but exactly how do you break into the beauty industry? In a new series, we'll be chatting with Beauty Bay staff members to find out what their jobs involve and the paths they took to get where they are now.
From makeup artists and beauty editors to social media assistants, buyers, and web developers – these stories are proof that you can enter the beauty industry via any career path.
Meet Aaron, Designer.
What did you want to be when you were younger?
When I was really young I'm pretty sure I wanted to be a wrestler – I had the championship belts and everything. Once that dream died off and I grew up a bit, I always fancied myself to be a maths teacher, but then I realised I didn't like kids so much, so I ditched that idea. Then I wanted to be an architect, but when I found out the course at uni was about nine years long I ditched that idea and just looked at a career in something I enjoyed doing at the time, which happened to be graphic design.
What attracted you to the beauty industry?
Money haha. It was the first apprenticeship that I came across and I dived at the opportunity to earn money – I didn't imagine myself working in the beauty industry and enjoying it for long, but here I still am four years later.
What did you study and how did this guide you into your current role/how do you use the skills from your degree in your job?
I studied Art, Graphic Design, Maths and Business Studies through college. I've always had a creative eye and have always loved anything to do with art despite being colour-blind, so it was a no brainer to continue to study it and then progress into a career. I did really enjoy Maths and Business and would've really liked a career down that route, but I'm more than happy with my choice to be a graphic designer and still find opportunities in my day-to-day work to incorporate these subjects into what I do. I think it helps me bring ideas to the table that others in my team may not have thought of before.
What path did your career take after graduation?
Well I actually missed the application date for university, and I didn't fancy taking a year out and trying again after that, so I kind of forced myself into finding an apprenticeship. I got taken on by an apprenticeship agency, who then found an opportunity here at BEAUTY BAY for an Apprentice Designer. So I did a year long apprenticeship here, getting hands on experience at the role as well as studying on the side, then in the end I was offered a full time role and have been here ever since progressing through the tiers.
What skills and experience do you need to become a designer?
Definitely a background in creative subjects – preferably Art and/or Graphic Design. I was lucky enough to work my way up to Mid-Weight Designer from an apprentice level, so I have gained the necessary experience in-house, but they say for a Mid-Weight you probably need 3-5 years experience as a Graphic Designer. You've got to have a keen eye for detail, a solid work ethic, and probably most importantly (in my opinion) a crazy creative mind.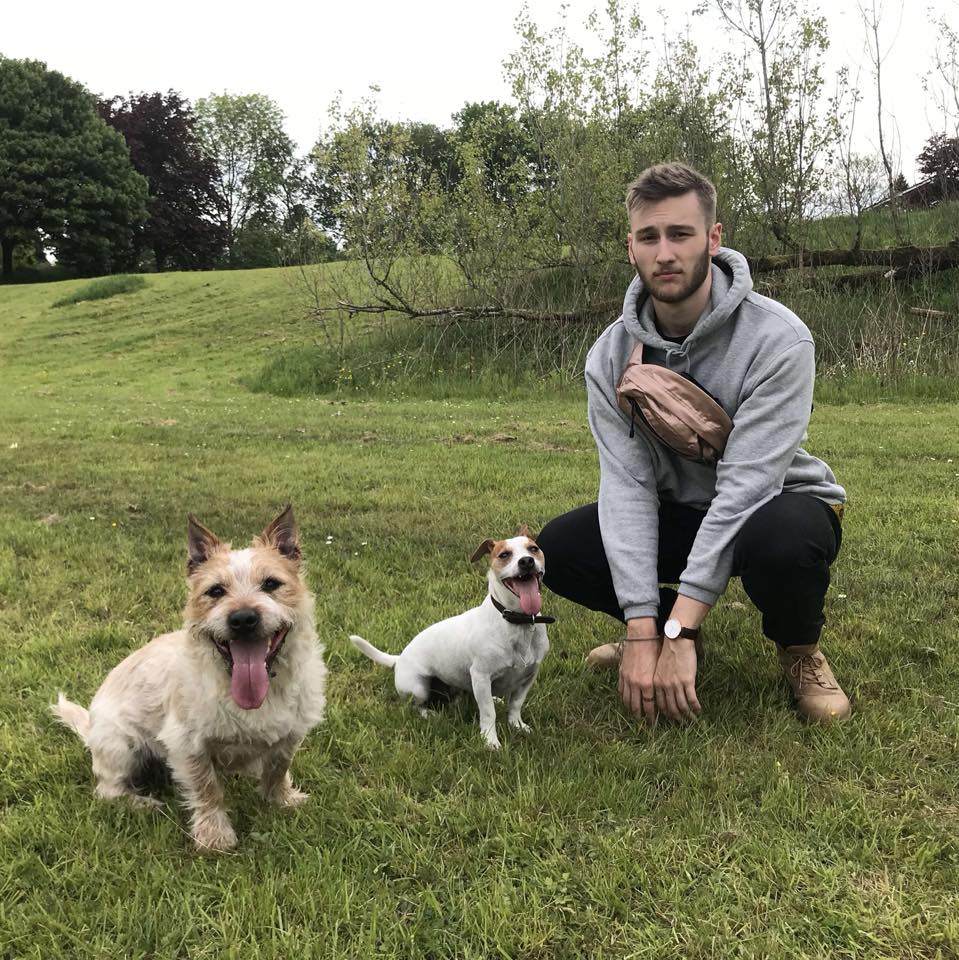 What does your day-to-day job entail?
There's quite a few of us in the design team here so a lot of tasks get delegated between us all, which means my day-to-day job can vary depending on what we're being briefed in to do. I'd say in a nutshell, we (the design team) are the people who style what you see on our website and our app, as well as on all of our social accounts and even the events that we run – we kind of have a bit of input on anything that you see with that's associated with BEAUTY BAY.
What are common misconceptions people have about your job?
I guess a lot of people I come across don't actually know what graphic design really is – my mum for example seems to think that I take the photos, even though we have a dedicated Photography team for that, so it blows her mind a little when I show her all the digital stuff I actually make regardless of how many times I've told her before.
What is the best part of your job?
The best part has to be seeing your designs "go live" as we call it – being a part of the creation process, starting with sketches to countless mocks and then finally getting to see the finished result either as a physical thing or somewhere online is always really rewarding. And payday is pretty good too.
What has been the most surreal moment of your career so far?
Being trusted with the Colour Theory landing page. With it being a such a big launch for us as a brand, it seemed really surreal that I would be trusted with such a big job despite being the least-experienced designer on the team; but it was a great experience working with other teams in the company and having the challenge of designing a full page from scratch. It all came good in the end and I'm really pleased with how it all looked on the launch day – plus everyone else in the business seemed happy with it too.
What advice would you give to someone wanting to start a career in your field?
An apprenticeship was a great way for me to get my foot in the door and learn hands on what it's like to be an actual graphic designer, as well as getting paid which is also a bonus. I would definitely recommend considering that route if you're not sure if uni is the right move for you – an apprenticeship is a great way to gain skills and experience which are invaluable later down the line. The apprenticeship agency I signed with was called Arch Apprenticeships, they were a great help in getting me where I am today (and if you put my name as the person who referred you to them, I get a cheeky little signing bonus which I'm more than happy to split with you all…).
What's your favourite thing about working at Beauty Bay?
Aside from the staff discount? Difficult, there's not a lot else really….no obviously I'm joking, there's loads of perks here, but the main for me has to be the people. Coming here was my first ever full-time job, but from day one people have always been so kind and treated me like an equal, and I have made so many friends over the years. Every day is always so much fun here.
What deskside essential is vital to you doing your job?
At the moment my notebook – I'm a chronic doodler so it stops me from graffitiing everywhere, but also helps me come up with new ideas. Also, a Rubik's Cube – I get distracted a bit too easily, so I seem to always be playing with it at the moment… I try to justify it to myself and say it's helping to train up my brain for any difficult tasks that might be coming up that I'm actually supposed to be working on.
What's your favourite Beauty Bay product and why?
If I say the Colour Theory products will I get a bonus when sales jump up after people read this? If not, then I'll say the Pro Teeth Whitening Co. stuff – I still don't fully understand how something laced with charcoal can make your teeth whiter, but somehow it does and I find it really fascinating!