I've emerged from the backend of the winter season with hair ravaged by the season's worst – between the cold outside air, my office's drying air-con system, a session of balayage, and an over-reliance on heat tools, my lengths were left dry, split, and fluffy (no amount of hair oil massaged daily into the ends seemed to do any more than quell frizz in the short-term).
Fortunately, one of the perks of my job is having beauty products land on my desk, ready and waiting to be tried and tested so I can write up reviews of them in articles like these! So, when Briogeo's Rosarco range arrived, I couldn't believe my luck – or line up the bottles in my shower fast enough…
The range consists of a shampoo, conditioner, and leave-in conditioner – all of which utilise a magical blend of rosehip oil, argan oil, and coconut oil in order to deter frizz, improve hydration, add shine, and prevent breakage. The three oils combined are ideal for resetting hair to maximum health levels after a season of damage. Perfect? Here's the breakdown…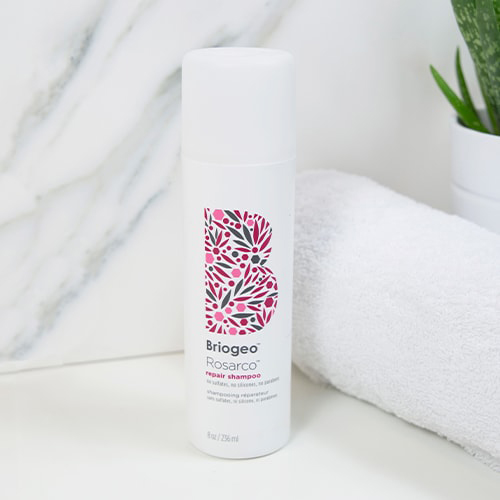 In order to efficiently clean hair and scalp, shampoos have to be harsh and stripping, right? Use this and think again. The formula cleverly removes dirt and build-up without stripping moisture – in fact, it adds a little back – clever, huh? Conditioning as it cleanses, in just one use it will leave hair feeling fresh, cleansed, and super soft.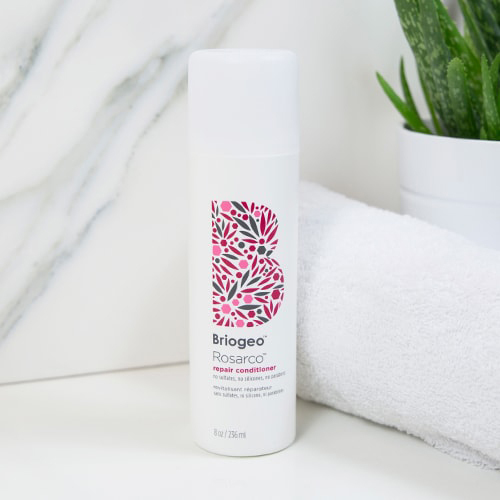 This uber-nourishing conditioner improves softness in the short-term and strength in the long-term, whilst also repairing existing breakage – and who doesn't love a 3-in-1? Comb it through your hair in the shower and leave it on while you shave your legs (or longer for a deeper treatment) so it has time to get the job done.
Rosarco Milk Reparative Leave-In Conditioning Spray
Drying and styling my hair is up there alongside vacuuming as one of my most-hated chores, but this spray has totally changed the game. Making styling completely effortless (all it takes is a quick spritz through the lengths), and with the added bonus of heat protection (so I can continue with my over-reliance on heat tools!) this leaves my hair unbelievably soft and silky.