We chatted with Bronzie co-founder, tanning expert, and celebrity tanner Eloise Maryam, to find out her top tips, tricks, and exactly how she invented the game-changing tanning mitt.
The Bronzie Mitt was a complete lifesaver for us at Beauty Bay (we can finally tan our backs without enlisting our boyfriends!) – how did the idea come to you and how long did it take to perfect the design?
First of all, thank you very much! It's funny how, for something so simple, the mitt has been such a revolution – the comments and feedback we get are amazing.
I've been in the tanning industry for years now, from being a teacher in colleges, to working in salons, doing expert tips for press, and tanning celebrities – so one of the questions I was always asked was 'How do you tan your back?'. I used to get a small hand-sized mitt and hold the top of one end with one hand and the bottom of the mitt with the other. One day I was tanning myself and I thought 'Why is this not longer?!' That was my lightbulb moment, I did my research and I couldn't find anything like it on the market so I made my own prototype. It was quite funny, it involved a large piece of elastic, four single mitts, and around 12 safety pins… But, it worked, I was able to tan my back and my body! The next step was to take it to my business partner Leanne Le-guen and from that point it took about 9 months of receiving factory samples and adding minute changes to the design to eventually launching it.
The Bronzie Mitt is made from velour which is totally different to regular tanning mitts. What's the difference/benefit?
With the velour there's a softer, more luxurious feel to the mitt, which is kinder to the skin – especially for dry/sensitive skin types. The tan glides on easier as well, because the velour doesn't absorb as much product, so you're also getting more tan on the skin. It's also more durable and washes much better. Plus, aside from the velour, the Bronzie Mitt has a layer of film inside the mitt to stop any tan from seeping through and staining your hands.
Speaking of washing, how often should we be cleaning our Bronzie Tanning Mitt, and what's the best way to do so?
You can go a few uses without washing, it if you keep it in a clean environment. I would say 1-3 uses, though if you're changing the tan brand/consistency I would advise washing it before your next application. We recommend either a hand wash or a gentle 30-degree machine wash cycle. Then lay it flat or hang it to dry.
There are so many self-tans to choose from. What formula do you find that the Bronzie Mitt works best with?
Our tanning mitt works with every self-tan – trust me, I've tried them all! My favourite to use with the mitt is a liquid or cream-based tan, but that's just personal preference as they are my favourite tanning consistencies.
You're a celebrity tanner by day, do you have any famous clients who are fans of the Bronzie Mitt?
All of my clients, celebrity or not, really love and support Bronzie greatly which is really touching. But if you happened to catch 'ITV's This Morning' last year you would have seen that Rylan is a massive fan, demonstrating our Bronzie Mitt.
What's the best way to prep your skin for self-tan application?
Exfoliate with a non-oily exfoliant, paying particular attention to dry areas – usually hands, elbows, knees, and feet. If you're showering right before a tanning application, have a cool rinse just before getting out as this helps to close the pores. For best application, ensure you apply the tan to a product-free body as well (no deodorant, make up, moisturiser etc).
What are your top tips for avoiding streaks and stains when self-tanning?
1. There's one exception to the 'no moisturiser rule' – always moisturize your hands, elbows, knees, and feet before tanning
2. Make sure that this moisturiser is water-based and oil-free, as oil acts as a barrier and will prevent the tan from absorbing.
3. Use the middle section of the Bronzie Mitt to tan your back, this will ensure you don't have any patches in places that you can't usually reach.
4. Choose a tan with a guide colour, this enables you to see exactly where you're applying the tan. Always check in the mirror to ensure you have covered everywhere.
5. When tanning around dry areas (hands, elbows, knees, and feet), blend over them when you have minimal tan on your mitt as these areas don't need as much tan – this will give a natural finish.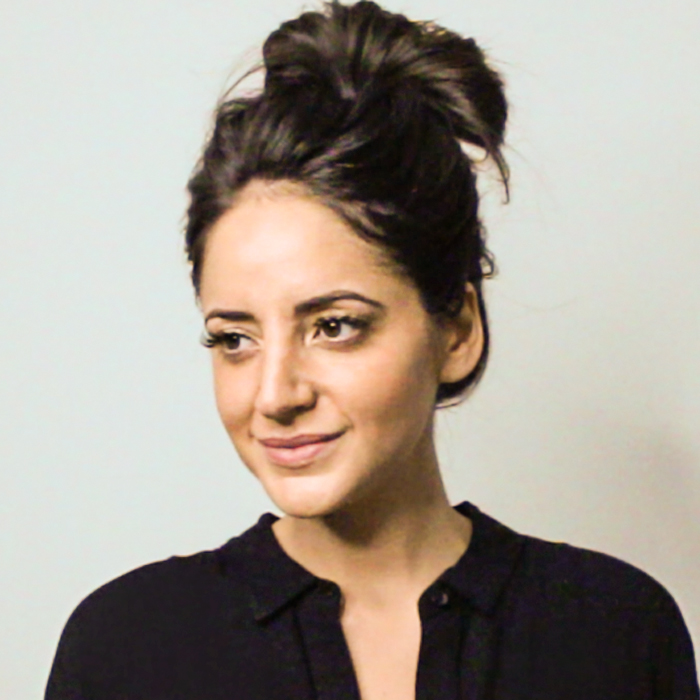 We all want a tan that sticks around. What's the best way to look after a tan and keep it looking fresh for as long as possible?
Take showers instead of baths
Avoid saunas, steam rooms, and swimming pools
Don't use scrubs or products that strip your skin
Avoid sweaty activities!
Moisturise daily, but use an oil-free moisturizer
Tell us about your self-tanning ritual, is there a correct order to follow?
I always start from thigh to shins, then brush over the knees before tanning my feet with the minimal tan left on the mitt. I then bring the Bronzie Tanning mitt around my back and tan the lower and upper back and continue by using the two mitts to tan my upper body, stomach, and chest.
Next, I tan my arms (leaving elbows and hands until last – using the leftover tan on the mitt), and finally my face.
Tan always seems to fade on my chest first! Do some parts of the body need more tan than others?
There are a few reasons why this happens – any areas that perspire heavily or come into frequent contact with water will fade faster than others. I wouldn't necessarily advise on applying more tan, I would only do this on areas that you like to be a bit darker on. Instead, I'd advise on paying more attention to these areas with good aftercare – moisturizing these areas well and exfoliating lightly around so it fades off evenly.
What are the five most important tips you can give when it comes to self-tanning?
1. Preparation is key – your tan is only as good as the preparation you put into it.
2. No oil prior, no oily products after. Unless you want to help get the tan off.
3. It pays to have a good tan. Treat yourself and go for a premium product. There is a reason why a £3 bottle of tan is £3, and why a £30 bottle of tan is £30 – premium ingredients mean a premium tan, not just the colour, but the fade and the smell will be better too.
4. Less is more, don't apply too much at once, as you may end up not having anywhere to spread it and then you can end up having too much in the wrong places. You can keep adding to cover the body and to build the colour
5. Lastly of course, use our Bronzie Mitt for the best application
What's next for the Bronzie brand?
We have so many ideas and so much more we want to give! We always like to come with a point of difference. We've covered application with our Back and Body Tanning Mitt, we've covered what to wear for after you've applied your tan… What's missing? Watch this space!
For last minute special occasions, this gives you a flawless tan in just four hours – and you won't stain your bedsheets because there's no need to sleep in it. Winning.
It seems impossible, but this transparent mist gives the perfect golden glow, without streaks or that horrible fake tan smell.
It's everyone's favourite for a reason – because it's basically foolproof. Pus, it gives the perfect natural colour without being too orangey.
I used to think you couldn't beat a professional spray tan for getting flawless coverage on every inch of your skin – that was until I discovered Bronzie. Believe the hype, it's a total gamechanger.