On trains, on Twitter, even at bars, one of the biggest questions I get asked as a beauty editor is 'what skincare routine is best for my skin?'. The thing is, it's totally dependent on your skin type – what works for one person might now work for another…
To help you take some of the guess work out of your next skincare restock, we've taken the main skintypes, broken them down into the biggest concerns, and created customised skincare routines faster than you can say 'face wash'.
Sound good? Each week we'll be posting a daily skincare menu for a different skin type. Keep checking back to find the perfect routine for your skin.
Skin becomes dry when its surface becomes damaged – this causes (invisible) cracks which allow moisture to escape easily and irritants to get in. This results in skin feeling tight, looking dull, lacking elasticity, and (in severe cases) triggers flaky patches, itching, and redness.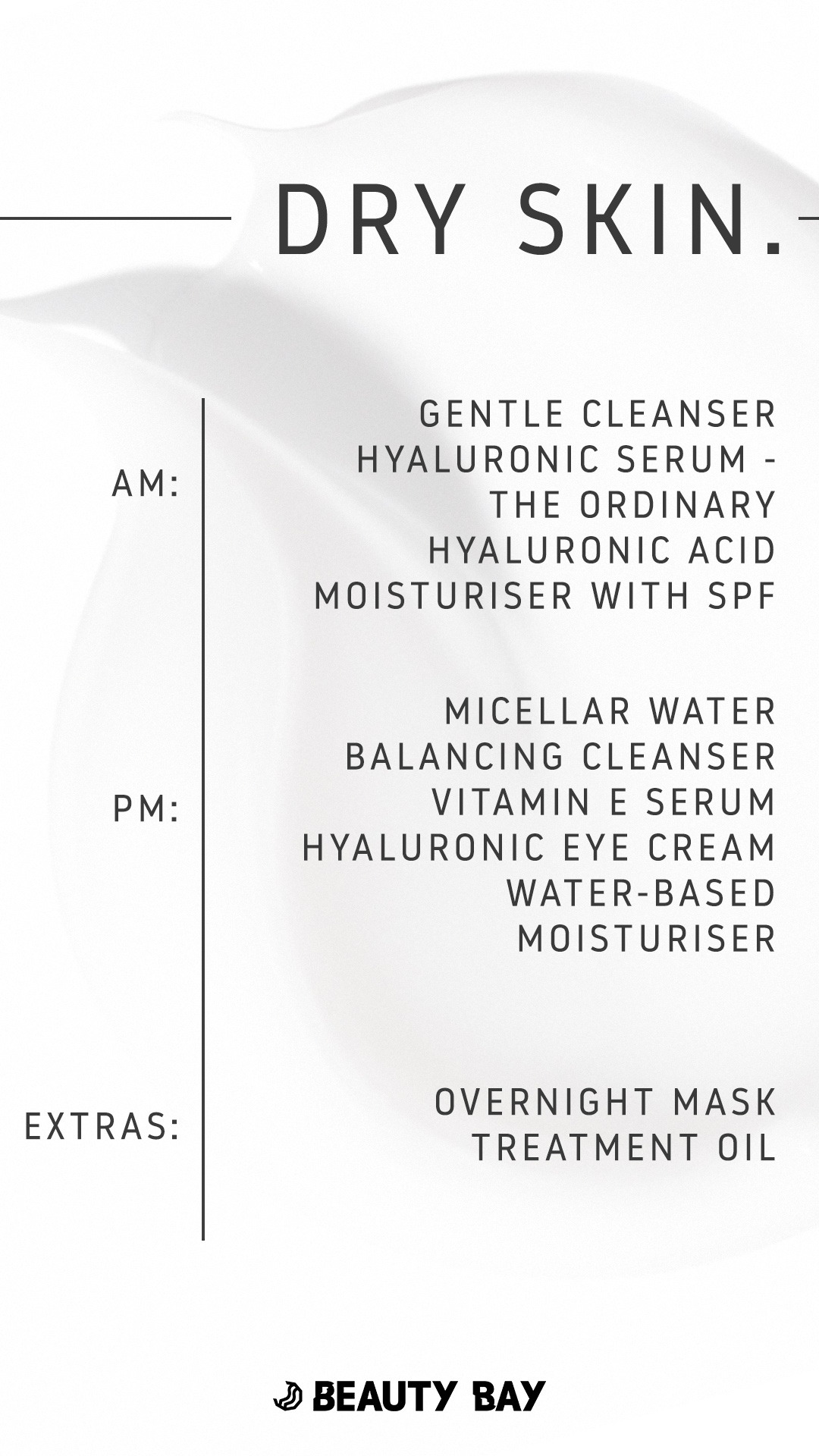 Dry skin can easily be aggravated by harsh or drying ingredients, so start your day with a gentle cleanser specifically formulated with dry skin in mind. This one holds the number one spot for hydrating and soothing skin whilst it washes away overnight grime.
Hyaluronic acid tackles dryness and dehydration better than any other ingredient due to its ability to draw moisture into the skin and prevent it from escaping. What's more, each molecule can store up to 1000 times its weight in water so this maximises the hydrating benefits of your other products.
You might be tempted to reach for the most hydrating moisturiser or face cream you can find, but take the time to find one with SPF protection. When skin isn't protected by SPF, it's more vulnerable to sun damage, which makes it less able to retain moisture. This one does double-duty, giving a worthy hit of hydration with the added bonus of sun protection.
We're low-key obsessed with micellar water, which removes makeup so much more effectively than face wipes. But how do you give it an upgrade for dry skin? Yes To has the answer – just add coconuts. Not just for hair, coconut provides a welcome source of hydration – and unlike most makeup removers, won't strip moisture from skin.
Over-cleansing skin can strip it of the naturally-occurring oils which help to keep skin hydrated, so choose a gentle, cream cleanser for your second cleanse. This one contains dryness-fighting vitamin E And aloe vera to help balance skin's moisture levels.
You might think you need to fight dry skin with heavy oils and hydrators, but those can be too thick and clogging to use on a daily basis. Instead, get your moisture fix via a serum instead. This highly concentrated formula of Vitamin E (a natural moisturiser) will soothe even the driest skin.
Even your eye area can (and should) be treated to a major dose of hydration. This has the moisture levels of a thick cream but applies with a weightless, cloud-like texture which gets rid of any rough texture or flakiness. Big bonus: it will also help to minimise the appearance of dark circles and fine lines.
This does exactly what it promises, delivering an intense shot of hydration to even the roughest, driest patches, and all without making skin greasy. Consider it an overnight facial helping to add moisture at every level – come morning, your skin will be unbelievably smooth, bright, and soft, and your makeup will apply like a dream.
A super luxurious treatment for skin, these hydrating face masks are pre-soaked in a blend of powerful hydrators which works wonders on dull, dry skin in need of a brightening boost. Spend time massaging the thick serum into your skin, then leave it on overnight to transform your skin whilst you sleep.
Face oils don't get any more luxurious than this one. A nourishing blend of prickly pear, sweet almond, apiricot, and marula seed oils envelops skin in a blanket of moisture, quenching dry patches to prevent chapping and cracking. Use when you have 30 minutes of downtime and take the time to massage it in for maximum benefits.