On trains, on Twitter, even at bars, one of the biggest questions I get asked as a beauty editor is 'what skincare routine is best for my skin?'. The thing is, it's totally dependent on your skin type – what works for one person might now work for another…
To help you take some of the guess work out of your next skincare restock, we've taken the main skintypes, broken them down into the biggest concerns, and created customised skincare routines faster than you can say 'face wash'.
Sound good? Each week we'll be posting a daily skincare menu for a different skin type. Keep checking back to find the perfect routine for your skin.
Oily skin has overactive glands, which means they produce more oil than you need. Sometimes this is genetic and sometimes it can be caused by using the wrong skincare products – if you strip your skin of too much moisture, it compensates by overproducing excess oil. Your skin may appear shiny, with enlarged pores, and will be more prone to breakouts and blackheads.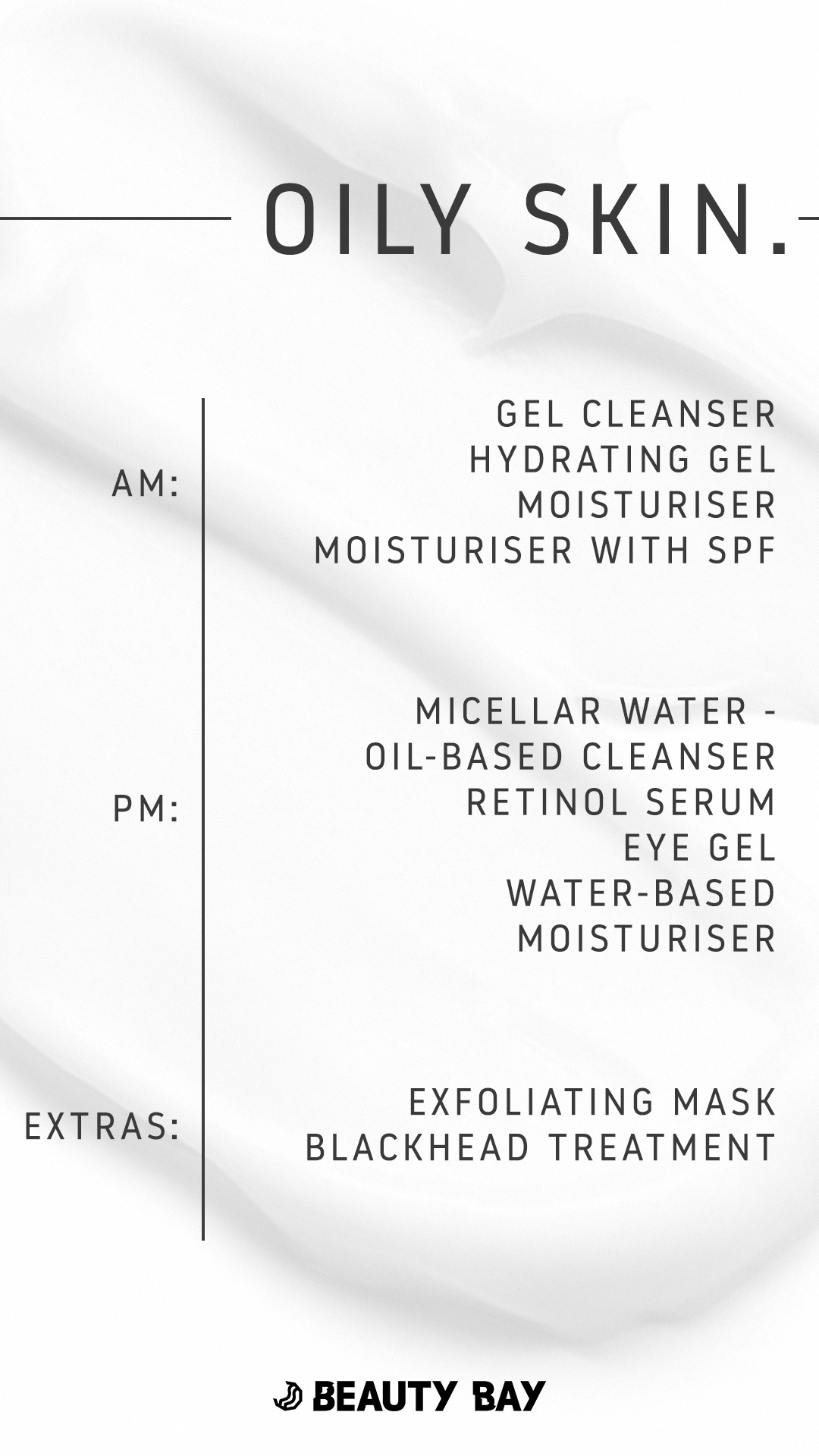 This is geared towards oily skin, so while it's not super hydrating, it also doesn't lather up enough to strip your skin. Instead, it gently foams so it works really well to cut through the oily residue that you find on your skin when you wake up. If you're looking for a simple, refreshing cleanser that will mattify shiny areas, this is the one.
Salicylic acid is a must-have ingredient for oily skin. It's a super powerful BHA (a chemical exfoliant) which penetrates through the skin's barrier to remove sebum and dead skin cells from your pores before they can reach the skin's surface. It basically stops skin from looking greasy (AND prevents breakouts). Smooth this on post-cleanse to keep shine at bay all day.
Oily skin needs moisturiser just as much as dry skin does – you just need to choose the right one. Look for something water-based and oil-free like this day cream from Mario Badescu (which has the added bonus of SPF protection). It's light, silky, absorbs instantly, and works so well under makeup that you won't even need a primer.
The best thing about micellar water is that its dirt-attracting qualities are great for removing makeup, but don't strip skin of the natural oils that you need to keep around. Plus, it's fragrance-free and non-irritating so you can rest assured that it won't imbalance your skin further.
Using an oil-based cleanser on oily skin might go against everything you've ever thought you knew about having oily skin, but it's a little know hack that actually works miracles. The thing is, oil attracts oil, so it's perfect for lifting unwanted oils from the skin's surface. This has a luxurious gel texture that emulsifies into a cream, leaving skin clean and hydrated with zero oily residue.
Retinol is well known for its ability to target problems like wrinkling and pigmentation, but a little known fact is that it's just as good for oily skin. That's right, you can fight shine and wrinkles, simultaneously. It triggers the build up of collagen, which firms skin and tightens pores, meaning they create and release less oil.
Whilst the eye area rarely gets oily, it's still important to take care of it and to use the right product to do so. This is light enough for oily skin, hydrating enough to make a difference, and it absorbs quickly, brightening and firming the eye area to battle dark circles and fine lines.
The best moisturisers for oily skin are the basic ones – and we don't mean that in an offensive way. To keep skin healthy and hydrated without clogging pores or adding grease, this water-based gel delivers just the right amount of hydration without going overboard. Use it every night and you'll notice your skin become more balanced every day.
Used once or twice a week, an exfoliating mask is a great way to maintain oil-control and give pores some deep clearing action. As well as PHAs, this one contains a power duo of charcoal and Moroccan clay, both of which are great for absorbing excess oil, drawing out impurities, and keeping skin calm and clear.
Oily skin is more prone to blackheads – caused by sebum which builds up in pores and attracts dirt (causing a visible plug which clogs hair follicles). You'll notice a lot of these around your nose because the nose has larger and more active sebaceous glands than the rest of your face… which is why these clever strips are designed specifically to wick away blackheads from that area. Leave on for 10-15 minutes then peel off to reveal clearer skin.