Christen Dominique opens up about her career, the inspirations behind The Latte Palette, and her go-to Starbucks order…
What was your inspiration in choosing the colours in The Latte Palette?
My inspiration for the colours in The Latte Palette were based around the natural contour of the eyes, that would enhance as well as brighten any dullness around the eyes. I wanted this palette to also be multi-purposed for the face so keeping that in mind I chose Vanilla Creme which is a yellow tone shade specifically made to brighten, as well as choosing a variety of bronzing shades that suits most skin tones. You can use these shades on the cheeks as well as the eyes. I added in two pops of fun colours: a purple shade with a red undertone and a deep teal color to add on the lower lash line or use all over the lid. There are three foil shimmer shades that can be used to highlight the eyes and face. My favorite look with these foils is the halo eye where you pop on the foil directly to the center of the lid. This palette was truly made to be an everyday versatile palette.
We can tell you're a big coffee fan! What's your go-to Starbucks order?
A soy iced caramel macchiato!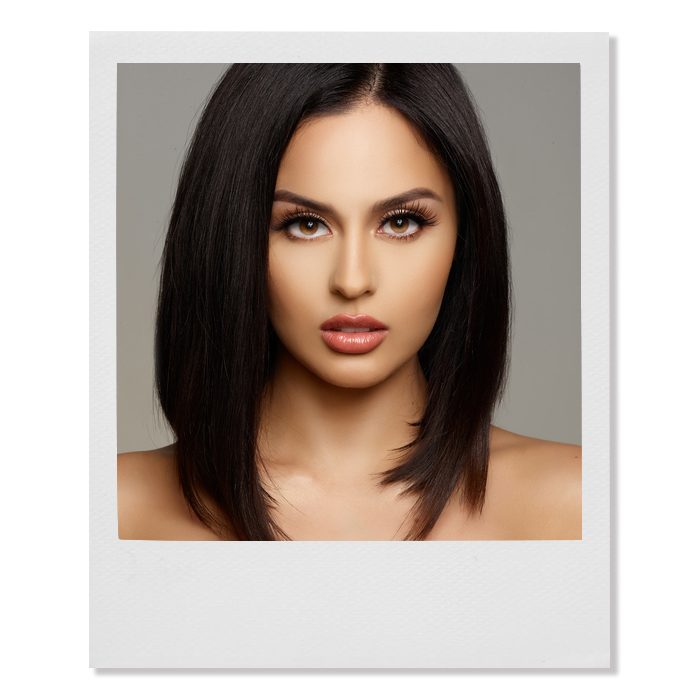 What's your favourite way to wear the palette for an everyday daytime look?
I use the Vanilla Creme under my eyes and all over the lid up to the brow bone to even out the skin tone, Caramel is my go to crease shade as well as bronzing colors for my face. I'll then go in with Hazelnut on the outer crease as a second transition shade and then i'll take Mocha on the outer v to add definition. Ill either use Macchiato or Creme Brûlée for my highlight on my cheekbones and inner corners of my eyes or I'll pop it on to the inner part of the lid.
How about a more glam evening look?
For a more dramatic glam I'll take Caramel and Hazelnut all over the lid up into the crease and then I'll bring in Mocha from the base of the upper lash line up into the crease, leaving room for the other shades to peak through for a seamless transition. I'll then drag down Mocha onto the lower lash line and pop in Double Shot (the purple) or Cold Brew (the teal) on the the very base of the lower lash line.
I'll then use Espresso on the inner corners of the eye to highlight them.
Who do you draw inspiration from, beauty-wise?
I've always looked up to my mom for inspiration. She was the first person to introduce me to beauty and makeup.
What inspired you to start your own makeup line?
I've always had a dream of creating my own line, I've been drawing pictures of people wearing makeup since I was about 5; I would try to draw it on paper after watching my mom do hers. Ever since I started doing other girls' makeup in the locker room in middle school I've always mixed my shadows and colors together to make my own unique shades. I would never use what only one product would give me. I reached the point point where all my makeup was mixed into my own little concoctions and I knew then I would need to create my own cosmetic line that I could customize for everyone.
Your videos are quite different from most beauty videos. What inspired your unique approach?
I've always loved to help people in any way I could whether it's teaching, giving knowledge, or just being someone you can talk to. I thought that at one point I wanted to be a psychologist but my passion took me elsewhere. I started making videos to help people learn techniques with makeup and give inspiration but I didn't just want to stop there, I wanted people to leave with not only knowledge but a feeling. So at the end of every video I give either an encouraging, motivating piece of advice or I leave them with a simple note to love themselves. I love my audience and I want them to take something with them in every video that would help them in more than just one way.
What do you want to see more of in the beauty world?
I would love to see more versatility with shades in color ranges from brands as well as unity within the community.
What's your approach to skincare?
I think a consistent regimen is super important: I always like to cleanse and hydrate,
and I exfoliate at least once a week.
Talk us through your career – how did it start and how has it progressed?
I started as an insurance rep. and I would do makeup on the side as well as videos on YouUube to teach my passion. That led to me traveling to LA to pursue YouTube full time. Once I moved to LA my channel grew pretty steadily up into 3.6 million as of now! I am still just as passionate about my channel as when I started, now I have a new journery in my life that brings me so much joy and passion!
How would you describe your makeup style?
My personal makeup style is simple looking – I always contour my face for a more structured look even when it comes to the eyes and I'll use the bronzing and darker browns on the outer V of my eyes with a wing and piecey fluffy lashes. I always use highlight on the cheekbones, tip of the nose, down the nose and Cupid's Bow. All finished off with a gloss and bronzer.
Are there any trends that you're particularly inspired by this season?
I think the glossy trend is very inspiring!
When and how did you get into makeup?
I got into makeup when I was about 5 when I would watch my mom do her makeup – it was almost like a magnet for me! I instantly grabbed her lipsticks and put them all over my face and stuffed animals, and when I couldn't put it on my face I would colour it into the drawings I would do of faces. Eventually that led to real people's faces and freelance artistry, and that then transferred to digital video and now actual product that people can use!
And finally, what are you top tips for applying eyeshadow?
My top tip overall is to use a light soft pressure on your hand when you're applying and blending any powders on your face, as well as have patience with anything you do.
Learn More About The Latte Palette