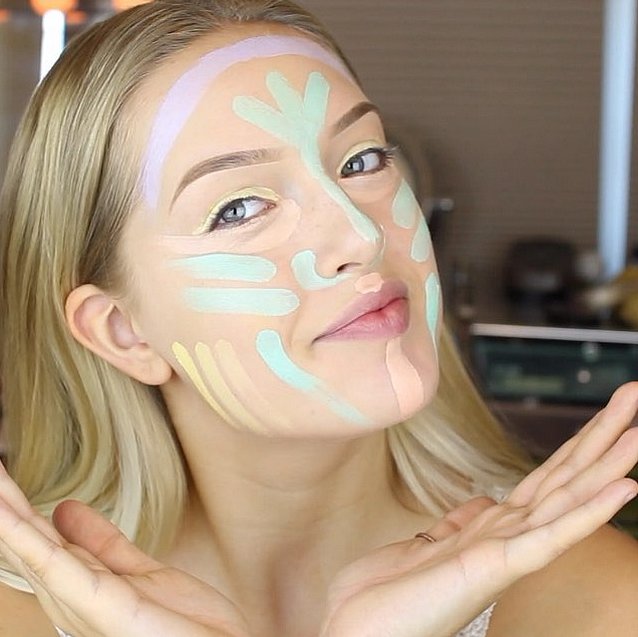 When it comes to masking blemishes and brightening under-eye dark circles, most of us have an artillery of concealers to hand. However, even the best concealers fall-flat when battling the most taxing and tragic of skincare concerns – scarring, bruising, inflammation, hyper-pigmentation, hangover-induced dark circles, and any other evidence of skin's life run-ins. Discolouration, whether it be pigmentation, redness or grey-tones, tend to stand out defiantly through standard flesh-coloured makeup, which is where 2016's biggest beauty trend (so far) comes in.
Colour correction has long been employed by makeup artists, but is now being heavily championed by the online beauty community for its skin-balancing prowess; a quick glance at the hashtag #colourcorrection on Instagram will reveal countless tutorials demonstrating how to strategically dot colour across your face to cancel out discolouration. The concept works on the basic premise of colour wheel science – each shade has a corresponding, neutralising counterpart which mutes it. Knowing what colour to use, and where, works as a simple fix for any skin issue and minimises how much heavy coverage foundation you need to wear.
Counteracting redness; spots, blemish marks, broken blood vessels, rosacea, and general facial redness (especially around the nose).
With green, the trick is to not overdo it – the finished effect should be completely undetectable. Stand in natural light and apply the colour in thin, sheer layers, building them up gradually to completely cancel out redness. For precision coverage and dual-action treatment use Artdeco's Perfect Cover Stick, which is enriched with antiseptic ingredients in order to treat blemishes whilst simultaneously diminishing their redness. Alternatively, when you want green to benefit the whole face rather than specific areas, opt for light, creamy textures that can be blended easily like L.A. Girl's Pro Conceal HD Concealer in Green – the silky texture imparts high-opacity coverage to mute colour with a natural finish.
Acting like a wake-up-call to the skin in order to mute the yellow undertones that make skin look dull and sallow.
We love Jane Iredale's Lilac Beyond Matte powder, which blends seamlessly when lightly dusted over your base, and can even be used on its own to subtly uplift dullness. Even if you're not naturally sallow-coloured, you can use this technique to highlight the high points of your face. Use a sponge to blot the lilac shade in Jane Iredale's Corrective Colours Palette over your cheekbones and the centre of your chin and forehead for a lit-from-within glow once foundation is applied.
Jane Iredale Beyond Matte Refills >
Jane Iredale Corrective Colours Palette >
Yellow & Orange are best for...
Warming and brightening the complexion.
Typically, yellow is best suited to fair skintones, whereas orange will work well for darker complexions. Both succeed on the premise of enhancing skin's warmth for a candlelit effect, and can also serve to soften the appearance of surface bumps and scarring, and mute dark circles. We love VMV Hypoallergenics Skin The Bluff Concealer in the shade No More Blues, which subtly warms wan skin and Jane Iredale's Enlighten Concealer, which cancels out cool tones of discolouration.
VMV Hypoallergenics Skin The Bluff Concealer >
Jane Iredale Enlighten Concealer >
Red & Pink are best for...
Combatting darkness and blue-toned discolouration like under-eye circles, bruising and veins.
Red correctors are ideal for precision concealing the appearance of darker-than-average under-eye circles on darker skintones, whereas lighter, pink shades will add a healthy, rosy glow to a pale complexion. With red, apply the colour sparingly with a small concealer brush – concentrate it on effected areas then blend it out. To counteract dark marks and purple-tinged shadows, Cover FX's Correct Click is the ideal candidate for completely eradicating dark circles, severe pigmentation, and bruising.
For best results, take all of the above principles and apply them to the whole face, rather than to one specific problem area.
Typically green on the T-zone, lilac on the high points of the face, yellow and orange on the cheeks, and red or pink under the eyes. Once blended out (you'll need a good buffing brush), the rainbow base combines to create a subtley sculpted effect and a notably even skintone that creates the perfect neutral base for your foundation. If you don't fancy taking the trend to such extremes, opt for Stila's One Step Correct – a blend of colours neutralises and harmonises discolouration for a flawless skintone whilst blurring imperfections with light-diffusing particles.