If you follow the beauty community over on Instagram, then you must be familiar with Alice Thomas (@alxcext). The London-based makeup enthusiast who has created many of the bright, bold, stand-out looks that crop up on Pinterest and the Instagram Explore page, and is known for her cool, creative, and artistic approach to beauty.
Alice has the kind of story that girls dream of, she went from sharing selfies of her expressive makeup looks with her friends to racking up over 170K followers on Instagram, all whilst studying for a degree in Biomedical Science – her second passion. She also happens to be one of the most perceptive, smart, and down-to-earth Instagrammers that I've ever had the pleasure of interviewing, diplomatically chartering the online beauty movement with a refreshing 'do your own thing' approach.
Read on to find out about Alice's beauty philosophy, shop her product picks, and watch her apply two fearless makeup looks.
What does being 'fearless' mean to you?
Being "fearless" to me is such a multifaceted concept as it relates to my makeup, my actions and my health – mentally and physically. In terms of beauty, I've had few boundaries when it comes to colour, experimenting, making mistakes and learning from them. I put this down to the amazing and inspirational talent I scroll through everyday on Instagram, Youtube and Twitter. Having a community of women and men that create beautiful looks with every colour in the spectrum is an aid to every person who feels intimidated by colour and the big big world that is beauty. Being fearless with my actions and decisions hasn't always been as easy as with makeup. Having confidence outside of a makeup filled bedroom without a full smokey eye can sometimes be really, really hard. I found moving from home to London was a whirlwind of finding myself and building up faith in my decisions and actions. A big outlet for the stressors of moving to a new city was makeup, I could blend and blend for hours and it would really soothe me. Creativity in makeup has always been and will always be a reflection of my growth as a person, as well as an aid to it.
What are your favourite ways to use colour on an everyday basis?
Orange! Or red! Or both! Warm colours are by far my favourite shadows to wear if I wanna wear colour, or not! Oranges and reds border the warm brown tones yet add that bit of pop that sets you aside to most people's everyday makeup. Also, even though I have brown eyes, I adore these shades on lighter eyes as they make them pop so much. It's safe to say if I have blue or green eyes I would probably only be wearing warm tones on my eyes. I use oranges and reds mostly on my eyes in a blown out smokey eye. My faves for achieving a warm eye look are – Violet Voss Holy Grail and a basic red pigment. Also a quick tip – if you're lacking in warm tones in your collection, use your blushers to add warmth to your eyeshadow looks.
How has your makeup look evolved over the years?
Where do I begin?! I've gone from filling my eyebrows in with a black eyeliner and thinking eye shadow layout had to resemble the Italian flag to having people actually asking me for advice, can you believe it!! When I think about it, I'm so proud of how far I've come in terms of my style and choice of makeup. It took a lot of time, years in fact, of practice and trial and error. But with that I've really learnt to appreciate all types of makeup from editorial realness, to RuPaul's Drag Race, Instagram beat, and the more creative looks.
What's your beauty philosophy?
My beauty philosophy is to do you. Do what makeup makes you happy, whether that's full beat or none. BUT saying that, I really really believe there needs to be an appreciation of each others style. I feel like there needs to be a bridge between really editorial creative looks and "Instagram" beauty and we all need to love each others work more.
You're currently studying for a degree in Biomedical Science, how does your science background influence your approach to makeup?
I wouldn't say its directly influenced my style of makeup because for me they are very very separate worlds that I live it. However, the way people view people who wear a lot of makeup/show an interest in it, is really interesting. A lot of people who know I like makeup are very shocked to hear that I have a science background and visa versa. But I like surprising people in this way, its quite pleasant to be able to contradict people's first impressions of me and maybe teach them that a lot of people who love makeup can have other interests and more academic backgrounds!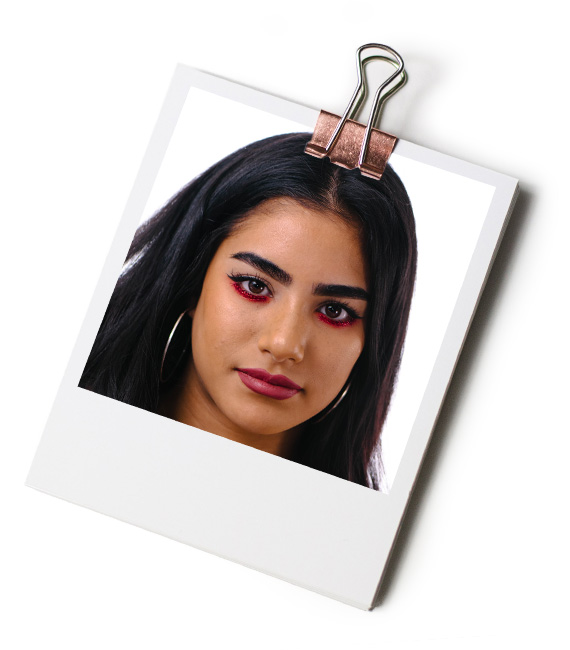 What are your favourite brands for creating a bright and bold beauty look?
Ooooh, BH Cosmetics has to be up there. I love the fact that they probably have the widest range of colours in all of their palettes and they're affordable. Having affordable and good quality products makes experimenting and enjoying makeup so much easier for a lot of people and aids the growth of the beauty industry.
What do you love most about makeup?
Probably the fact that I can wash it off at the end of the day! It's not permanent so that means mistakes are non-existent. We can transform our faces and know that when we wash it off, nothing has really changed. I love the fact that I can express myself with my makeup, yet know that what's underneath is still the same. Also, the buzz of new product launches and innovation in the beauty industry makes every week feel like Christmas…
What is your top tip for creating your own unique makeup look?
A tip that I really love seeing, especially on Twitter, are makeup looks inspired by album art! I think this is a genius idea as you could just pick out the colours used, the textures or even the shapes!
How do you think makeup empowers women?
Makeup allows women to enhance what they already have or completely transform themselves, it allows them to do whatever the hell they want. This is so important to me as I hate seeing the whole "take her swimming on the first date" crap as we should be allowing women to do whatever makes THEM feel good. Whether that's nothing at all or full glam, so many women get satisfaction and happiness from experimenting with their appearance and no one should ever take this away from us.
Would you call yourself a beauty pioneer?
I would like to think that people look to me for confidence to wear bright looks and experiment with makeup, and I hope to continue to radiate the message that whatever makes you happy is what you should be doing and to also appreciate all styles and forms of beauty. I'll continue to do this as long as I have a blending brush in my hand!
This palette was great to work with and is so affordable. It's so good to see affordable yet creative options in the beauty industry and in terms of the colour and formula, this definitely hits the spot.
Such a lovely lip colour and works amazingly on the eyes when true red shadows are hard to come by! It's really amazing and effective to be able to use products in loads of different ways, plus you get more for your money!
Definitely one of the most wearable shades I've found in terms of blue lipstick. I'm not sure what about this particular shade makes it so so nice, but I was immediately drawn to it which is rare for me and bright lips. It's such a unique colour and it's definitely great quality which is important when wearing daring shades as anything low maintenance is much appreciated.
When you're working with such bright, bold colours, things can so easily go wrong. That's why it's important to have a really good concealer on hand to tidy up any mishaps. I love this one for perfecting the line of my lipstick.
So good! I was pleasantly surprised by this as it was super silky and easy to apply. I have dry and oily parts on my eyelids and this didn't accentuate either of those problems which was amazing. It's a great alternative to the Urban Decay primer potions and the fact that it's slightly transparent makes it really easy to blend into the rest of your face makeup at the edges.
Although I usually prefer gel liners, I was really impressed by this one which is super pigmented and black! I also LOVE Eyeko's Sport Waterproof Mascara… that was bloody amazing.