Bold, quirky, and every bit as colourful as her makeup and fashion looks, Lucy of Lulutrixabelle gives us the inside scoop on her creative approach to beauty and reveals her bright makeup essentials.
What are your favourite ways to use colour on an everyday basis?
– I always wear colour no matter what, so I love wearing a pop of colourful lipstick to compliment my outfits! My favourite is purple lipstick, it's such a flattering colour and looks instantly cool.
What tips would you give to someone who wants to start using more colour in their makeup look?
– It's easy to go with nude lips and eyes as it looks good on everyone – but its so much more fun to wear colour! I would say a purple or coral lip is an easy way to start wearing colour, as well as a blue/green liner under the eye, or go all out with a pop of colour on the lid. It'll make you feel instantly happier!
How has your makeup look evolved over the years?
I've ALWAYS been a cat eye gal, but my technique has improved. I look back at old photos of myself where I thought I looked good, and I didn't even fill in my brows or properly line my lips – it looked so bad!! I'm all about thick bushy brows, a perfect cat eye and bold lips now.
What's the one makeup item that instantly gives you confidence?
I would say eyebrows but i've recently had them tattooed on, so I don't need to worry about those now! So I would say my lipstick. A nude lip with a darker lip liner instantly makes me feel like ME.
How has your attitude to beauty changed over the years?
I've always been a make-up lover, but I definitely spend more time on it now, watch more tutorials and learn more about good quality products, whereas I used to just wear whatever I could buy cheap in the drugstore.
What is the best beauty advice you've ever been given?
To not give a damn what ANYONE thinks. I've always worn whatever I want and people know me for it now, despite people picking on me when I was younger. It's now my job to stand out!
What's your beauty philosophy?
DO YOU BOO! First they laugh, then they copy.
What do you love about Instagram / YouTube beauty culture?
I love that you can learn literally anything online. You don't need to be qualified to be good at something these days! Everything I know about make-up, I learnt from beauty gurus.
Can you summarise your beauty look in three words?
Bright, young, sassy.
What are your favourite brands for creating a bright and bold beauty look?
I love BH Cosmetics eyeshadow palettes for value for money, and I love Jeffree Star skin frosts!
What is your top tip for creating your own unique makeup look?
Just have fun with it! Experiment with make-up, your face is your canvas. If it goes wrong you can just start again!
What are your tips for adapting a crazy catwalk beauty trend into something wearable?
Catwalk are usually a bit OTT to be wearable, but you can take certain elements from a look and tone it down to create something cute and wearable – like glossy lids and bleached brows.
Where/who do you get the inspiration from to create bold, colourful looks?
I love looking at vintage 80's/90's photoshoots where colourful makeup was a big thing!
Why do you think that fearless, colourful makeup is becoming more popular?
I think through social media boys & girls are realising they can be whoever they want to be, and sharing with an online audience creates such confidence to be fearless and totally yourself!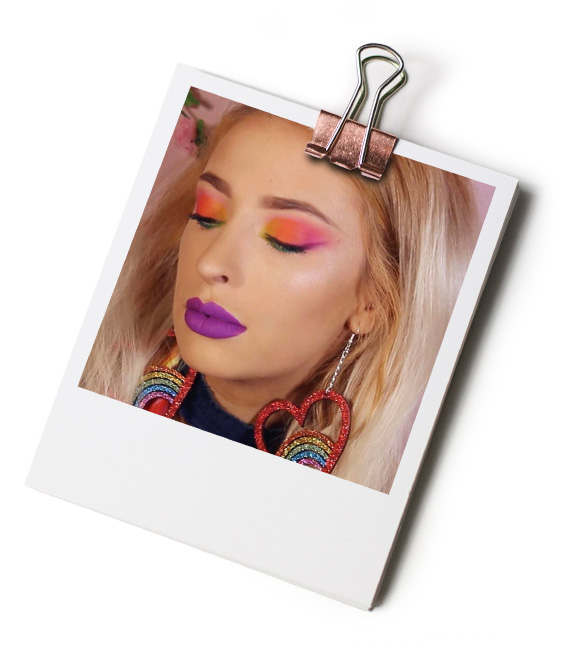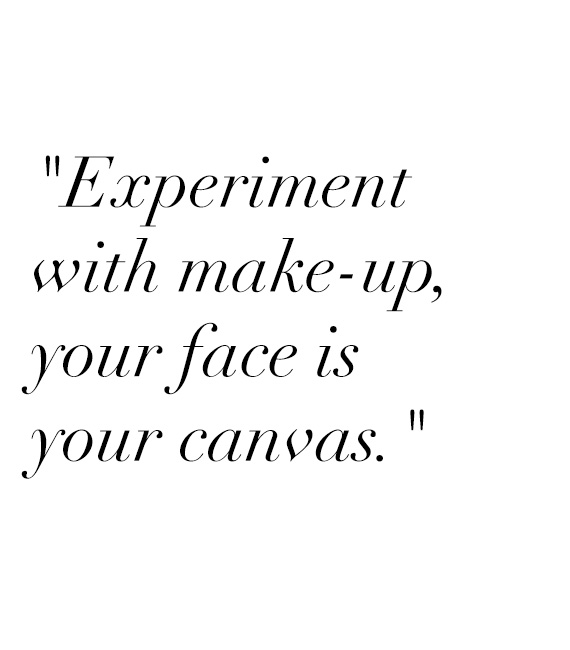 This is the most wonderful palette i've ever laid my hands on! It features the perfect rainbow of colours to create super sassy 90's/00's style eye looks. The product is really pigmented and easily blendable if you want to use more than one colour (or 6 colours on one eye like I have!) This will be my go-to palette for festival and party looks this summer.
Oh my gosh, this is the best highlighter i've ever used! I LOVE that the packaging is huge, this thing will last years. This shade is so bright and pigmented and creates that blinding highlight on your face.
I LOVE this lipstick! I always choose liquid lipsticks over a stick as they last so much longer. This shade is just beautiful and would compliment any skin tone. It's so pigmented and the matte formula means you can kiss your bae as much as you want and it won't budge – WINNER!
This palette is such a bargain! It has every colour you could ever possibly need, for a super cheap price. You could create so many different looks with this palette as it features neutrals, brights and browns.