We speak to Kathy Philips, founder of skincare favourite This Works about beauty, her time as Health and Beauty Director at Vogue and how her approach to self-confidence has changed over the years.
As I've grown, I'm much more keen to find innovation, and it's more difficult. There are too many brands today that don't offer anything very new. There is innovation in ingredients and delivery – more interesting to me but not particularly to the consumer. They enjoy it without realising most of the time, how very different products are from twenty years ago.
I'm definitely less high maintenance these days – I don't have things like facials very often and I never go to Spas.
However, I would always spend money on good cleansing. Different sorts of cleansers- oils, lotions, balms depending on how my skin is – also things like toners and essences which are sometimes really beneficial to the skin without clogging it.
I have always indulged in manicure once a week. Still do. No false nails for me! I do scrimp on mascara and eyeshadow. One eyeshadow lasts forever doesn't it? The most important beauty feature to maintain as you get older is your eyebrows. I had my eyebrows tattooed by Sophie Thorpe (a genius) many years ago and it was the best thing I ever did- not cheap but worth every penny. Eyebrows get sparse and over-plucked and a good strong eyebrow line gives the face strength again.
I think I've been very lucky to avoid any beauty disasters, but then when you are Beauty Director of Vogue you tend to have the very best people looking after your hair and make-up. Although, I was made up by a very, very famous make-up artist once who made me look like a man in drag.
In terms of beauty regrets – well, I wonder if I was younger whether I would have been more motivated to change things about my appearance, even had surgery? Also I wish I'd had my hair "done" professionally for various special occasions. Love to have had "big hair" in the '80's or a wild "up do" for a big night out but I never got round to it.
If I could pass advice to my 20 year old self, I'd say look more fully into what you want to do with your career and why? There are many more options and avenues to pursue than you think. Think globally. Think digitally. Read about the past as well as look to the future. Always keep learning.
When I was twenty I discovered Yoga, and still practice today having written two books and taken a two year teaching course. Because of Yoga, I changed my diet and approach to nutrition and health. I was exploring macrobiotic and vegetarian more than thirty years ago. Today – everyone else seems to have caught up with me. And I'm the one now enjoying a piece of cake while everyone else eats kale!
I walk, swim and ski whenever I can to stay healthy, but not to excess. I take supplements now that I'm over 50 and I have regular massage, acupuncture and cranial osteopathy.
I have learned an enormous amount from having a brand. Just how difficult it is to compete in a field where your competition is brands like L'Oreal, Dior and Chanel: how business works, how formulation works, how long it takes from concept to realization to on counter; not to mention the importance of PR and marketing. My approach to products for myself is always very practical. I am rather cynical about most marketing. I am not persuaded by a celebrity endorsement. They know far less about cosmetics than the people who do their make-up and hair.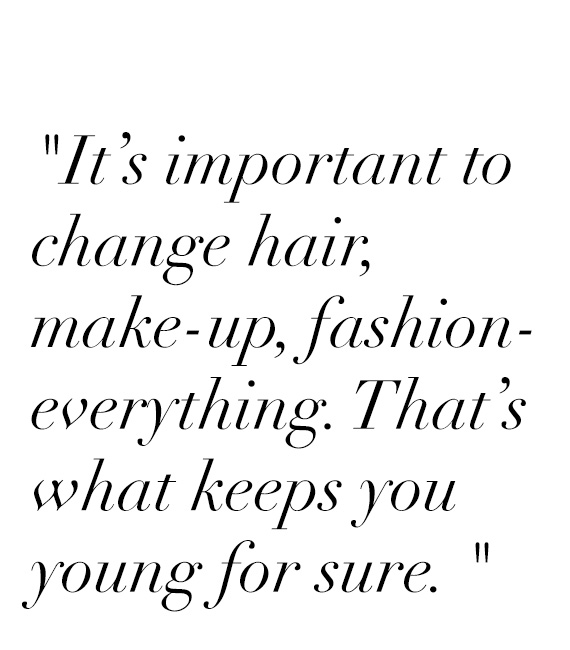 I would say that I have as many complexes as everyone else but I force myself to get over them. After all – we have an amazing life in the Beauty Industry. I am always up for change. Change as they say is good. It's important to change hair, make-up, fashion- everything. That's what keeps you young for sure.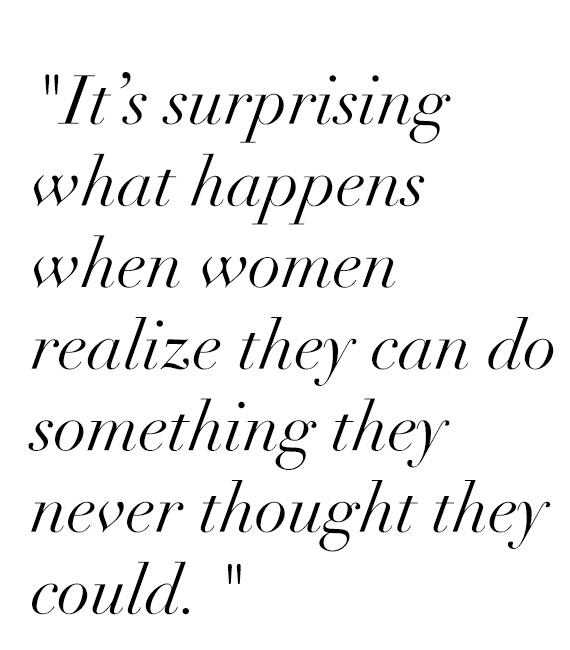 I hope I start Beauty trends rather than follow. At Vogue I'm working with the very best make-up artists and hair stylists in the world. On a photo shoot with an A team like that, we will hopefully make looks that others will be inspired by.
Beauty is all about confidence – so – it starts with getting out more – going to a Pilates or Zumba class, taking up tennis, making friends who make you feel good because they care about you. Then you can start experimenting. Anyone can go and have a make-up done in a department store, just to try a new look. You can go with girlfriends and try wigs on in a store – again to see if a new colour or style will suit you. If it's a disaster, it doesn't matter at least you know what not to do. I would try on a mass of clothes in the changing room- even things you'd never have tried. When I have done make-overs on women, I have made them go out of their comfort zone. It's surprising what happens when women realize they can do something they never thought they could. Women are not good at telling each other how good they look – so choose a friend who will be truthful and supportive.
If you wanted to learn French or Tennis, you would get a teacher. So think the same about Beauty – have a make-up lesson, try things out with a hairdresser; look at Lisa Eldridge's brilliant 'how to" videos online and take time to learn.