We speak to Jen Atkin, celebrity hair stylist and founder of The Ouai hair care, about her brand, the industry and where she finds inspiration.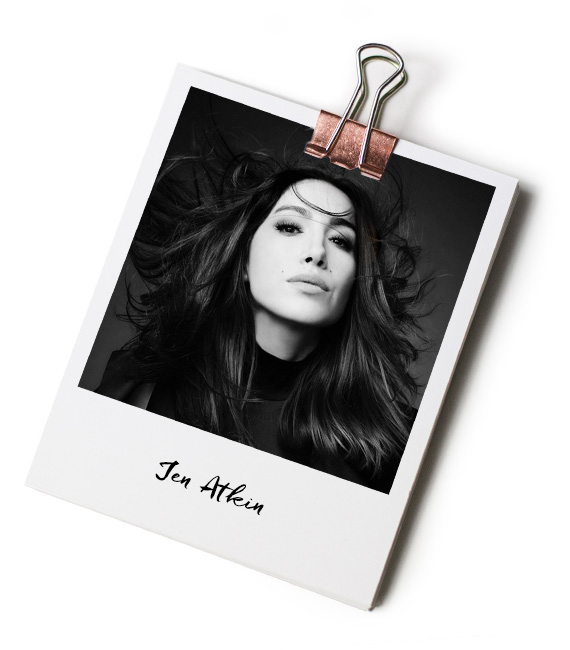 "I am an overeducated consumer myself. I struggled finding a haircare brand that I identified with, or spoke to me or my clients. A brand that engaged with its consumers, a relatable brand.
I've spent years traveling talking to women, listening to my followers and Mane Addicts readers about their haircare needs. There was a MAJOR lack of curated products in the marketplace. I wanted to create the breath of "fresh hair" in haircare. I wanted to create a line "for real life, for real women"
I want haircare to be smart and cool. I am a minimalist and I want to encourage women to be themselves have fun and get back to basics with their haircare. Haircare has become so serious and cheesy. I'm sick of giving women hair aspiration that she'll never get to.
I didn't want to partner with a giant haircare company or make these elaborate unrealistic advertising campaigns. Our models were all referred from friends and represent the international spirit that Ouai is about. I was lucky to partner with investors who understood my vision, and collab with industry experts in design and formulation.
I look to so many places for inspiration, but it's really hard to find a one stop shop for great hair. That's part of the reason why I created Mane Addicts. It's an exclusive behind the scenes look at celebrity hairstylists and an endless source of inspiration.
When I'm traveling, I love looking at the editorial spreads in magazines abroad. Every country has such a unique view on beauty and sometimes the editorial trends will translate seasons later in the states.
I check sites like Fashion Gone Rogue, The Coveteur, WhoWhatWear, and WWD regularly to see what's happening in fashion, as that always translates for hair. Fashion Gone Rogue usually always credits the hairstylist and will share editorials from magazines oversees that we don't always get to see.
I have such an easy regimen with my own hair because I don't really feel pressure as a hairstylist to have perfect hair. They say that the best makeup artist is the one that doesn't wear makeup or the best hairstylist is the one that looks tattered and torn. My regimen is that I will wash it and leave it naturally wavy for the first day. Second day I will do a little side part flip. Third day I will do a sleek centre part bun. I like my hair styled better with the middle part. It makes my face look longer, whereas side part makes it look round. Fourth day I will do side part sleek, smooth it over, and another bun. Then fifth day if I'm really stressed for time, I will do my Sade look where it looks like I have product in my hair but I don't. I slick it back and just do a really chic, sleek bun with a red lip and I'm out the door. I'm telling you—I don't have time for anything else.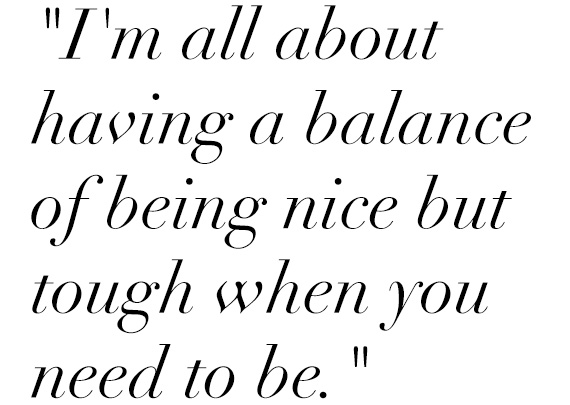 You have to stand up for yourself and let people know you mean business. I feel like girls are taught to be deprecating and not to be tough. I'm all about having a balance of being nice but tough when you need to be. Our industry can be very competitive, and I've just never really been about that. I used to have a Serge Normant quote on my locker at the salon that said, 'Don't be jealous of your peers — be inspired by them.' With Mane Addicts, I wanted to expose the friendly nature of hairstyling and just spread the message that we're all so much more powerful when we work together!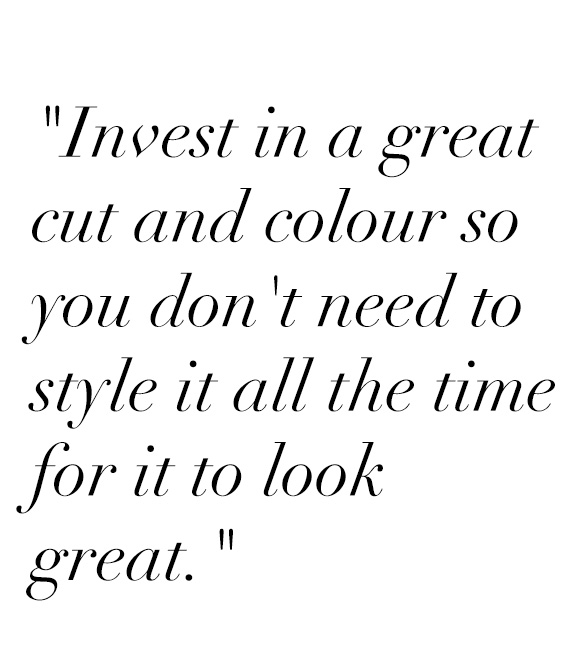 I'm such a tomboy in certain ways but I need to have my eyeliner and my lip colour—I feel dead without it. You can look sloppy, but if you have a red lip, you're good. I always have a mascara, eyeliner, and red lip in my bag. But that's it.
When I first moved to L.A., I was a receptionist at this big salon and I let a hairstylist give me a Victoria Beckham bob, then he shaved one side of my head. We didn't talk about it beforehand, and he didn't tell me he was going to do it. I cried for two months until my hair was long enough to put extensions in.
The one person who's hair I'd love to style is Sade. It's so weird, I know, but I've always thought she's just so classy and cool. I've been really lucky, because I've had the chance to work with a lot of people I never thought I would, but Sade is definitely someone who I would love to work with one day.
I love styling hair because I love making people feel sexy and confident! For a good hair day every day, invest in a great cut and colour so you don't feel like you need to style it all the time for it to look great.
It hasn't really changed the way I look at or experience hair care. No matter who my client is, I know that the health of the hair is key. I need to make sure the integrity of their hair is intact so that they have more options with styling. The experience is always different to cater who you are working on and to accommodate their personal style.
I've always admired the nonchalant attitude of the French. My biggest inspiration has always been from the runway and I love seeing fashion week trends translate to celebs, the red carpet, and the everyday girl. My lifestyle is busy and hectic, so I like to make sure my beauty routine is realistic for the time i don't have.
I would say my biggest beauty indulgences are perfume, facials with Shani Darden, Charlotte Tilbury face masks, and Kylie Lip kits! I scrimp on clothes, but spend the money on bags and shoes. I always splurge on my face. It's my FACE! You don't want to use any cheap products that can directly affect what people see about you first.
I make sure to schedule and spend time taking care of myself in ways that are long lasting, like treatments for Melasma and lasers from Dr Ourian, facials from Shani Darden, hair colour from Cassondra Kaeding at Sally Hershberger Salon, a great haircut from Greggory at Andy Lecompte Salon, and brows from Anastasia. When all these things are taken care of I feel like I can be less maintenance on my day to day. I love letting my hair air dry and I end up doing my makeup in the car most of the time.
To a certain extent I do follow beauty trends, but I get most of my inspiration from my clients. I'm lucky I work with a lot of girls who have incredible style."