Smooth, toned, glossy skin; that's the dream, isn't it? Flawless, buffed and bronzed. The type of skin that screams Victoria's Secret model or straight out of a Pirelli calendar perfection.
My skin is a far cry from this beauty ideal.
It's at that stage where it's not quite parched enough to remind me to care for it. And yet, it's a little too dull, a touch too dry and not quite as bare-all-able as I'd like it to be.
In an ideal world, of course my skin would be silky soft, radiant, firm and supple – but the truth is, I'm just not committed enough to give it the pampering it needs to maintain that. Dry body brushing, exfoliation and top-to-toe moisturising seems far too time consuming even for a Sunday pampering session, let alone a daily ritual. No, for me the morning focus is on my face and hair, the rest is an afterthought. Or at least it was until I started to regularly self tan.
Where the faux tan lotions and mousses promised glowing, glossy skin (minus the sun damage) the reality was an uneven, patchy build-up of colour that was just not the one. It wasn't the tan products at fault, but rather, the very obvious and not-so-natural result of improper skin maintenance that was to blame. What I needed was a scrub that would slough away dead skin cells and even out the tan effortlessly, giving me that continual "of course it's natural" colour, and fast! The search was on.
But finding that elusive exfoliator hasn't been a smooth ride!
I soon discovered that products with too much oil simply melt away too much tan. And I just couldn't get on board with the slick of residue on my limbs – not to mention the on-going battle to drag on clothes over oiled-up skin. I quickly turned to those super abrasive salt scrubs that everyone (bar me) appears to love, but regrettably found them to be simply too harsh for my skin, feeling more like gravel than granules. And don't even get me started on those so-called "exfoliators" which proved to be little more than a shower gel boosted by a token sprinkling of beads that did absolutely nothing to buff away my scaly skin.
But then I discovered, Grown Alchemist Purifying Body Exfoliant Pearl Peppermint & Ylang Ylang, a zingy scrub from botanical Aussie brand Grown Alchemist that is now my smooth-skin Holy Grail.
The texture is perfect; somehow managing to blend just the right amount of scrub with a cooling, melt-away gel formula that transforms skin – and, most importantly, keeps my tan tone consistent.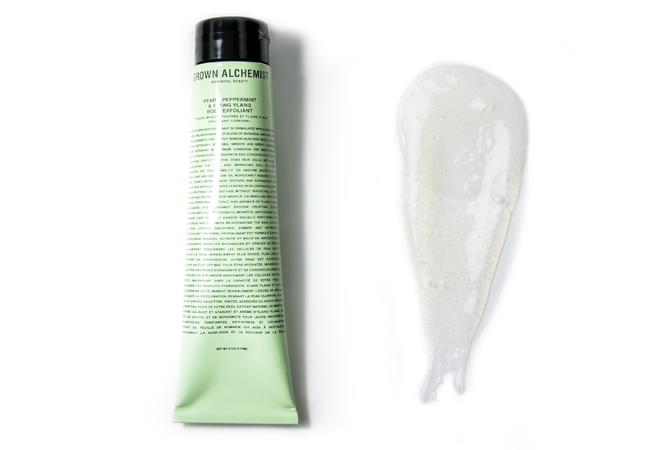 In a dual-pronged approach to skin-polishing, the purifying scrub boasts an abundance of botanical beads that combine with bioactive pearl proteins to fire up cell turnover. Rough patches are smoothed, brightness is revived and, thanks to the all-natural peppermint and ylang ylang essential oils, skin is invigorated. Simply slather it on several times a week (working upwards, from toe to top) and you'll emerge de-scaled and deep conditioned.