As a beauty editor, I pride myself on my commitment to a fully comprehensive skincare routine, which involves showing TLC to every inch of skin from my hairline to the tips of my toes. My hands and feet are buffed silky soft, my limbs smoothed with salt scrubs and body butters, and my face treated to the most souped-up serums and luxe face masks that money can buy. But when it comes to the skin above my hairline, I have to admit to being a little lax. I've always had very thick, healthy hair – it's only real issue being split ends or lack of volume – neither of which can be remedied with any attention given to the scalp. Recently however, I've noticed my hair has been shedding, a lot. I'm talking filling my brush every night, clogging my shower drain, and (much to the amusement of my colleagues) moulting across my desk. In short, I've been losing far more than the 100 hairs experts class as the average lost per day.
As with most body-related dilemmas, there is always a product (or several) that will come to your rescue, and fortunately my job means I get to try them all out and report back on the best of the best. In this case, it's Stemm's Density Stimuli – a high-potency serum which uses a notably higher-than-average concentration of ingredients to effectively boost scalp health, and in turn stimulate the growth of healthier, stronger hair.
It might seem like an obvious statement to make to say that healthy hair starts with a healthy scalp, but the condition of your hair, as well as the length it can grow to, is entirely determined by the health of your follicles and your hair growth cycle. Scalp treatments may sound clinical, a little gross, and like the sort of products that balding men use but, much like a topical skin serum, they're the best thing if you're seeking high impact results.
This intensive leave-in scalp treatment works to stop shedding and promote regrowth, benefitting anyone who struggles with thinning, dry, damaged, or over-processed hair. It's also great if you're trying to grow your hair. Hair growth works in three phases, the longest of which is the growth phase. If hair isn't healthy then it doesn't stay in the growth phase for long enough, meaning it falls out before it's reached your desired length.
The ingredients list is impressive, and actually utilises a lot of ingredients used in hair loss treatments. I spent some time combing through and assessing the benefits of each, and was impressed to note that every single ingredient in this solution has benefits – not one cheap filler or unnecessary colourant/fragrance to be seen. Notable additions include caffeine (at a high 5% concentration), dihydroquercetin (which stimulates the cells crucial to hair growth), and a number of amino acids, peptides, and proteins that activate growth and build stronger hair follicles.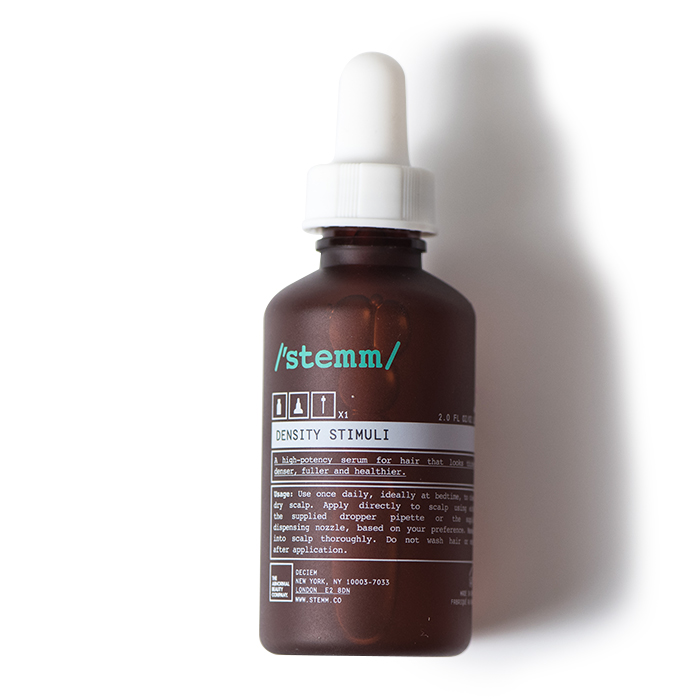 The watery gel-like solution is surprisingly easy and mess-free to use – it doesn't feel heavy or sit on your scalp, but equally doesn't run down your face or leave roots looking greasy. Designed to be used on a nightly basis (consistent use is important; no product is a one-stop wonder), I find it absorbs best when applied to dry hair. I part my hair into sections at the roots and apply the serum directly, using the pipette provided, before massaging it in. Don't skimp on the massage either – rubbing your scalp for two minutes each night helps to stimulate circulation and promote better scalp health in itself. After four weeks of use, I've noticed my brush is no longer filling up so fast and my shower remains unblocked, and what's more my hair has a healthy sheen and bounce. This might just be my new favourite treatment.