Cocktails are for more than just happy hour… Knowing how to mix, match, and layer your hair products is a valuable skill, which can manifest in a staple and failsafe hair routine. Do serums or heat protectants come first? What is mousse used for? Should you use a hair spray or a texturizing spray? If you're in need of some guidance when it comes to establishing your haircare routine, then you've come to the right place. Here we've broken down exactly when, why, and how you're supposed to use each type of hair product.
After you've showered, you'll want to remove at least 50-60% of moisture from your hair before you start applying products (wrapping hair in an old t-shirt will soak up water far quicker than a towel, and won't cause frizz). Applying an oil or serum should be your first step post-wash as this is your opportunity to treat and nourish, clean untouched hair. There are so many oils and serums on the market, catering to a multitude of different concerns; if they're designed to be applied to hair at the same stage (typically damp, pre-blowdry) then you can cocktail them, regardless of formula. Combine oil with gel, cream with pomade etc etc – there are no limits.
Hair experts call out buys such as Macadamia Natural Oil Healing Oil Treatment, which rejuvenates dry, brittle hair in a single use for silky smooth shine and lasting control.
Mousse and gel are best applied to damp hair in order to prep a style before you blow it dry. Lighter than a cream and super-effective (meaning you won't have to use so much hairspray), a golf-ball sized squirt of mousse should be squeezed into the palm of the hand, distributed throughout hair, and then brushed and blow-dried in for a weightless, root-lifting boost. Ideal if you have fine, limp locks that fall flat and lack height at the roots. Being maximum hold, and harder to work with than looser, lighter formulas, gel is best used to style very short hair that needs to be locked into place (think: gravity-defying) or to control frizz in a particularly sleek style. Don't use more than a coin sized drop, and distribute the product between your palms before you apply it.
If you want something with extra bounce power, add lift and definition with Sebastian Whipped Crème Mousse.
Styling products create perfect hair in the short-run, but long-term haircare lies in the prep. Heat protectants should be the last product you apply before you blast your hair with heat from a hairdryer or styling tool. Whether in the form of spray or lotion, apply liberally to prevent frizz and breakage, replenish moisture, and defend against frying.
Try Joico SmoothCure Thermal Styling, which forms a protective shield over hair to prevent damage and colour fading.
Key to achieving shape and style; salt sprays, volume sprays, and finishing sprays, give hair an instantly mouldable texture. Not all formulas are created equal, but most can be applied to both damp and dry hair and require a little finger work to coax hair into a fun, but still presentable style. The most important thing when applying these products is to ensure they don't weigh your hair down.
We make waves with Sachajuan Ocean Mist – it's so light you can barely feel it in your hair.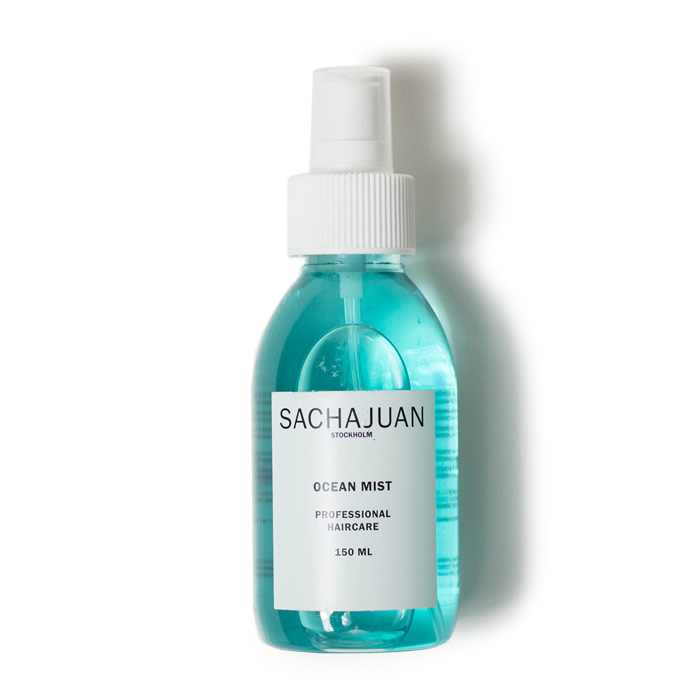 An alternative to the above; typically, you should apply smoothing products to wet hair as this helps to retain moisture, which in turn prevents frizz. Reapplying on dry hair can also be particularly effective if you have especially frizzy hair. Again, try not to overapply as this will weigh down hair and cause build-up.
To smooth flyaways and keep them on lockdown, check out Philip B Anti Frizz Formula – one drop and hair is completely frizz-proof.
Hairsprays and dry shampoos are the final step, and should only be applied to bone-dry hair – their textures are notoriously incompatible with consequently applied products. Hairspray will lock in your style (be careful of over-applying or your locks will end up stiff and crispy). It can be brushed out, but product trace tends to remain in hair which is why it's best to keep this as a final step in your routine. Likewise, dry shampoo should be applied underneath your hair and focussed on the roots (where product build-up incites greasiness) – maintain a distance of around ten inches between the bottle and your head in order to allow the product to diffuse effectively. Be sure to brush it through or scrunch with your hands to distribute the product evenly and prevent unsightly white patches.
Don't discount your hairspray, we love Rahua Defining Hairspray, for a formula that's buildable, flexible, and kind to hair.
TLDR: Shampoo, conditioner, oils and serums, mousses and gels, heat protectants, texturizing products and smoothing products, hairsprays and dry shampoos. Follow those steps for the most efficiently executed haircare routine.