Every season, us beauty editors flick through hundreds of pictures from runway shows to identify the key beauty trends and translate them into something wearable and relevant. We have to take into account whether brands have the right products, whether consumers have the skills to recreate the look, and also whether people actually want to wear bright blue eyeliner or sport an intense blusher look. Turns out, this year, they do. That's right, no-makeup makeup has been and gone, and 2017 has officially been recognised as the year of statement beauty; here are our five favourite ways to stand out…
1. Bright Eyes
The antithesis of no-makeup makeup, colour (in its boldest, brightest form) has made a triumphant return to play. Whether red, blue, purple, or green, make colour the focal point of your eye look, either as a subtle swipe across the lid, a smoked out shape, or a bold stripe of colour that extends from corner to corner.
Our favourite tool for a high-impact, low-maintenance flash of colour is LA Girl's Line Art Matte Eyeliner in Cobalt. More than just an eyeliner (although a cat eye flick looks super fun in electric blue), it can also be used like a crayon to sketch graphic shapes and pack pigment onto the lid for a long-lasting punch of colour. On the other hand, if you prefer to ease in with a subtler approach to colour, opt for deep, muted hues like the warm reds in Smith & Cult's Book of Eyes in Interlewde.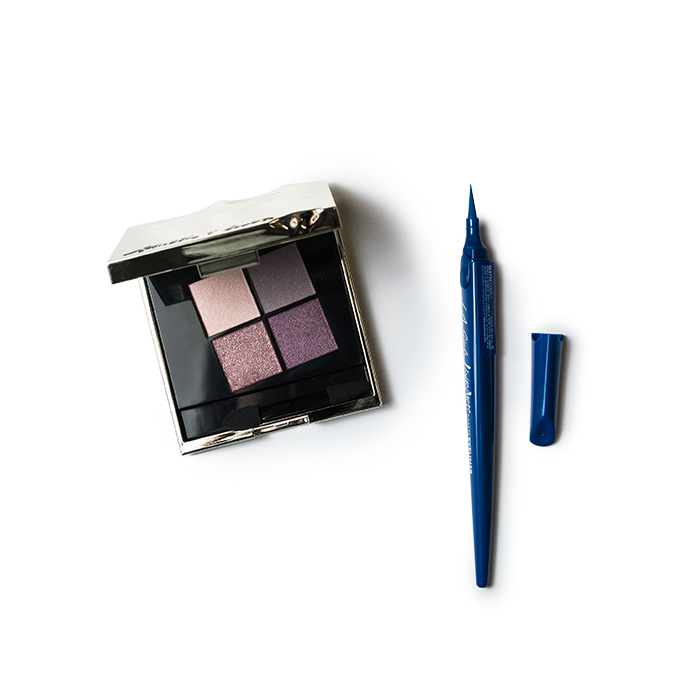 2. Glitter Bombs
The glitter trend is here to stay, but it's evolved into a more refined process than the DIY hacks of 2016 that saw us applying loose glitter anywhere and everywhere. This is thanks, in part, to brands catching onto the glitter hype and bringing out glitter-infused products specifically designed to embellish lips, eyes, and nails with anything from a light dusting of shimmer to a statement making sparkle.
Try flashes of glitter under the lower lashline or an upside down cat-eye using Stila's Magnificent Metals Glitter and Glow Liquid Eyeshadow in Molten Midnight. Alternatively, keep in mind that your face isn't the only part of your body that could benefit from a bit of sparkle and switch out your block-colour mani for Butter London's Tart With A Heart Nail Lacquer.
3. Bold Blush
Get your blusher brush at the ready because you're going to need it – it's officially time to let go of that old beauty rule that blusher should be applied with a light hand and exclusively to the apples of the cheeks. There's a new way to apply blusher and it's called 'draping' – it was popular in the '80s and made a major comeback on the spring runways. Involving using a blusher to contour and sculpt instead of a bronzer, the effect is a softer, prettier approach to facial definition, but most importantly, is meant to be seen.
But how to wear such a daring trend? As conceptual of a look as it is, all you need to do is sweep your brush a little higher and pack on the pigment. Plus, it's a lot more wearable than you might think. If you like a powder formula, dip your brush in Milani's Baked Blush in Dolce Pink, which will allow you precision control over the intensity of colour. For a truly vibrant flush, opt for a liquid blusher instead like Stila's Aqua Glow Watercolour Blush in Water Lily, and dab it over your cheekbones with your fingertips.
4. Unexpected Colour
Historically, most eye looks tend to lead with eyeshadow or eyeliner as the focal point, but for an alternative look let bright coloured mascara take centre stage instead. Of the million different ways we're wearing colour this season, our favourite way to subtly inject a low maintenance pop of colour into an everyday look is by ditching black mascara in favour of something a little more eye-catching.
Add extra (and unexpected) oomph by coating lashes in Kevyn Aucoin's Expert Mascara in Bloodroses (a rich red) or Blinc Mascara's Dark Blue, and accompany it with complementary eyeliner for an extra kick. The best thing is it'll make your eyes appear brighter and more defined.
5. Electric Feel
We can't get enough of highlighted skin, so much so that the gold and champagne highlighters we've been wearing for years just aren't quite cutting it anymore… Warm highlighting shades had their moment, but this year the cooler and frostier the glow, the better. Take your strobing game to the next level with the next-generation of glow-getters – cool, purple-toned highlighters which show up bright, fresh, and glossy on the skin. Inspired by the Instagram trend for holographic and unicorn-inspired makeup, this look is equal parts crazy and wearable, depending on how hard you layer it on.
Both Makeup Geek's Duochrome Highlighter in Moon Phase and Stila Heavens Hue Highlighter in Transcendence have the effect of an intense flash of electric shimmer, but in this day and age, there's no such thing as too much highlighter, and what's more, the purple tint will cancel out any sallowness in your complexion.