It's almost hard to tell when is the right time to buy Illamasqua products – they're always coming out with new and exciting collections – but PSA, the time is now. The brand are known for their outrageous shades and unusual textures but for spring they've created a collection that goes back to the roots of British folklore, drawing inspiration from the May Day festival as a celebration of life and the magic of the earth…
So what does a May Day-inspired makeup collection look like, you might be wondering? Well, it's basically just great Illamasqua makeup – to be precise, three powder eyeshadows, two lipsticks, a loose pigment, and (the star of the show IMO) a holographic highlighting powder – which I predict will be the first to sell out.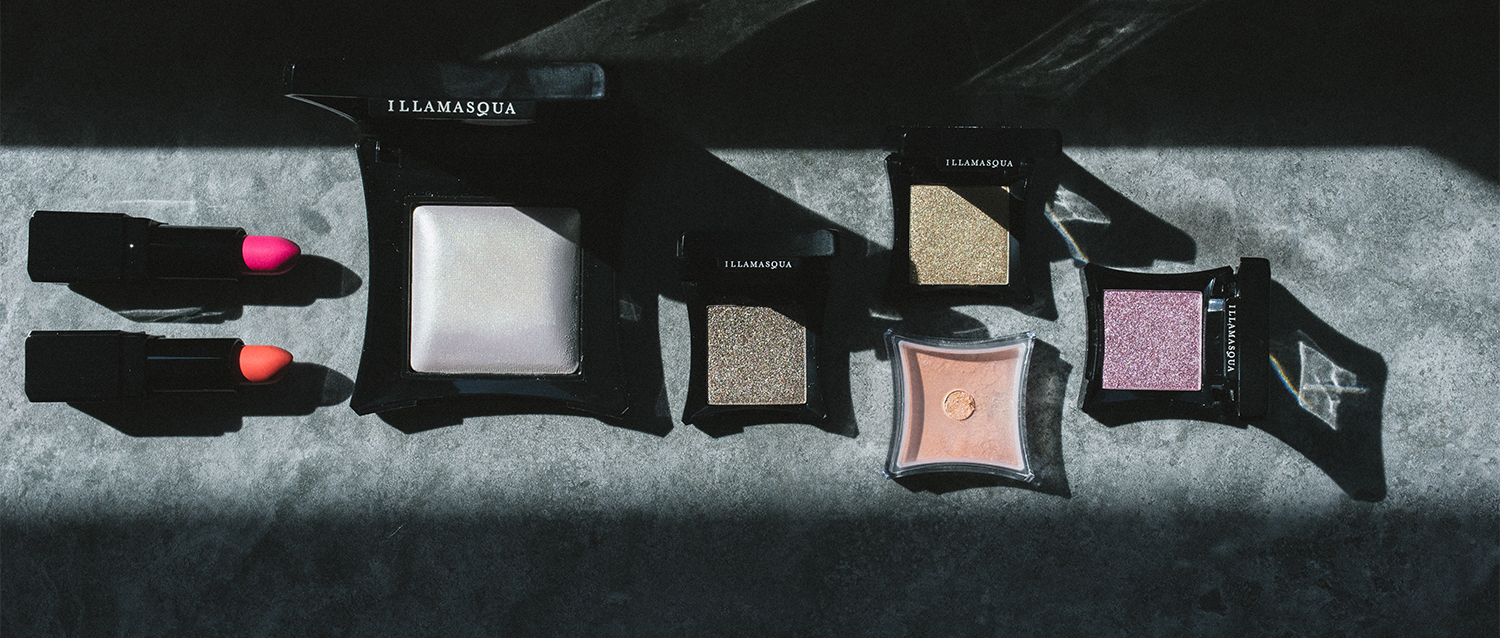 Mixed in with floral hues of peach and rose are earthy molten metallics, with a flash of holographic glow. From first glance it's easy to see that magic and nature inspired the colour palette – there's an ethereal sheen to the highlighting powder and the eye products have a legit mystical shimmer. The result is a really wearable colour palette that looks gorgeous on a variety of skintones.
The lipsticks are both matte shades, but with a slight satin finish that adds just a bit of dimension and makes them super comfortable to wear. Embodying the typical blooms of spring, Binary is a pale peachy coral, whereas Charge is a dark magenta pink that might not be for everyone, but is a great pop of colour for the collection.
The star of the show is undoubtedly Deity, the newest shade in Illamasqua's baked powder highlighter range. With a golden-green tint inspired by the fresh radiance of a spring morning, the powder gives a subtle shine in one layer (perfect for highlighting cheekbones) that can be built up for a majorly intense iridescent glow.
Illamasqua are famous for their Pure Pigments – adored by makeup artists for their high-performance and versatility – they're brilliant for layering on top of cream formulas to add extra dimension. Muse (a cool dusky pink) is designed to recreate the glow of May Day morning dew – the high-shine loose powder can be used as an eyeshadow (it makes a great inner corner highlight, FYI), or to embellish lips, cheeks, and even brows.
The Pressed Eyeshadows come in three limited edition shades – a pure gold, a pink-tinted greige, and a warm rose – all with a metallic finish and bang in sync with the current trend for red tones in eye makeup. They're ideal for enhancing a neutral toned smoky eye or for applying all over the lid with a touch of water for a more intense result.