The latest Jeffree Star collection just launched, and we are obsessed. This all-blue spring assortment marks the fifth anniversary of Jeffree's brand and features icy shades and iconic formulas that are to die for.
Say hello to a brand new eighteen-shade eyeshadow palette, a bundle of eight mini liquid lipsticks, five all-new Liquid Frost highlighters, three new lip scrub flavours, two blue bags, and a metallic blue mirror.
Here's everything you need to know about Jeffree Star's most recent release.
It's just as good as the original Blood Sugar collection
Who said a sequel can't be just as good as the first one? Not us. The Blue Blood collection features the same classic formulas, the same incredible pay-off, and the same staying power that you know and love from the OG Blood Sugar. Which is no surprise considering that Jeffree credits the Blood Sugar palette as the one that took his brand to the next level, becoming one of the biggest selling beauty products of 2018.
The palette is seriously extra
The Blue Blood Eyeshadow Palette contains six wearable shimmers and twelve buttery mattes, in a mixture of pressed pigments and shadows. In true Jeffree style the packaging is (extra) extra, taking inspo from jewellery boxes and coffins.
Shades include: Cullinan (stunning icy white), Mintea (perfect mint shade), Crystal Flesh (metallic champagne), I'm Cold (soft powder blue), Untouchable (soft peach transition, pressed pigment), Priceless (pastel nude), Power (slate grey with a blue undertone), Blue Blood (dark powder blue), Deceased (deep cayenne blue metallic), Ice Tray (soft pale blue), Blue Monday (vibrant blue, pressed pigment), Flourishing (bright neon teal with green-blue undertones), Wealthy (pale peachy nude), Celebrity Skin (soft brown transition), Entitled (metallic teal with glitter reflects), Ocean Ice (dark blue, pressed pigment), Cremated (dark forest green with grey and blue undertones) and Undertaker (deep blue).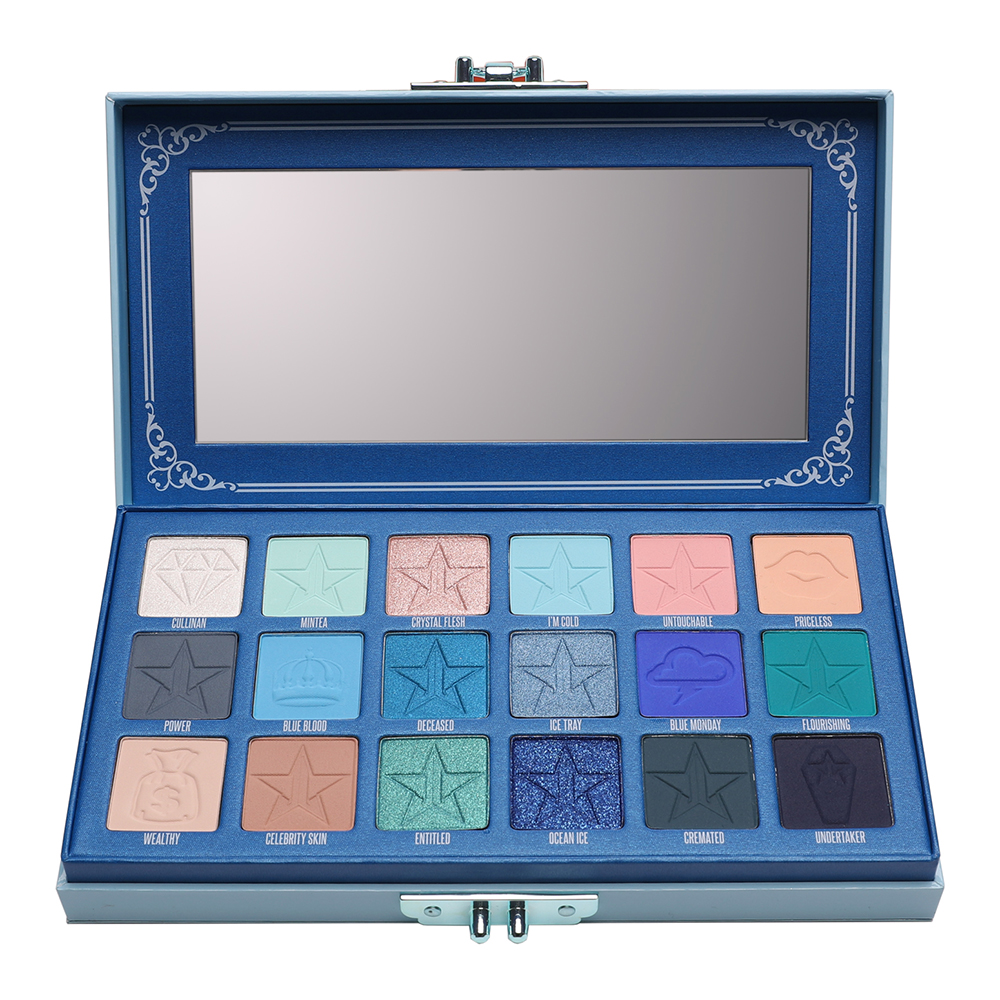 The liquid lipsticks can be used anywhere
The Blue Blooded Mini Lip Bundle is made up of eight incredibly versatile shades that can also be worn as eyeshadow, eyeliner or, well, however you fancy. All about experimentation, Jeffree dares you to be bold and trial a blue lip if you haven't already – you won't look back.
Shades include: Drug Lord (pure white), Ice Tray (periwinkle blue with glitter reflects), Jawbreaker (vibrant neon blue), Blue Velvet (classic navy blue), Abused (dark navy), Diamond (light periwinkle), Titanic (deep blue with glitter reflects) and Medusa (slate grey with blue undertones).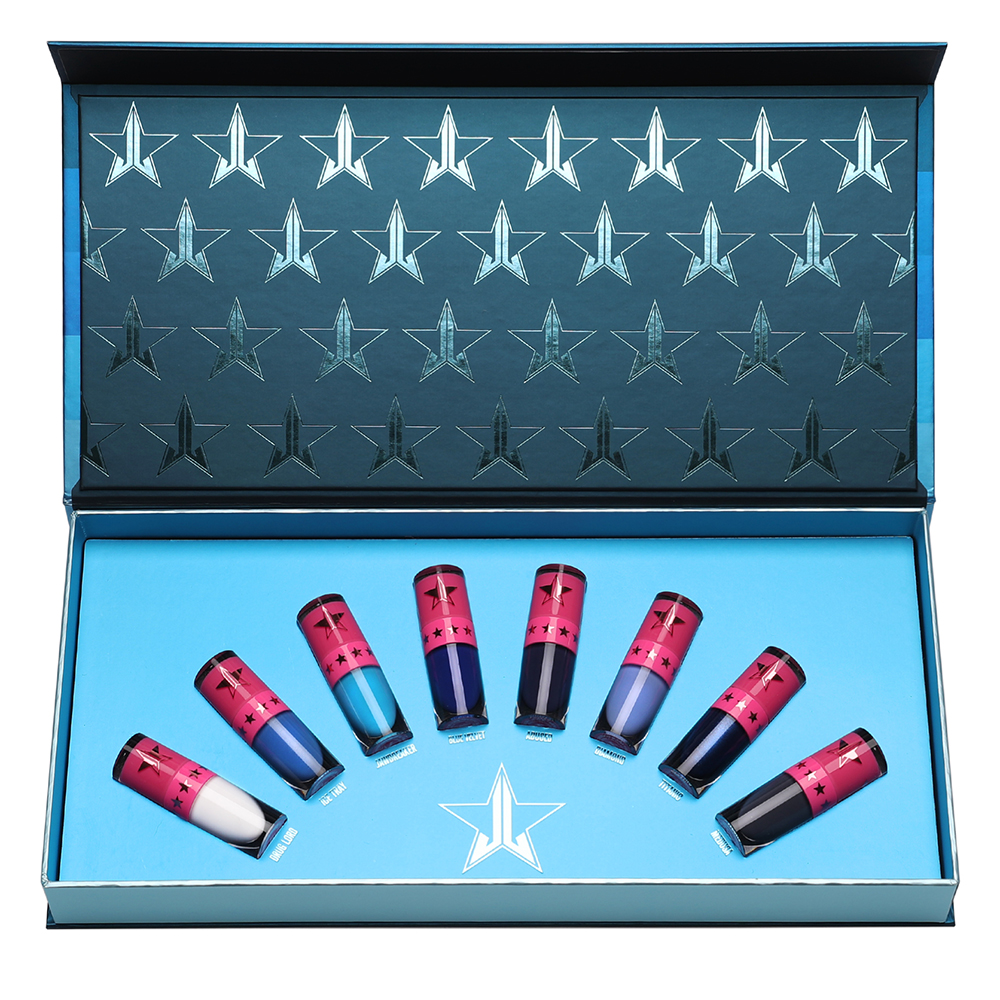 There are five new Liquid Frost shades
The Liquid Frosts have had a makeover. Although they're sporting a new blue exterior, these game-changing highlighters feature the same unrivalled formula as the OGs. Wear alone, mix with your skincare products, or apply to your body – these blue and gold liquid highlighters are surprisingly wearable.
Shades include: Ice Cream Bling (peachy gold with glitter reflects), Frostitute (mermaid teal with a minty iridescent glow), Blue Balls (deep, icy blue with pink micro reflects), Michigan Ice (icy silver with baby blue glitter reflects) and Expensive (gold with blue glitter undertones).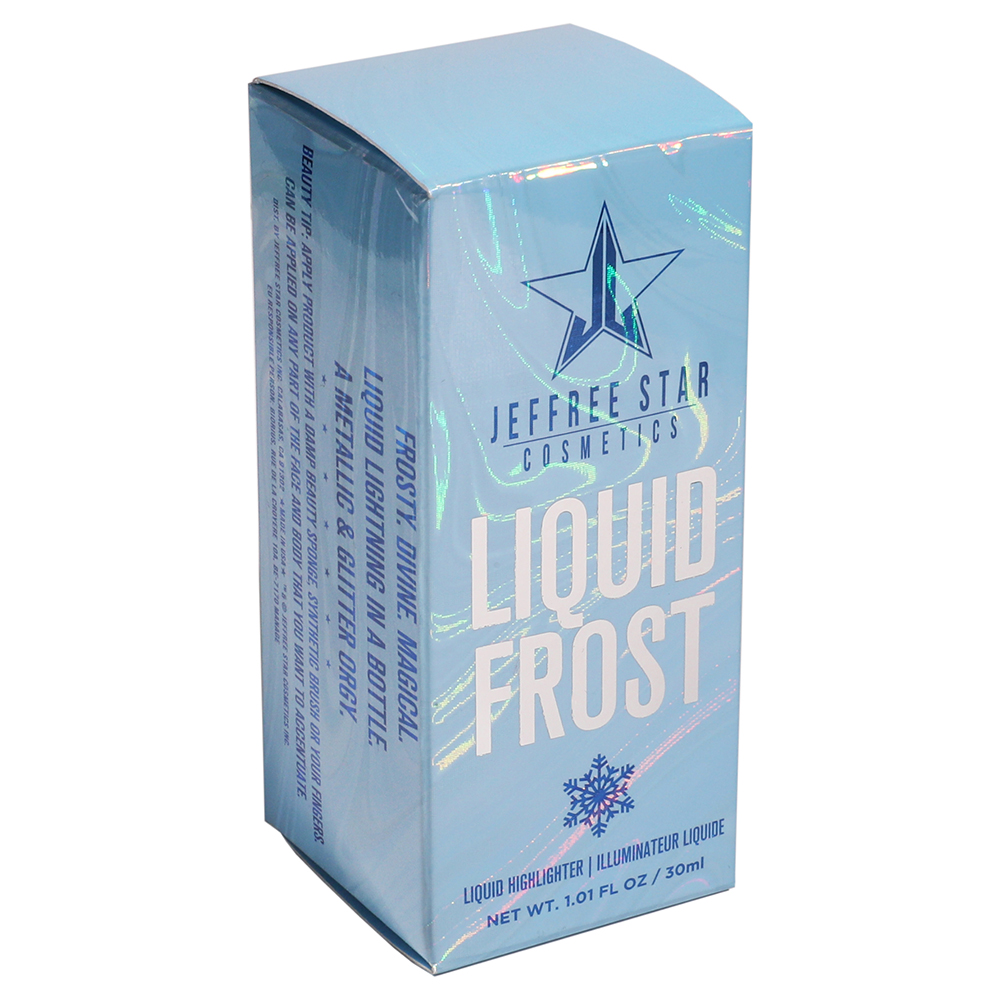 The accessories are next level
Since you're going to want everything in the collection, you'll need somewhere to put it all, right? Enter the blue travel makeup bags. Available in baby blue and a darker, more vibrant blue, these branded bags are big enough to store all your favourite makeup and beauty products. There's also a new blue chrome hand-held mirror so that you can touch up your makeup on the go.
The lip scrubs are good enough to eat
The underrated hero product for lips (according to Jeffree), you'll find three new lip scrub flavours in this collection. The edible formula exfoliates the lips, making them baby smooth and prepped for lipstick application.
Flavours include: Blue Freeze (reminiscent of slurpees at the movie theatre), Vanilla Mint (sweet and safe) and Blueberry Pie (for the dessert lovers).
The entire collection is vegan
Like everything else in Jeffree Star's brand, the Blue Blood collection is of course 100% vegan and cruelty-free.