Anyone who works in beauty will tell you that it's a fun, inspiring place, full of creative ideas (and the occasional free sample!), but exactly how do you break into the beauty industry? In this series, we'll be chatting with beauty industry insiders to find out what their jobs involve and the paths they took to get where they are now.
From makeup artists and beauty editors to social media assistants, brand founders, and web developers – these stories are proof that you can enter the beauty industry via any career path.
Meet Jordan Liberty, makeup artist.
What did you want to be when you were younger?
Art and photography have always been a significant part of my life, even at a very young age. I think it was assumed that I would develop a career in the arts, but in kindergarten I claimed for a while that I wanted to tame lions and after I discovered Jurassic Park, I was obsessed with paleontology for several years – it drove everyone crazy.
What attracted you to the beauty industry?
Beauty combines all my interests and talents, which is why I've pushed to break barriers and carve out my own unique career path. From product development, design, marketing, and education to creative direction, artistry, and photography, the beauty industry is like a big sandbox for me to play in.
What did you study and how did this guide your current role/how do you use the skills from your degree in your job?
I'm sure this comes as no surprise, but I studied fine art, photography, and graphic design. I won't lie, I never felt inspired or properly challenged in a classroom setting. I'm a self-starter and bit of a geek who grew up in a family of artists — so it was difficult for me to sit through "drawing 101" after years of developing my craft independently. My grades were always pretty high, but the classroom wasn't where I truly thrived.
What path did your career take after graduation?
I never graduated college. College is a massive time commitment (and it's expensive), and I felt that I was too young to commit to a set career path at seventeen years old. I stepped away to immerse myself in different creative spaces and get to know myself better. Ultimately, that led to makeup and photography and campaigns and touring — and suddenly I looked back and I was twenty-eight with no student debt and no guilt about leaving college. It was a difficult journey, but it was absolutely the right choice for me.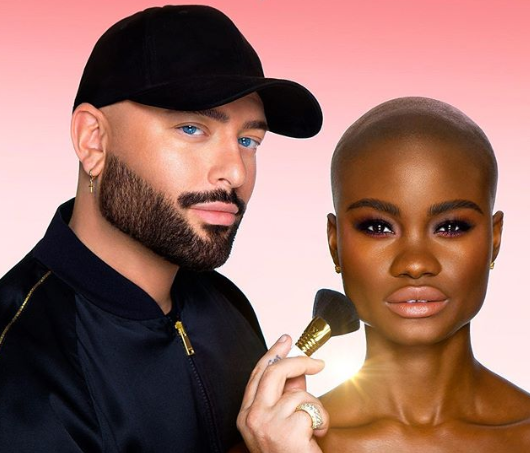 What skills and experience do you need to succeed as a makeup artist?
Talent is common. Self-awareness, humility, professionalism, and the ability to effectively collaborate are becoming rare skills — skills that can really advance your career. Make yourself irreplaceable. Make yourself the best candidate. Practice great hygiene. Show up early. Work quickly. Contribute to the entire team. Talent should never be a crutch to rely on.
What does your day-to-day entail?
Every day is different. When I'm home in LA, I'll usually wake up and scroll through emails and then connect with my manager Scott to run through whatever tour dates or contracts we're working on and whatever photoshoot is in the pipeline. I spend a lot of time at home working on preparing for my tour, working with companies on creative direction and product development, and editing images or doing test shoots at home for various projects. When I'm touring, I'm basically "on" 24/7. Sometimes I'll literally step off the plane and head to do a bit of media or press for the next day's masterclass. The inconsistent and sometimes grueling schedule can absolutely be exhausting, but I love the excitement I feel each day when I wake up. It's always something new.
What are some common misconceptions people have about your job?
That it's easy. That it's always fun. Some friends of mine actually believe that my life is a huge vacation, but the reality is, I never shut off. Even if I'm actually on vacation, I'm constantly connected to Scott to make sure that I'm not missing anything; but I can't deny that I love what I do and find so much joy in it, I often don't think of it as work.
What is the best part of your job?
Lately? The travel. I never dreamed I'd be paid to travel the globe. I've been to the Galapagos islands — twice. I never would've dreamed that makeup could afford me this lifestyle.
What has been the most surreal moment of your career so far?
I've had a few. Definitely that first overseas flight to my first international masterclass in Australia. Oh, and the time one of the makeup artists I've admired for like 20 years fan-girled over me. I could've died right then and there. Creating my latest product, which comes out soon. This one was a dream-come-true for me, something I've always wanted to create and it's so weird to be talking about it aloud. It's been a huge secret for like a year and a half and we're just about to reveal what it is. I always get butterflies before launching a product, but this one is truly special.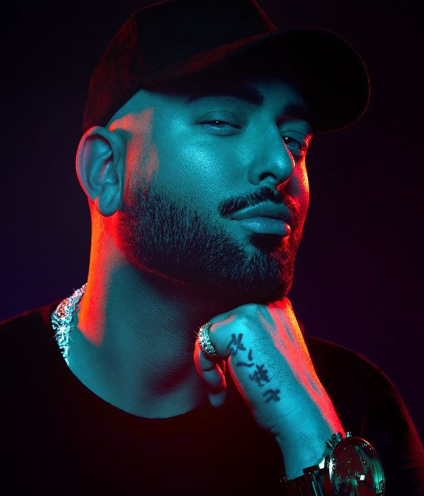 What advice would you give to someone wanting to be a makeup artist?
I can't say it enough: work fast, be professional, practice good hygiene, and utilize social media to your advantage. Social media is free advertising. Find a way to provide your followers with information they can't find anywhere else. This is a competitive industry, and you always want to stand out in the best way.
What essentials are vital to you doing your job?
Comfortable shoes. Lots of water. Lots of laughs.
What's your top piece of beauty advice?
Makeup is 90% personality and 10% application.
What are your three favourite beauty products?
Too hard to choose! Sigma brushes because they're practically indestructible. Right now I'm loving Linda Hallberg Infinity Glass because I'm a glossy skin/eye/lip addict. I've also been sharing this cool makeup prep technique with Skindinavia The Makeup Finishing Spray before foundation to keep makeup on longer without the need for baking. So you moisturize, dust setting powder over top, hit the powder withthe setting spray, and then go into your primer, foundation, etc. When the look is done, you'll feel like you need less setting powder and ultimately the makeup will look more fresh and natural throughout the day.