Rough, bumpy skin is one of the less glamourous beauty issues we humans have to deal with. What most of us refer to as 'chicken skin' is professionally known as keratosis pilaris (KP) – it's completely harmless, pain-free, and non-contagious, but it can be uncomfortable and unsightly. Common symptoms are the skin on your outer arms and thighs looking red and bobbly and feeling prickly to touch.
What is keratosis pilaris?
Real talk: KP is a genetic condition, meaning you inherited it from your parents and it can't be completely cured. However, with the right products you can definitely relieve the symptoms and prevent it from worsening.
How can I fix it?
Basically if you have KP, the follicles of your skin (commonly your outer arms and thighs) overproduce keratin, so get clogged easily and don't naturally exfoliate. This doesn't mean you should grab the nearest scrubbing brush – the wrong type of exfoliation can actually make the bumps worse. Instead, look for exfoliating products that are specifically designed to treat KP. E.g. Dermadoctor's KP Duty range.
The range consists of two products – a scrub and a body lotion. Both contain key KP-busting ingredients like glycolic acid and urea, well known for their ability to level out skin's texture in record time.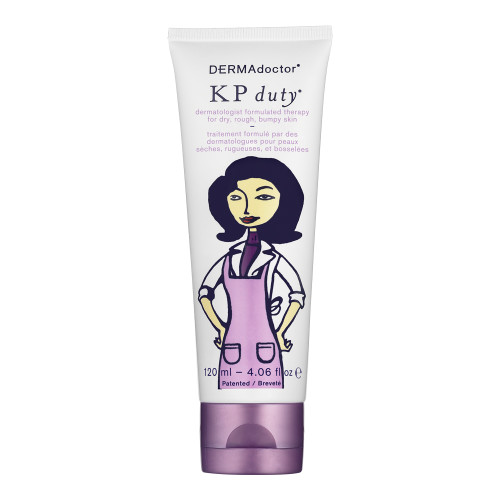 For all the benefits of a professional chemical peel (without the price tag) this body lotion contains a potent blend of glycolic acid, strong enough to truly slough away scaly, rough skin. There's also the added bonus of green tea and urea which help to retain moisture in the skin, preventing dryness which can make KP look and feel worse. Apply it to damp skin in a downwards motion for optimal absorption.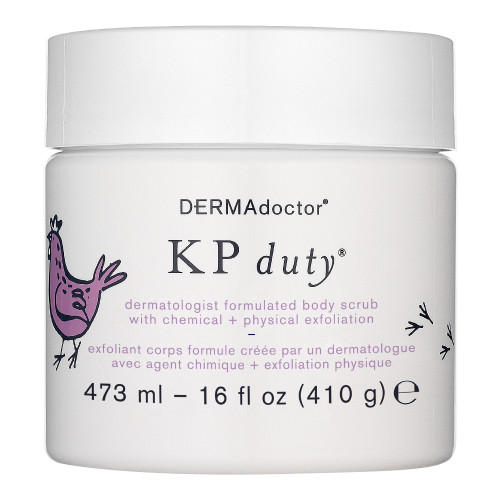 A dual-action exfoliator which combines the benefits of both chemical and physical exfoliators to speed up cell turnover – clearing and preventing clogged pores and softening skin in the process. As well as AHAs like glycolic, lactic, and azelaic acids (which fix rough skin on the surface), it also contains salicylic acid, which absorbs deeper into pores to target the keratin build-up responsible for KP. Use twice a week on dry skin before rinsing.
"I only have very mild KP on my thighs and the back of my arms but within a week of using these products it had disappeared. My boyfriend suffers it a lot worse, so he became my (willing, for once) guinea pig – ever since we started dating he's been asking me to find him a product to fix his 'chicken skin'. Fast forward three weeks and he can't stop singing the praises of Dermadoctor – his KP has completely cleared up and he now uses the scrub once a week and the lotion daily to prevent it returning." – Grace