While nude lips, dewy skin, and barely-there blush have been staple trends in recent years, this season saw makeup artists offer up something a little different – with hints of an 80s-throwback trend, and plenty of unexpected colours and unusual product placement that's creating a whole new essence of individuality. Above all, bright hues are no longer the exclusive domain of magazine editorials, fashion week catwalks, and beauty risk takers – they're for everyone. It's official, colour is the new black.
Neutral shades can feel like a security blanket, but colour has an effect on our psyche that can be at once restorative, cathartic, and uplifting. Celebrity makeup artist James Molloy says "the beauty of bright colours is that pretty much anything goes, the key to making them work is how you style them", and it's true, colour isn't something to be fearful of. Experiment. If the placement or combination doesn't feel right, then edit it until it does.
It's all very well suggesting that you dig out that bought-on-a-whim orange eyeshadow or invest in a blue eyeliner, but how to know how to pull off such tricky shades? In an effort to help women everywhere finally play around with the bright coloured products in their makeup bags or be brave enough to buy new ones, we've pulled together six ways that will help you add a little technicolour to your look.
Experiment with unlikely matches
The idea behind colourful makeup is that it's playful and different, and doesn't necessarily need to coordinate. When colours are put together they take on altogether different meanings, and bright colours require strong colours to stand up against, so mix and match them to show off your creative side. "The boldest colour statements use opposites of the colour spectrum" says Molloy, "these will enhance each other and look the most dramatic". If you're wearing a green eyeliner and you pair it with green eyeshadow, you'll appear too matchy-matchy – instead, opt for colours that contrast. Yellow and pink, purple and green – they may sound like unusual colour pairings, but in that case, go for it!
Makeup Geek Eyeshadow in Chit Chat
Embrace primary colours
There's a reason why a classic bold red lip paired with bare lids and minimal mascara is such an enduring and versatile beauty trend. The eye is automatically drawn to primary colours – they make a statement. For a fun modern alternative, switch red lips for blue or place red pigment on the lids instead. Graphic swipes spanned all the way to the outer edges of the eyes or a statement-making underliner are a daring but wearable way to play up the trend.
Light for day, layer for night
A failsafe approach to colour is to keep it subtle during the day, and layer it up for night into something more fun. For daytime, Molloy recommends eyeliner as one of the easiest ways to subtly inject colour into an everyday look – a blue eyeliner inside the waterline or an electric blue mascara paired with a bold matte lip look eye-catching without making too overt a statement. Likewise, a touch of sheer pink highlighter will give skin a radiant glow in daylight, but can be layered up for a strobed effect by night.
Laura Geller Easy Illuminating Stick in Ethereal
Morphe Pressed Pigment in Gold Digger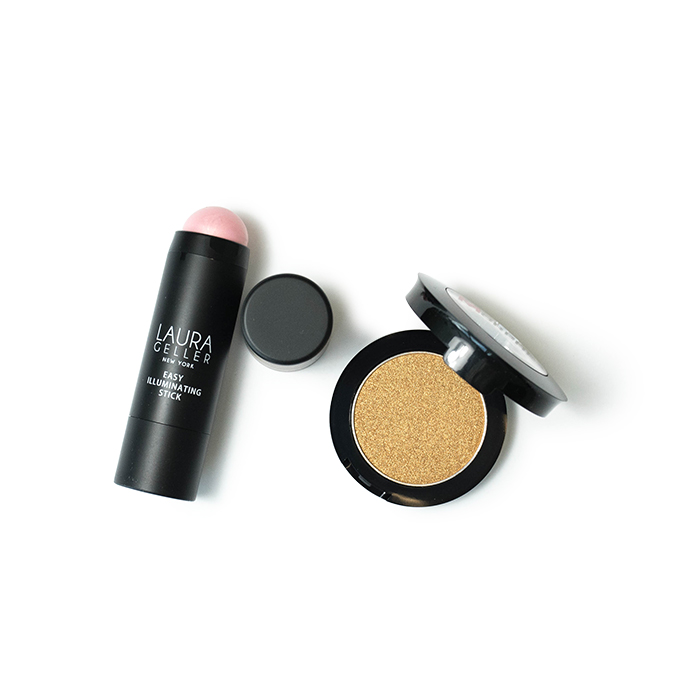 Tone it up
If you're new to colour, use it to tone up a neutral or dark look with a gradient effect. Add a pop of colour to the centre of a smokey eye or blend it into a metallic to create a smooth transition from neutrals to brights in a playful twist on the smoky eye. Alternatively, use a flash of bright neon eyeshadow to enhance your signature black winged liner. Whilst bright shades can stand alone, Molloy recommends using a black eyeliner to pull the look together when wearing light colours like neons or yellow which need deeper colours to anchor them to the eye.
Makeup Geek Eyeshadow in Kalaidoscope
Colour block
If you spend too much time blending a colour across your lids it has the tendency to look washed out and weak. Colour-blocking is all about making a statement and asserting confidence. By packing the colour on to give it a bolder, more obvious impact, your eyes will look like they were created with purpose – build solid, matte shades that will really stand out. Think jolts of bold unexpected colour in expected places – blocks of orange, washes of red, or opaque stripes of blue applied in quick brushstrokes. Go for bold and bright in one area only and play down the rest of your look – if you're emphasising your eyes as the standout feature, then your lips and cheeks should take a backseat.
OFRA Bright Addiction Makeup Palette
Fade it out
Rather than following the same beauty rules you adhere to with your everyday look, go outside the box (literally) and draw colour out, creating dimension by extending the flush of your blusher or the angle of your eyeshadow. This technique is all about not taking itself too seriously – experiment with vivid pink blusher draped across cheekbones and temples or 'look at me' lids that diffuse muted shadows around the entire eye area.
Stila Eyeshadow in Twig
Natasha Denona Blush Duo Palette in 19