Anyone who works in beauty will tell you that it's a fun, inspiring place, full of creative ideas (and the occasional free sample!), but exactly how do you break into the beauty industry? In this series, we'll be chatting with beauty industry insiders to find out what their jobs involve and the paths they took to get where they are now.
From makeup artists and beauty editors to social media assistants, brand founders, and web developers – these stories are proof that you can enter the beauty industry via any career path.
Meet Melissa Timperley, hair stylist and salon owner.
What did you want to be when you were younger?
Ever since I was three years old, I knew I wanted to be a hairdresser. I have always loved hair, so it was the perfect career for me.
What attracted you to the beauty industry?
I think I am a very self-confident person, and I love that I can give people confidence about their hair. Though all the training I've had, I've got lots of hints and tips to give to people to help make their lives easier and feel the best version of themselves.
What did you study and how did this guide your current role/how do you use the skills from your degree in your job?
I started at Sassoon when I was 16 and completed their intense training. It wasn't easy – I did come home and cry almost every day! But the positive side was that it toughened me up and made me appreciate what I would do very differently when I owned my own salon and do things my way.
What path did your career take after graduation?
I decided after nine years that I wanted to take the plunge and open my own salon. We transformed an old public toilet into a luxury three-storey salon that specialises in all kinds of colour and precision hair cutting. We have been open for three years now, and we have won the most awards for a hair salon in the whole of the North West.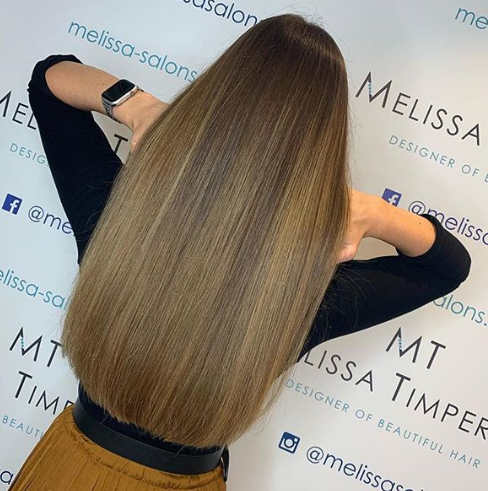 What skills and experience do you need to succeed as a hairdresser/salon owner?
Wow, this question I think could take me all day to write! I think every day requires a different version of myself. I need to listen and be caring to my clients and team; and I need to be strong and have broad shoulders otherwise every minute detail would get you down. In hairdressing you need the strength and the patience to carry on way before and way after your normal working day… I am very lucky that I have a wonderful husband and family who support me endlessly.
What does your day-to-day entail?
Each day for me is different, I could be transforming clients in the salon, on stage demoing the latest hair trends, or even teaching hair techniques internationally – my latest trip was to San Diego, presenting to 500 hairdressers from all over the world.
What are some common misconceptions people have about your job?
A lot of people think that hairdressing is a dead end, easy job that was for school dropouts. It is one of the most physically demanding jobs; you are stood up for 12 hours a day and having to still look glam and be smiling at the end of it! Colouring hair is so scientific you have to get the chemical mix just right, and people don't realise this. In my salon we have the colour bar open so that clients can see how many colours we mix for that perfect shade.
What is the best part of your job?
The best part of my job is when a client comes in with really low self-esteem, their shoulders are hunched, and they don't like looking at themselves; they are stuck in a rut with their hair. I love that we can relax them with a head massage and give them their confidence back with a haircut or colour. They go out of the salon feeling so much better!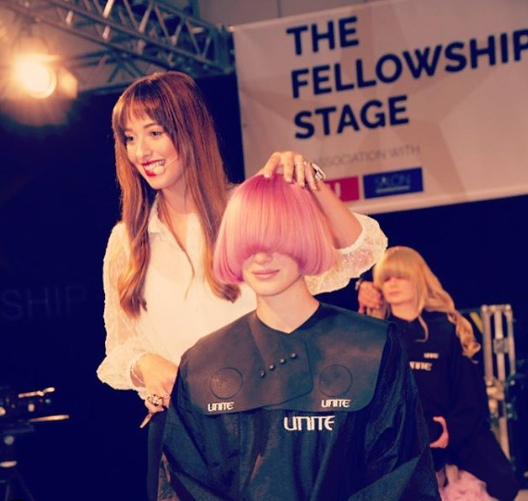 What has been the most surreal moment of your career so far?
The most surreal moment was winning the Best Hair Salon in the UK and we have now won it twice, we are so lucky!
What advice would you give to someone wanting to be a hairdresser/salon owner?
Hairdressing is one of the few things now that you can't buy online. It is a career that holds endless possibilities if you are willing to work hard and build on your natural talent. You can travel the world, you can manage a team, you can work with big names – you can follow your passion.
What essentials are vital to you doing your job?
As a hairdresser you need so much equipment it would be hard to list just the essentials – as every head of hair is different a different tool may be needed. I don't go anywhere without my scissors though – it's like Harry Potter choosing a wand, your scissors are so personal, and I might just see a hair that needs tweaking!
What's your top piece of beauty advice?
Look after your skin and your hair – you only get one of them. I have always invested in good hair products and good skincare – because let's face it, if you look good you feel good and you can take on the world.
What are your top three products on BEAUTY BAY?
This is the hardest question as I just LOVE products. I'm a real product geek with all things hair and beauty. I absolutely love Jeffree Star Cosmetics, and I swear by ZOEVA makeup brushes. My go to skincare is Elemis and at the moment their Pro Collagen range is my favourite.