We're so excited to introduce you to the latest BEAUTY BAY x @mmmmitchell collab and the only products that could make the Me, Myself and Mmmmitchell palette look any better: a trio multi-use, glitter Eyeliner Toppers.
The Eyeliner Toppers are packed with shimmer and are perfect for adding sparkle to any look. But, when BEAUTY BAY x @mmmmitchell bring out a trio of liners, you know they aren't just eyeliners; all three Eyeliner Toppers can be used anywhere on your face and body. Layer them over shadows to instantly transform the colour or wear them alone; they look completely different every time.
There are so many different ways to wear the liners, but to help you get your lining and topping inspo flowing, our fave @mmmmitchell is here to tell us how it's done.
"On the eyes I would use the liners straight from the applicator, either as a conventional eyeliner, or I would take a nice fluffy blending brush and buff the shade over the eyelid or the brown bone.
"If you want to experiment with layering over shades from Me, Myself and Mmmmitchell, take that fluffy brush again, you can put some product on your hand, pick it up with the brush and apply over the shades. It won't be too thick this way.
"If you apply straight onto the lid with the applicator, it will really make it pop!"
"Either apply to the lips straight from the applicator or with a fluffy brush, depending on what look you're feeling. The applicator is great for a really precise application, and it looks a lot like lip gloss.
"You can wear the liners over any lip shade, or over the top of a liquid lip to make the look really glossy. The liners give you the longevity of a gloss, without being a gloss."
"Take a makeup sponge and pack some of the product on the back of you hand, you can mix them together too. Really buff the product onto the sponge making sure it's pressed on, and then dab and press it across the cheeks."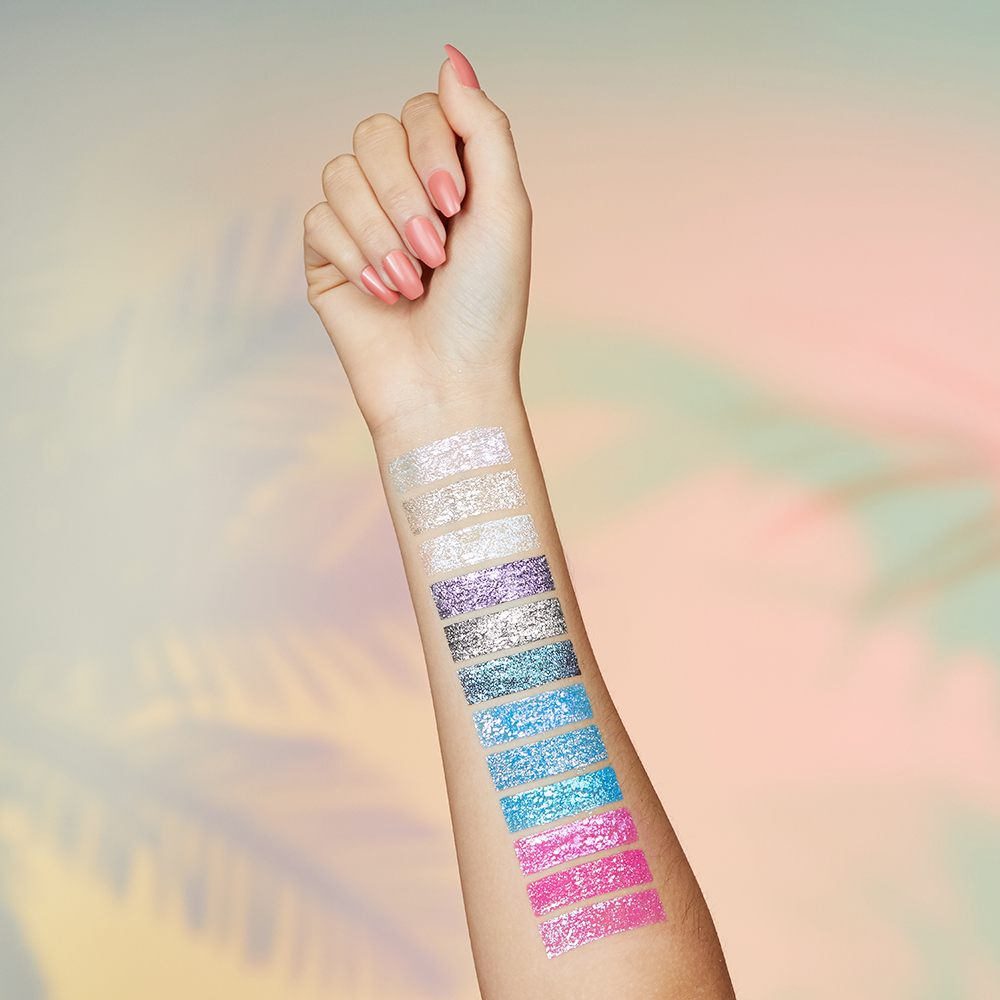 Get to Know The Eyeliners
Mirror is an iridescent shade with blue flecks and brings the glam to any multi-shade look. If you're the daring type, wear it as highlighter to really turn heads.
Mama is going to really bring out your ice queen. The iridescent shade with pink flecks adds a cool touch to any look and perfectly contrast with popping shades.
Medal is the boujiest liner of all and will make you feel like a queen. To really make the most of the gold flecks, pack this on!