So, after months of counting down, checking your inbox, nail-biting page refreshing, you've finally got your hands on the Morphe Jaclyn Hill Palette. Which means the next logical thing to do is…? Plan your looks, obvs.
With everything from neutral mattes to shimmering coppers, intense blues, and bold yellows, it's easy to see why here at BB HQ we've nicknamed it 'The Everything Palette'. There are probably a million different combos you could try with this palette alone, which can be a bit daunting…
To get you started, here's some inspo (from the pros).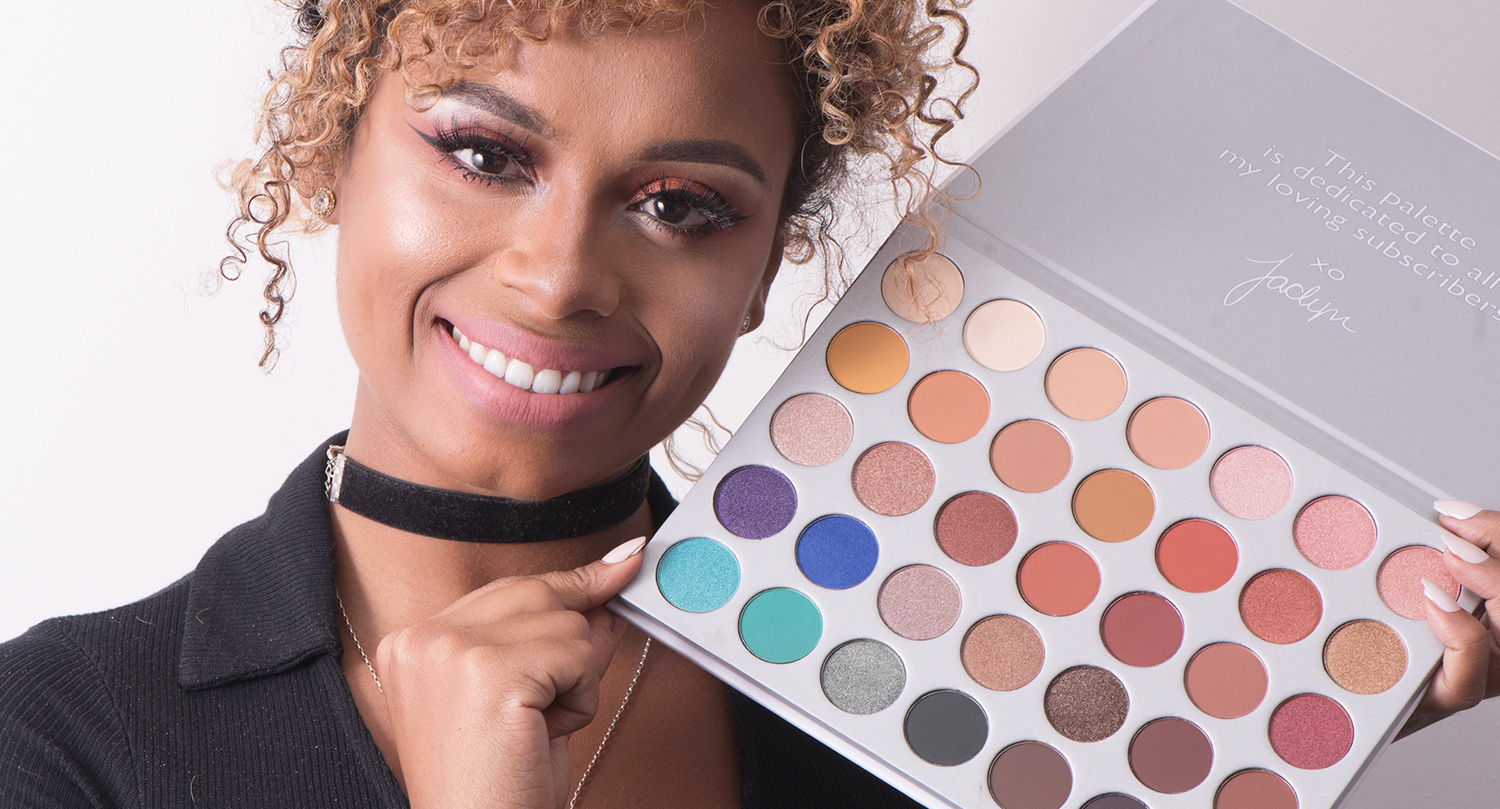 1. Prime the eyelids using an eyeshadow primer or concealer to create a smooth adhesive base.
2. Blend Butter into the crease to add warmth.
3. Define the crease using Hunts. Start by applying product in the centre, the blend it outwards at either side.
4. Press and blend Jacz deep into the inner crease to emphasise and define eye shape.
5. Clean up the lid area by patting a small amount of concealer onto the centre of the lid.
6. Next apply Firework over the concealer using small patting motions.
7. Use a rounded brush to apply Jacz to the outer corner of the eyelid, then a larger, fluffier brush to blend it out.
8. Use an eyeliner pen to create a bold winged liner look and add lashes for extra definition.
9. Buff Jacz onto the lower lashline, sweeping it up to meet the corner of the eyes to balance the look out.
10. Highlight the brow bones and inner corners of the eyes using Faint (which you can also use a a cheekbone highlighter to bring the entire look together).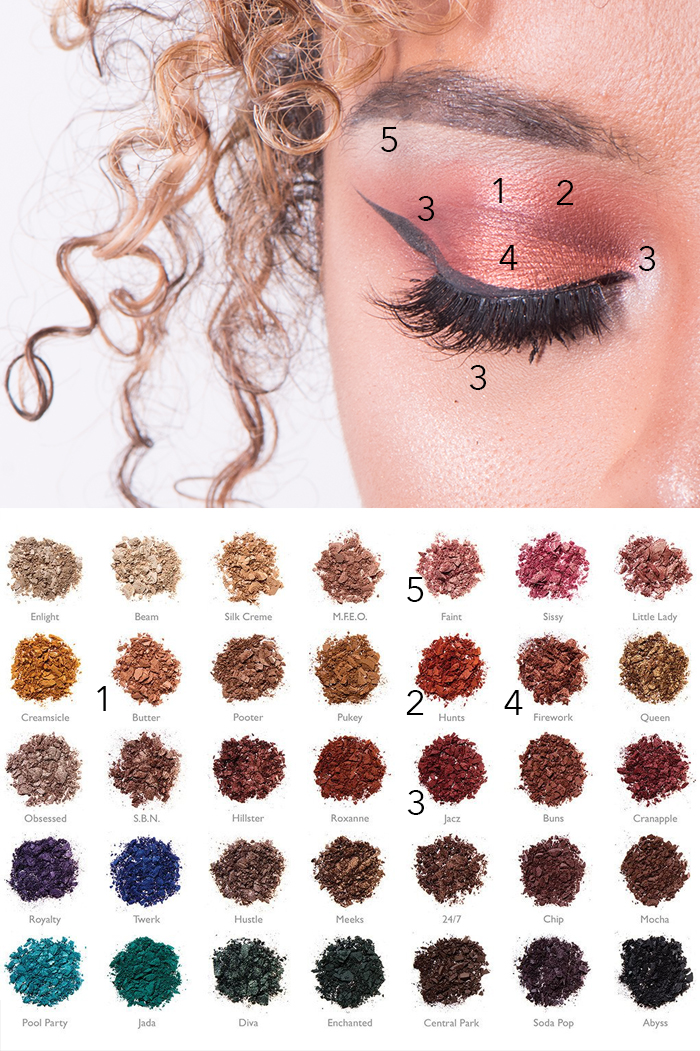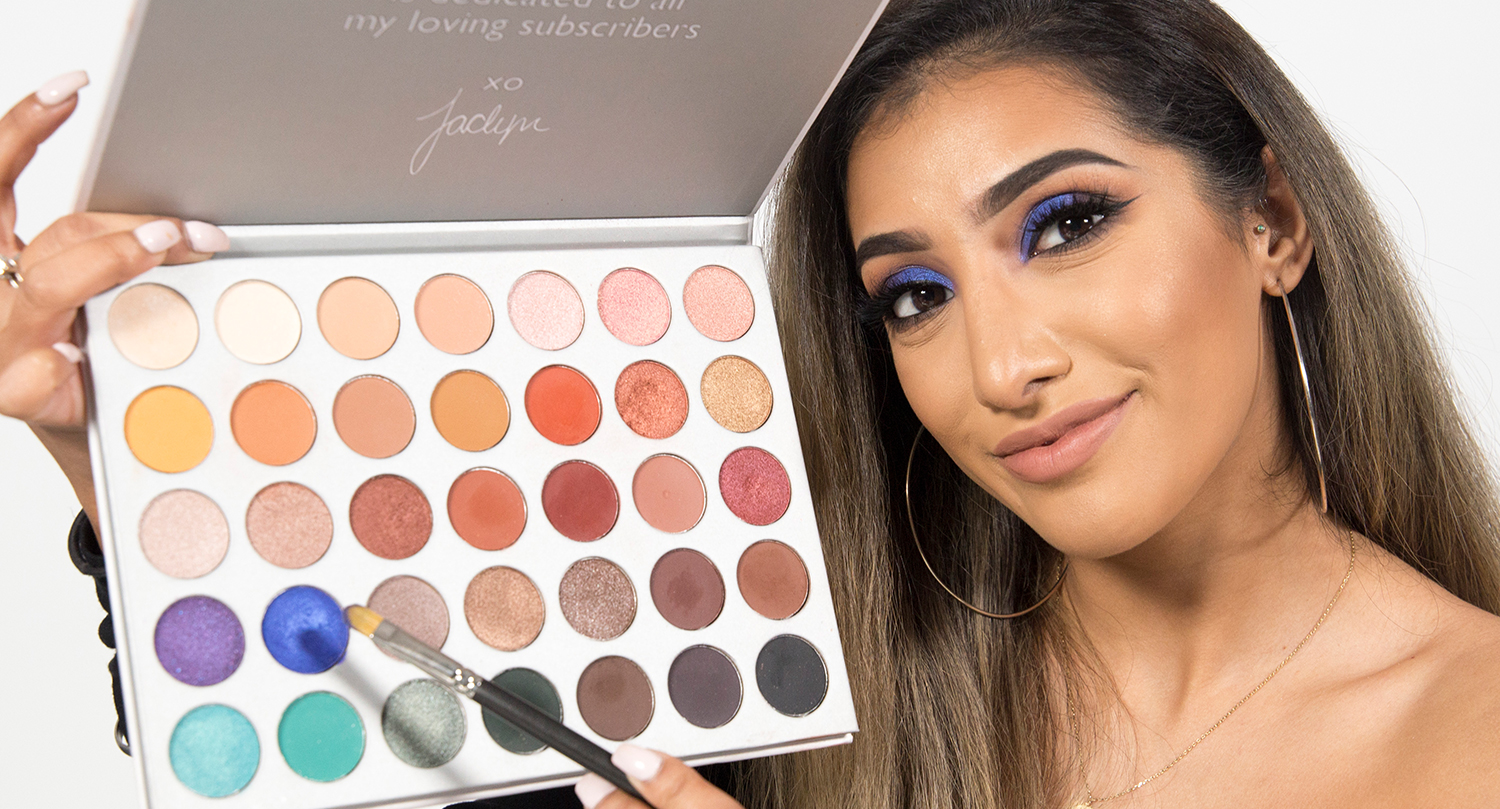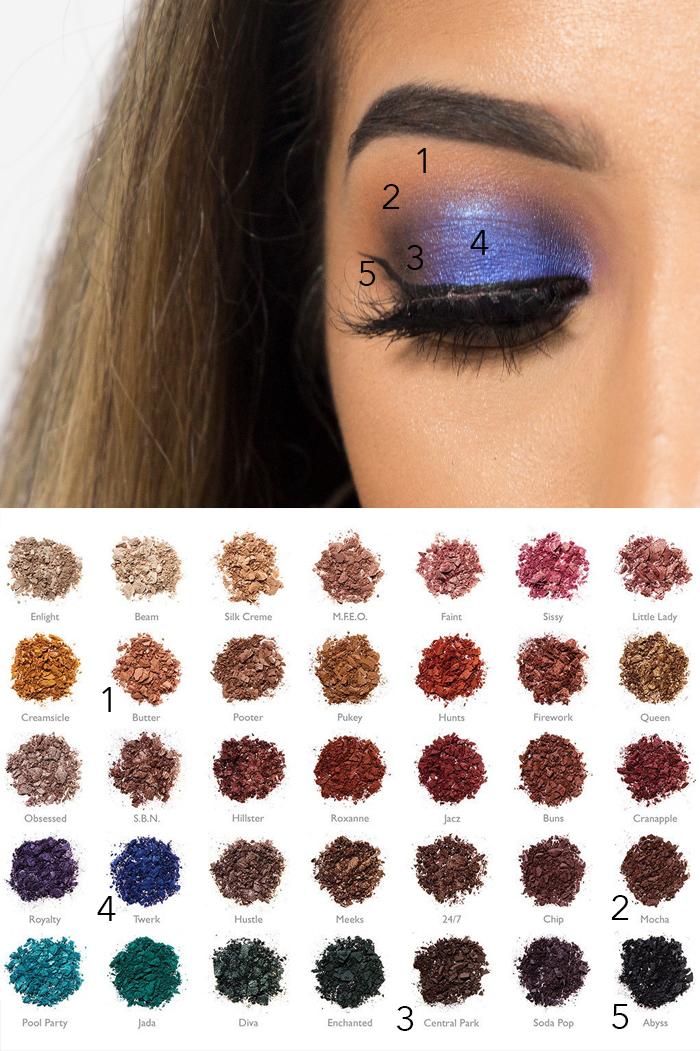 1. Start by dusting Butter through and above the crease as a transition shade to bring colours together. Apply in windscreen motions to begin with, then small circles to blend.
2. Pat Mocha into the outer corner of the eye then blend into the crease. This gives shape, depth, and definition, and helps to make a bright colour more wearable.
3. For even more depth and definition, apply a small amount of Central Park in small feathering motions to the outer corners of the eyes.
4. Pat Twerk onto the eyelid, starting in the inner corner then slowly feathering towards (but not into) the outer corner. Apply in patting motions for a more intense colour payoff.
5. Use a clean brush to soften the harsh edges of the shadow.
6. Dust Mocha and Central Park onto the lower lashline to add impact.
7. Use an eyeliner pen to sketch across the upper lashline and draw out into a dramatic wing.
8. Run Abyss close to the lower lashline and outer corner of the eyelid to add intensity. Then use a brush to blend out into the brown for a smoky effect.
9. Finally apply mascara and false lashes to bring the look together.
The liquid liner that just keeps on giving; you can always rely upon this to deliver a super-smooth, highly-pigmented flick in one go. Plus the nib is perfectly shaped for both precision and bold lining.
Dramatic glamour, with a soft finish, these lashes are double-layered at two angles for extra volume and definition. Ideal for a wide-eyed, fluttery, feathery finish.
This formula both lengthens and volumizes, and goes on so smoothly that you won't need to worry about it clumping, no matter how many layers you apply.