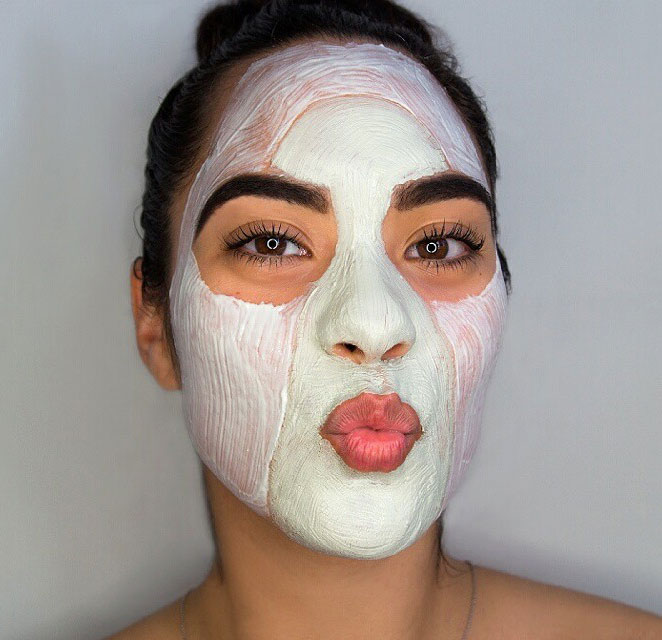 The latest beauty trend to sweep Instagram, #multimasking is the smartest skincare trick to emerge from social media so far. 
Taking social media's favourite skincare #selfie to new multi-purpose (and multi-coloured) heights, multimasking involves the strategic application of a number of masks across different zones of your face all at one time. And whilst somewhat questionable when on your social feed, it actually makes real beauty sense.
Because, unless the skin across your cheeks, chin, eyes, nose, forehead and jawline are all the same, each area of your face will require something very different from a mask.
So, if your T-zone tends to be oily or riddled with blackheads, limit the application of a  decongestant and skin-refining clay mask to your forehead, nose and chin. Where any spots have cropped up, apply a blemish-targeting treatment mask boasting salicylic acid in a dot-to-dot fashion. Smoothing a moisture mask rich in hyaluronic-acid or vitamin-C over cheeks and the forehead will help to rehydrate and plump, and if you're concerned about lack of elasticity down your jawline and neck, a light layer of a lifting and tightening treatment will work wonders to firm. Finally, finish with a dab of something lightening, brightening and moisturising under the eyes to target any fine lines and dehydration.
And don't feel limited to masks of the liquid variety either. Choose from crescent-shaped and serum-soaked undereye masks or simply snip up a sheet mask and apply accordingly.
Multi-Purpose Multimasking
And why stop at your skin? We've taken to multitasking our tresses (to make full use of the beauty routine down-time).
Granted, it's not quite as Insta-friendly, but in terms of improving hair health, glossiness, volume and elasticity, all-in-one fell swoop, we'll take it. Now that's what we call double-duty beauty. Simply massage an exfoliating mask into the scalp, a volumiser through the roots, slick a moisture mask down the lengths, and finally, a heavy-duty treatment to any over-processed ends.
Apply, lay back, relax – oh and don't forget to take an Insta-snap!