Have you heard of PSA Skin yet? No, well you're about to see it everywhere. The cool new skincare brand is pioneering the belief that skincare is for everyone, and should be clean, effective, affordable, and above all enjoyable.
The founder believes that skincare should be easy and fun, so the goal was to launch a brand that was super transparent, made skincare easy to navigate (even for newbies), and featured products that deliver results without breaking the bank. Each product clearly breaks down the steps of how to use it and what's inside it, and they're each designed to fit into one of four clear steps – cleanse, tone, serum, moisturise. It really couldn't get easier.
To help you get to know PSA Skin a little better, we've rounded up some important info about the brand and products below.
The products are "clean effective"
All PSA Skin packaging is fully recyclable, boxes are printed on recycled paper with soy-based ink, and even the pouches used to house some products are bio-degradable. In addition, the brand is cruelty-free and PETA certified, so none of the products are tested on animals.
The brand is committed to sustainability
According to the brand "Clean beauty is important to us—by which we mean, no harmful or potentially irritating additives in any of our formulas.". So you won't find sulfates, drying alcohol, synthetic dyes and fragrances, or essential oils in any of the products.
It's a sister brand to Allies of Skin
That's right, PSA Skin shares a founder with Allies of Skin, the tech-savvy skincare beloved by beauty editors and influencers alike. The two brands share a common ethos – smart and effective products – the main difference is the price point.
There are currently five products
…and more are on their way. Scroll down to meet the current range.
Light Up Vitamin C & E Flash Brightening Mask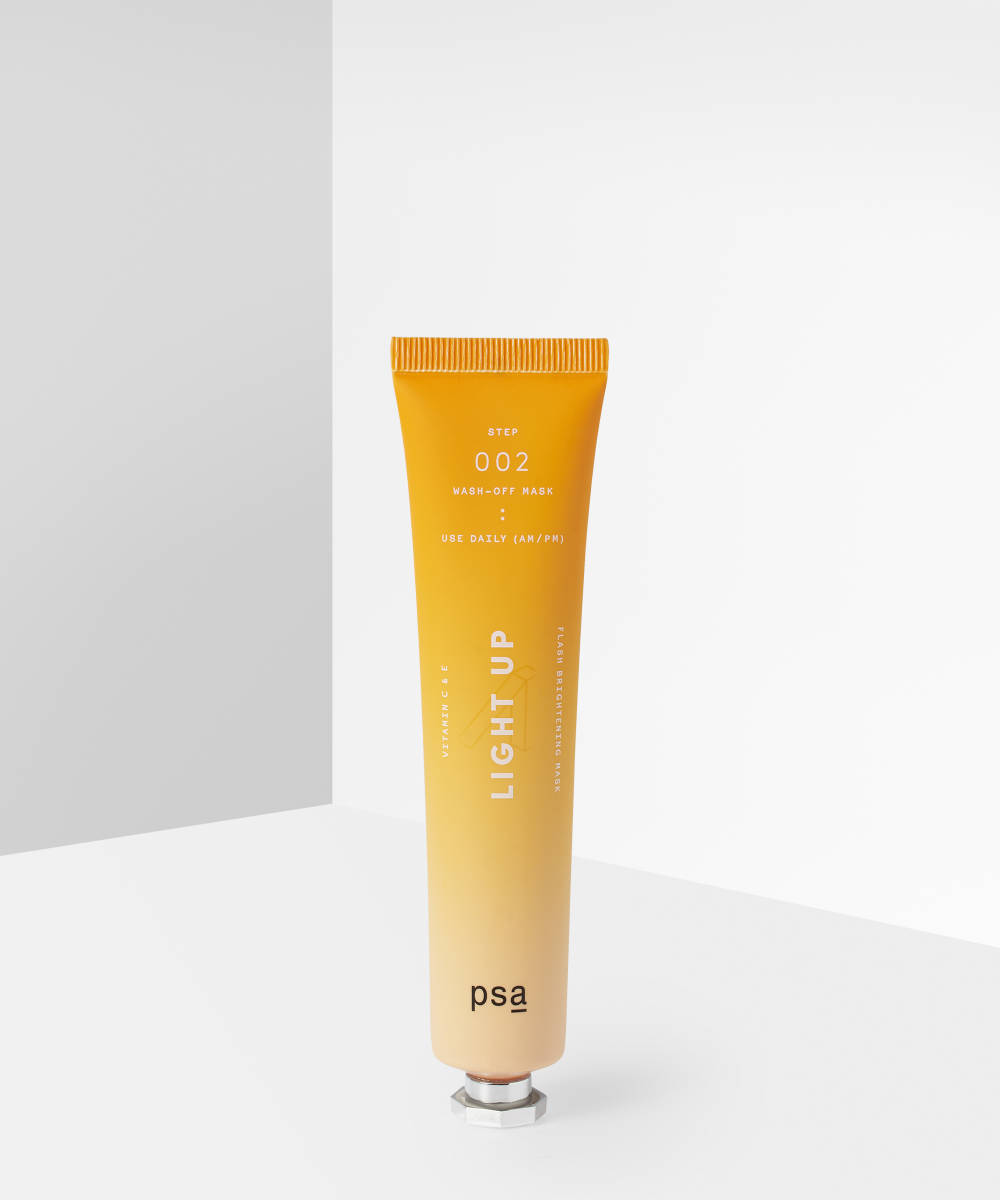 Vitamin C is a powerful antioxidant that not only helps to brighten skin, but also protects it from environmental aggressors, while vitamin E (another antioxidant) helps to calm inflammation and even skin tone. Together, and in mask form, you can expect skin that not only looks but also feels immediately healthier.
Heroine Mandelic & Licorice Superfood Glow Toner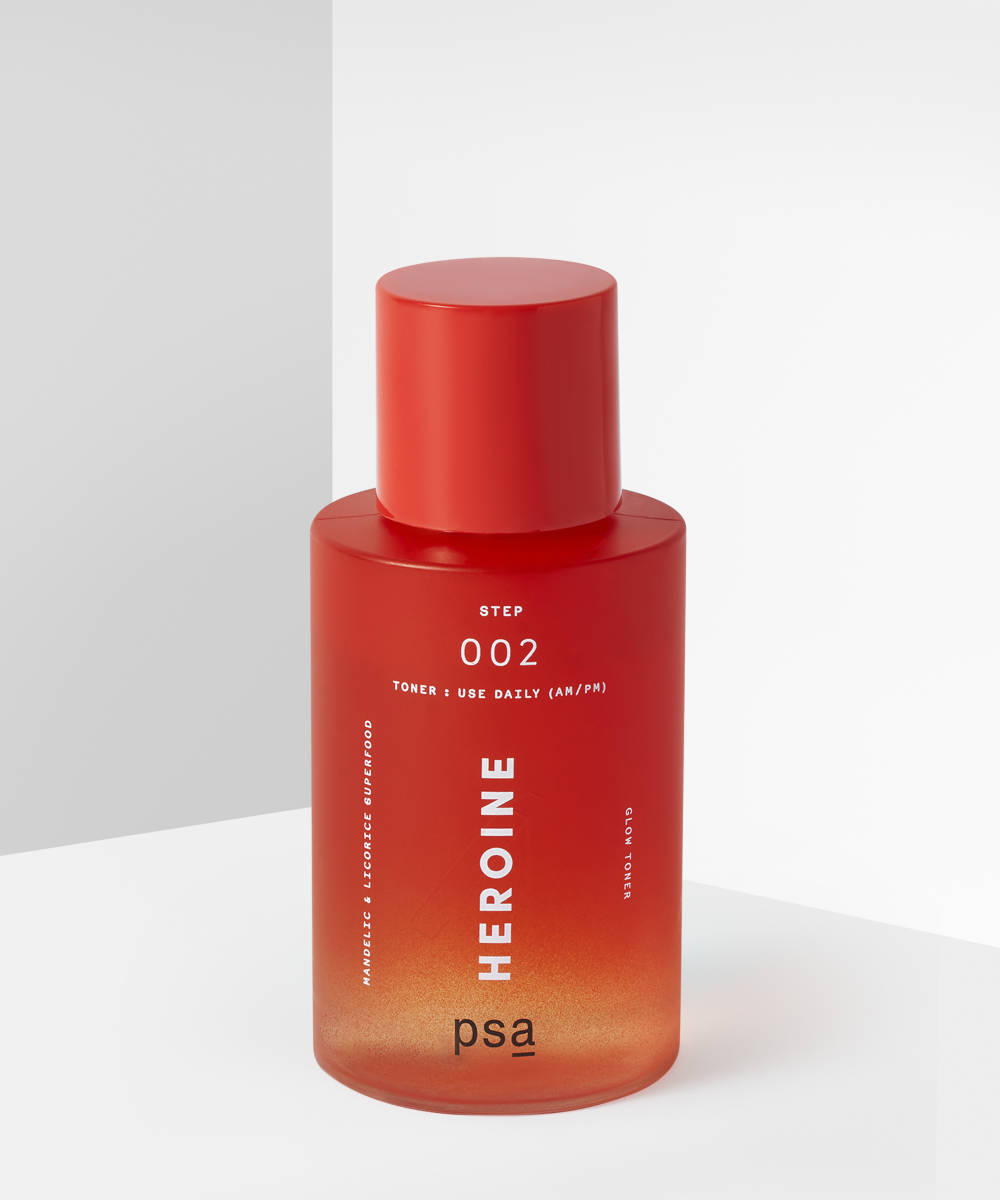 This gentle exfoliating toner makes use of mandelic acid, a gentle AHA which removes dead skin cells from clogged pores, ultimately leading to brighter, smoother skin, and reduced pores. It's supplemented with ingredients like licorice root and centella asiatica (cica) to reduce inflammation and redness.
The Most Hyaluronic Super Nutrient Hydration Serum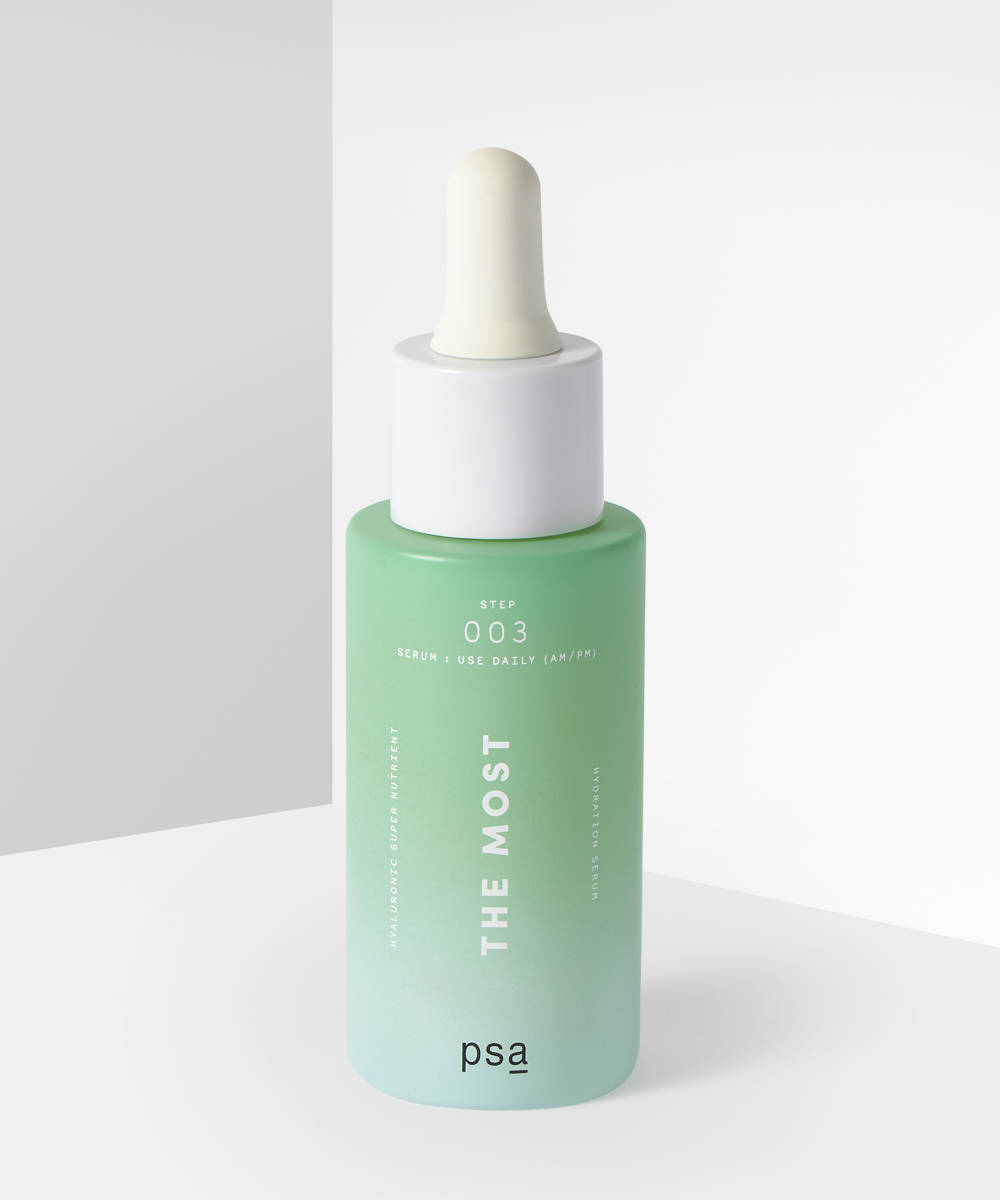 Hyaluronic acid is an ingredient that every skin type and skin concern can benefit from. It draws moisture into skin, plumping, hydrating, and improving the absorption of other ingredients. In the case of this particular formula, those include soothing bisabolol and probiotic kombucha, so you can expect skin that appears calm and balanced.
Midnight Courage Rosehip & Bakuchiol Retinol Night Oil
Studies show that plant-derived bakuchiol has similar results to retinol in treating pigmentation and improving elasticity, while rosehip is packed with antioxidants and fatty acids that nourish skin and encourage cell regeneration. Together, they're an excellent tag-team for treating fine lines, loose skin, and dark marks or post-blemish redness.
COMING SOON - Goals Multi-Acids & Probiotics Perfecting Night Serum
Lots of serums claim to do it all, few of them ever do, but this one really does. Featuring a blend of acids (AHAs, BHAs, and PHAs), probiotics, niacinamide, and tamanu oil, this serum is a veritable cocktail of the best of the best active ingredients. With prolonged use, you'll observe reduced pores, breakouts, and blackheads, and dark spots and blemish marks will fade.