On trains, on Twitter, even at bars, one of the biggest questions I get asked as a beauty editor is 'what skincare routine is best for my skin?'. The thing is, it's totally dependent on your skin type – what works for one person might now work for another…
To help you take some of the guess work out of your next skincare restock, we've taken the main skintypes, broken them down into the biggest concerns, and created customised skincare routines faster than you can say 'face wash'.
Sound good? Each week we'll be posting a daily skincare menu for a different skin type. Keep checking back to find the perfect routine for your skin.
Combination skin is neither dry nor oily, in fact it's both – which is where things get complicated – you can't use two different routines, so you need to find the middle-ground and there's not really a one-size-fits all solution. Typically combination skin has a mix of oily areas where you'll see a lot of shine and clogged pores (usually the T-zone (forehead, nose, and chin)) and dry patches (cheeks and jaw, and hairline) where you'll experience flaking and redness.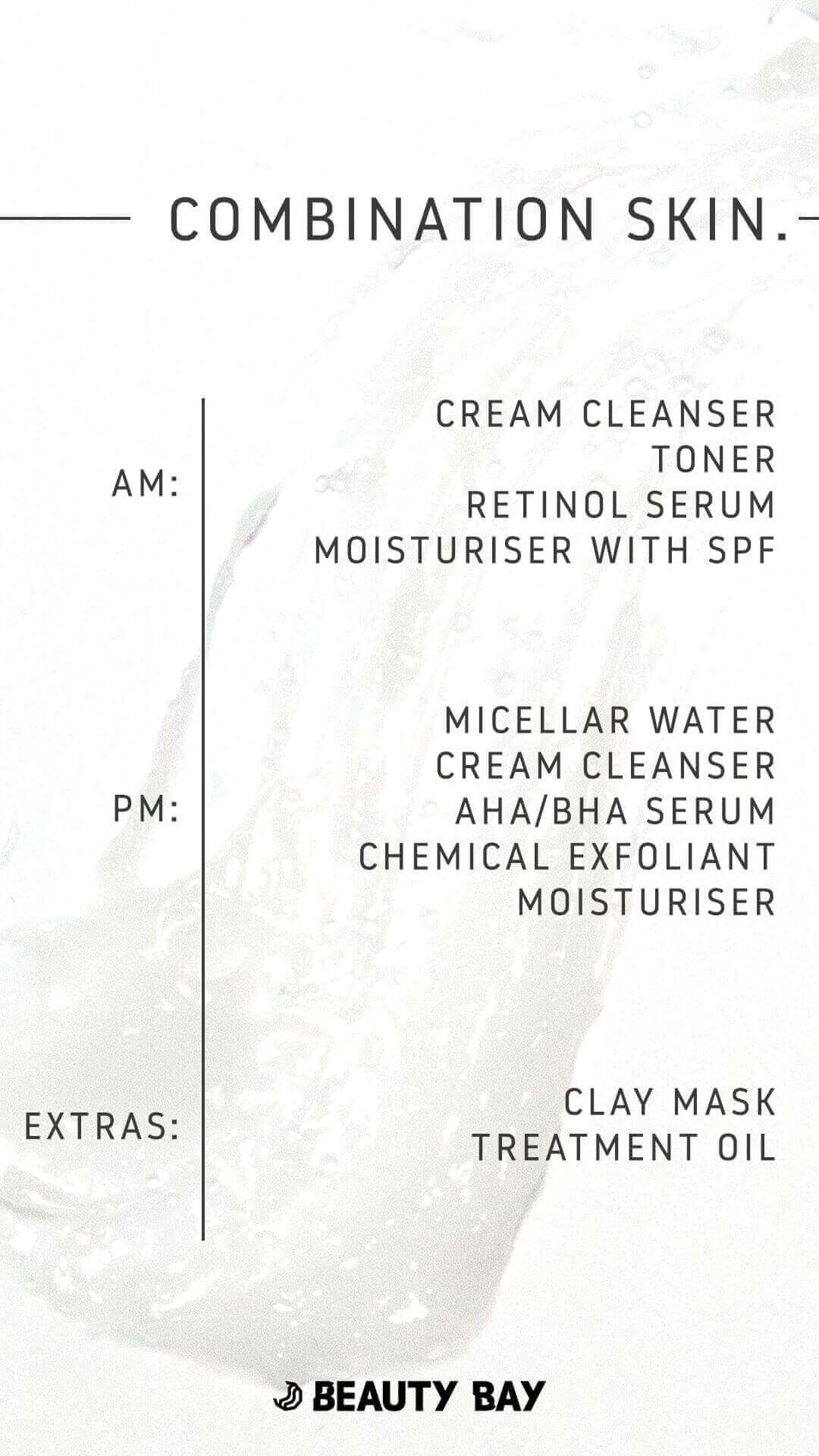 Cream cleansers are a great option for combination skin because they're gentle enough not imbalance either skintype. This mild cream cleanser works for both the oily and dry parts of your face because it hydrates, calms, and heals dry skin while also clearing congestion and impurities from pores and controlling excess oil production.
With combination skin, you might notice your skin feels tight (or in some cases still oily) after cleansing. That's where toner comes in – it helps to balance skin's pH levels, wick away any traces of oil, and add hydration. This prebioitc formula does all of the above whilst also reducing the appearance of pores and calming inflammation, so it's great if your skin is breakout-prone as well.
When you have combination skin, finding a serum that won't sway your complexion to the extremes of oily or dry can be tricky. To play on the safe side, opt for a retinol based one – the ingredient plays well with both dry and oily skin, keeping dry patches at bay while helping to prevent clogged pores. When using a retinoid in the daytime, always follow up your retinol serum with SPF.
When it comes to hydrating combination skin, the key is balance. Hydrating but not heavy, it's easy to see why this non-greasy and nourishing day cream is a perfect pick. Its lightweight, non-clogging texture is ideal for those looking for fast hydration without the shiny finish, and it makes it a great base for makeup.
This extremely mild micellar water easily breaks up dirt, makeup, and excess oil, without ever causing dryness – as some makeup removers are prone to. The micelles act like tiny magnets to draw out pore-clogging impurities, leaving skin perfectly prepped for a second cleanse.
Another gentle but effective cream cleanser, this is great for removing any remaining traces of makeup and impurities, without stripping skin of its natural oils. Simply massage it into skin with your fingertips and rinse off with warm water. It won't make your skin feel tight, dry, or greasy.
A lightweight, no-frills AHA or BHA serum is best for treating combination skin overnight. Lactic acid helps dead and dry skin cells to shed, while hyaluronic acid improves the skin's ability to retain hydration – resulting in a stronger moisture barrier, fewer dry patches, and reduced oiliness.
Focus night cream on the areas that need it most, but don't neglect oiler patches – it's important to hydrate oily skin to prevent it from overproducing oil. This bestselling moisturiser works amazingly for all skintypes – its light, lotion texture will help to relieve dryness while leaving oily areas with a weightless veil of moisture.
To deep-treat combination skin, use a clay mask on oily areas to draw out excess sebum, dirt, and makeup to prevent breakouts and blackheads from appearing. Dry areas can also soak up the benefits of Sand & Sky's mask once in a while as it's base is a particularly gentle, soothing type of clay, laced with hydrating ingredients like aloe vera and vitamin E.
Chemical exfoliant:
Alpha-H Gentle Daily Exfoliant
Exfoliating will take care of both dryness and oil buildup – helping dry, rough skin to shed while unclogging pores to revive your complexion and give it a healthy, even glow. It's important not to use anything too abrasive however, so opt for this finely milled powder, which you mix with water to create a gentle paste.