On trains, on Twitter, even at bars, one of the biggest questions I get asked as a beauty editor is 'what skincare routine is best for my skin?'. The thing is, it's totally dependent on your skin type – what works for one person might now work for another…
To help you take some of the guess work out of your next skincare restock, we've taken the main skintypes, broken them down into the biggest concerns, and created customised skincare routines faster than you can say 'face wash'.
Sound good? Each week we'll be posting a daily skincare menu for a different skin type. Keep checking back to find the perfect routine for your skin.
Everyone's skin is sensitive to some extent – but some will experience sensitivity more than others. You'll notice that your skin becomes red and gets irritated very quickly, sometimes leading to small bumps and uneven tone and texture. These flare ups are often triggered by the littlest thing (even just removing your makeup) but are more common if you're aggressive with the products you use or how you apply them. Because sensitive skin can also be dry/oily/acne-prone at the same time, it's important to maintain a consistent and effective routine to keep it calm, clear, and balanced.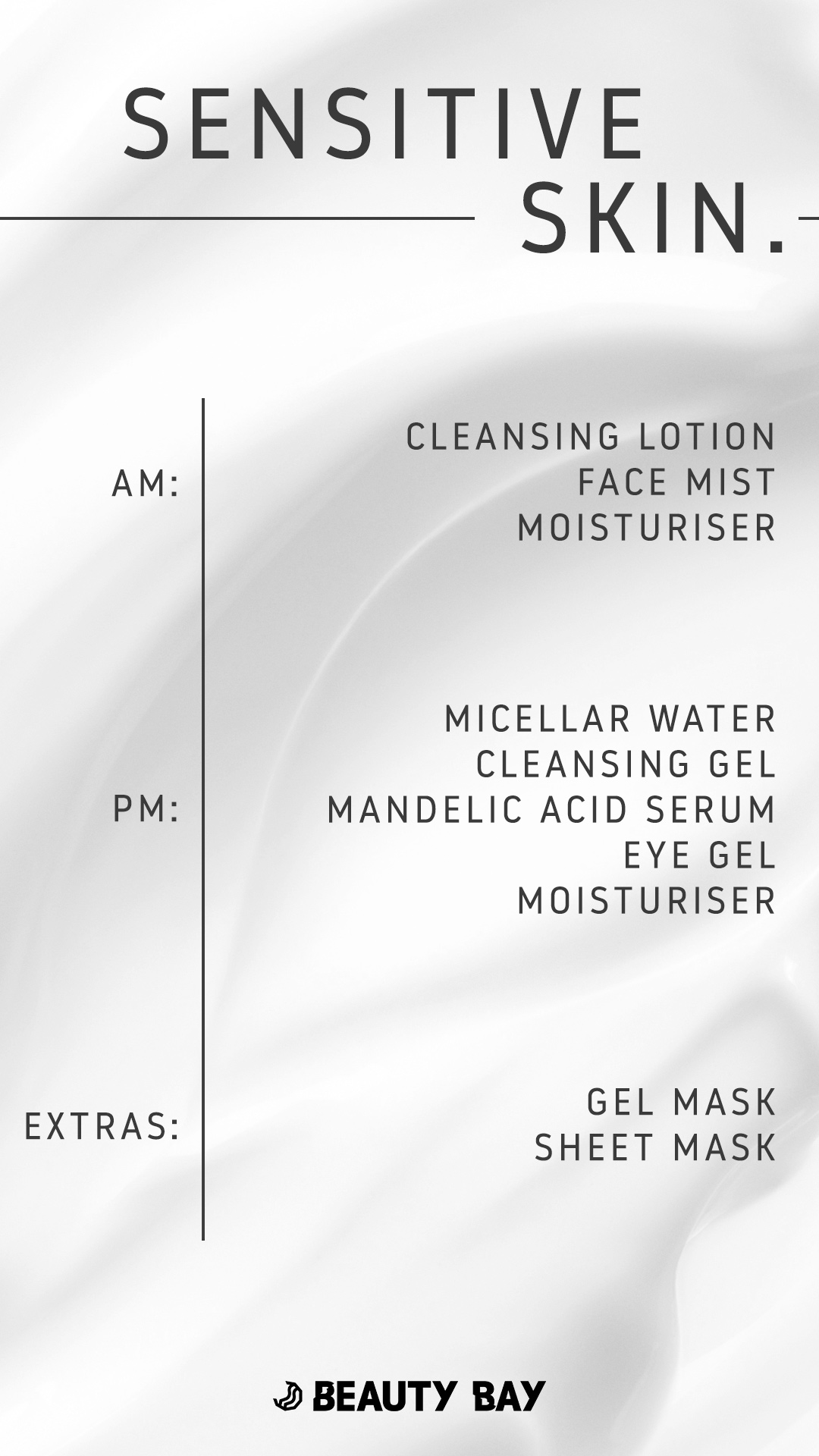 There's no need for vigorous scrubbing first thing in the morning – a light, soothing lotion swept over the skin will do just the trick for removing any greasy product residue from the night before, and will leave skin feeling calm and refreshed. Plus, you don't need water to apply or remove this one, which reduces the risk of triggering redness first thing in the morning.
A cooling fix with added benefits, a face mist is a must-have addition to a sensitive skin routine – it's perfect for reapplying throughout the day. Not only is this one extremely gentle and refreshing, it's also perfect for waking up dull, tired skin.
Sensitive skin is often lacking in hydration (which leads to that tight, sore feeling) so it's important to keep it well moisturised to make it feel comfortable throughout the day. Specifically formulated for sensitive skintypes, this light (I.e. perfect for under makeup) moisturiser contains allantoin, a natural anti-inflammatory, and carnation oil, which hydrates without clogging pores.
As with all Yes To products, this does exactly what it says on the tin and removes makeup and impurities without disrupting skin's moisture barrier. The best thing about micellar water is that it removes stubborn makeup with impressive speed, and without the need for scrubbing – it's perfect for fragile skin.
A simple, non-foaming gel texture will effectively cleanse skin without impairing hydration levels, or irritating the skin enough to cause a visible reaction. Look for something rich in glycerin and rinse with warm (not hot or cold) water. This is a favourite for easily melting away traces of makeup and leaves skin feeling clean and nourished without that tight, stripped feeling.
Sensitive skin still needs exfoliating – glycolic acid can be too strong, so opt for mandelic acid instead. The molecules they're made from are bigger, meaning the serum doesn't penetrate as deeply and is better for sensitive skin. Use twice a week. If your skin is super sensitive, try applying your serum over moisturiser to dilute it.
When it comes to eyes, stick to gentle, fragrance-free formulas and apply them no closer than half an inch from your eye. This has a light, gel texture which instantly relieves soreness and irritation and absorbs quickly to prevent irritating the eyes. It's all about hydration, and all you need is one drop split between eyes.
Formulated especially for sensitive skintypes, this thick cream soothes irritated skin and hardcore hydrates it with vitamin E and primrose oil, without leaving a sticky or heavy layer – I.e. no clogged pores! It's ideal for layering on thick for overnight hydration, and contains ingredients that will help to reduce redness and inflammation while you sleep.
If your sensitivity gets the better of you and you experience a flare up, you're going to need an emergency mask on hand… This luxuriously thick gel-textured mask is the ultimate skin-soother – it literally acts like a blast of icy water to take the heat and prickliness out of irritated skin. Cucumbers are great for soothing tired, irritated eyes, so it makes sense that they'd be equally as good at calming sore, inflamed skin.
Chilled sheet masks are perfect for speedily soothing and calming inflamed and irritated skin (we store them in the fridge for emergencies). If you've had a reaction or your skin is feeling a little bit itchy, pop a cold sheet mask on for instant relief. This one contains hydration heroes like hyaluronic acid, aloe vera, and cucumber that won't clog your pores. Use it to calm skin down before bed and you'll wake up soft and glowing.