The concept of 'clean beauty' is now so well-absorbed into the beauty industry that it can be hard to identify which brands are capitalising on the trend and which truly are true to the movement. When it comes to UpCircle Beauty however, there are no doubts. By sourcing and upcycling reusable ingredients from coffee shops to use in their products, the brand demonstrates exactly the kind of innovation and resourcefulness the beauty industry needs to make a difference.
We chatted with the brand's co-founder Anna Brightman about how she got into the beauty industry and turned her bright idea into a booming beauty brand.
What did you want to be when you were younger?
Throughout my teenage years I wanted to be a makeup artist, so I've always had a keen interest in cosmetics, skincare and the beauty industry as a whole. I used to watch hours of YouTube makeup tutorials and experimented with some pretty out-there looks! My secondary school originally persuaded me to go down a more traditional route, but I feel very lucky to have ended up in a job that is so well-aligned with what I truly wanted to be when I was younger.
What attracted you to the beauty industry?
I am someone who has always cared about sustainability and my impact on the planet and I think that the beauty industry has a pretty bad reputation for its environmental impact. I wanted to create a brand that would help to shake that reputation. If we can provide competitively priced, high performing products from upcycled ingredients then we are demonstrating that the beauty industry can become a lot less wasteful – it is an innovative approach and a fresh perspective.
Lots of skincare brands can claim to be vegan, natural, handmade, organic, cruelty-free etc. and so can we, but I wanted my brand to go a step further. How many brands can claim that their products have saved literally hundreds of tonnes of valuable skin-loving ingredients from ending up in landfill?
We say, "natural" is the new "normal" and normal is boring. To stand out you have to go a step further and that's why we create waste-fighting formulations.
What did you study and how do you use the skills from your degree in your job?
I studied History of Art… not exactly a degree choice that provides you a clearly laid out career path! I chose my course because I thought it was a perfect balance between my genuine interests and my academic strengths. I loved my time at uni and my choice of course, but it was a little scary leaving after three years feeling no closer to a decision on my career.
The skills I learned from my degree that I use on a daily basis are subtle but undeniable. I am visually-minded and have great attention to detail in all things aesthetic. This is key when it comes to branding. Take our logo for example, every element of it is considered and deliberate. The fact that the lines loop around the words represents the circular loop that our ingredients take, the fact that the lines never end represents that by regenerating ingredients we give them a whole new life cycle, the upward tilt represents the uplifting environmental impact that we want our brand to have and the hand written font alludes to the personal touch and the handmade process that creates our range. This detail comes from years of closely analysing paintings and sculptures!
What path did your career take after graduation?
When I left university I went straight into management roles – property management first, then into supermarket management as an area manager, managing several stores. It gave me fantastic insight into logistics, stock control, staffing and monitoring trends, but wasn't necessarily something I could see myself doing forever. I didn't want to be a small cog in a big machine! I wanted to start a business that had a positive impact and a purpose beyond profit. That's fundamentally why I took the leap into launching my own business.
How did you kickstart the process of creating UpCircle?
Whilst my brother (co-founder) and I were still working in our current jobs we booked a stand in the "Innovation Zone" at The London Coffee Festival. It's a five-day show, but our signature coffee-based exfoliators sold out before the end of the first day! That showed us two things, firstly that the products worked, and secondly that people weren't turning their noses up at the idea of recycled ingredients in skincare. So it was that experience that made us then quit our jobs and go full steam ahead with the brand.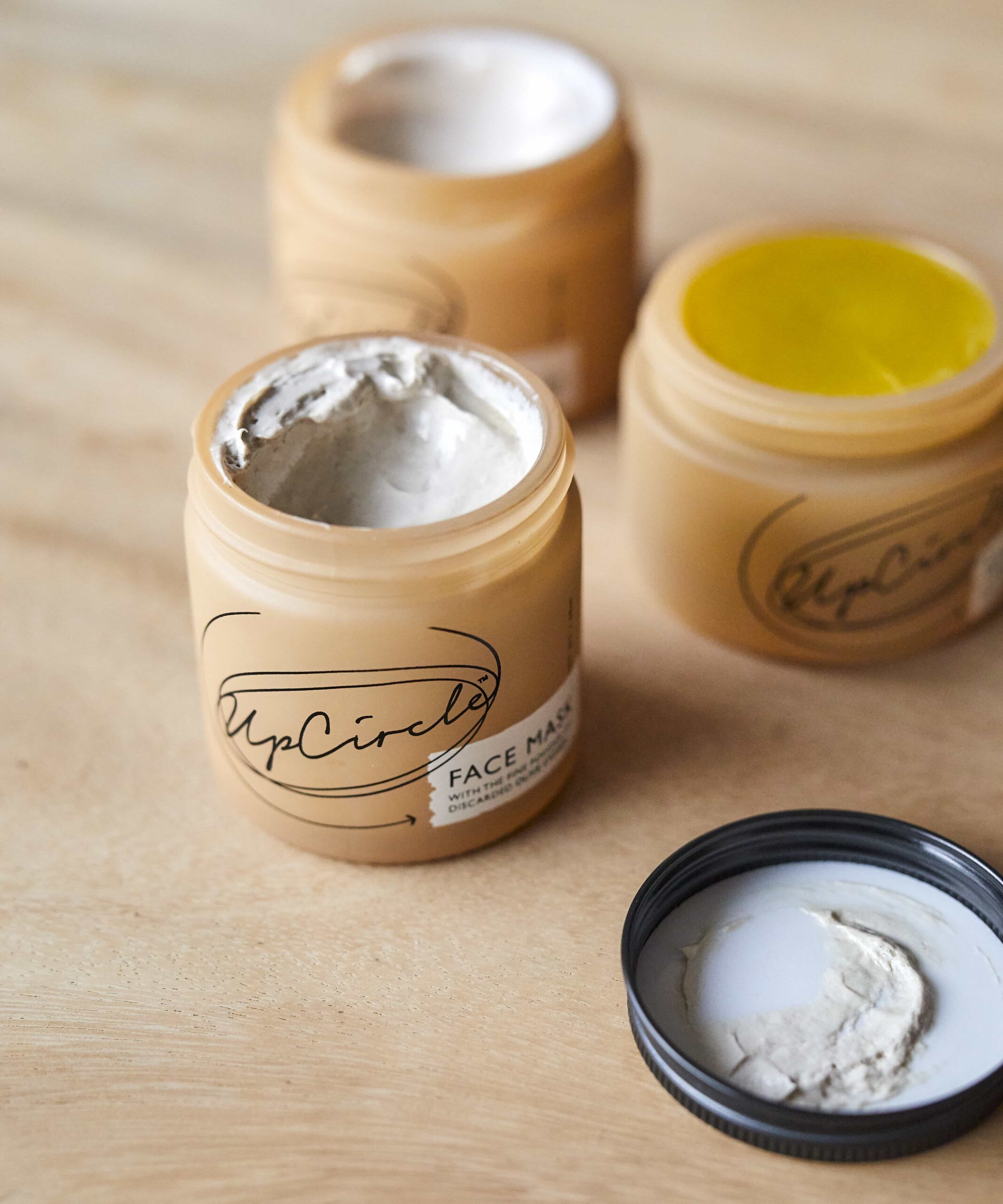 What skills and experience do you need to succeed as a brand founder?
I think it's more about character than experience. As a founder you have to wear so many hats! You have to be someone who can learn and adapt quickly when taking on such constantly evolving roles. You also need endless determination, the willingness to work very hard and to get stuck in with anything and everything that is required to make your business operate.
I try to always ask questions and stay curious. Our business idea came about from natural curiosity – simply asking a café what happens to their coffee grounds at the end of the day… If we never asked the question, we probably would've never had the idea. You never know when inspiration will strike, so stay inquisitive!
What does your day-to-day entail?
The umbrella term that I give my role in the business is "The Story-Teller". I manage press, events, all social media channels, brand partnerships, setting targets and managing the team and creating content – whether that's website content or the copy on our packaging. I also lead new product development and have the final say on branding decisions. Every day is different which I love. It keeps me on my toes!
What are some common misconceptions people have about your job?
That it's glamorous or that it's easy. I think a common issue that we have in today's society is what I call "The Instagram Effect". You look at a perfectly curated, cropped, filtered stream of gorgeousness and think that everything behind the scenes is as polished as the images on the feed. But that is absolutely not the case!
We've faced a lot of hurdles and had to start over on numerous occasions, there have been highs but there have also been lots of lows! The most important thing is that we kept going and found solutions that work. I think there's definitely a reason that other brands haven't been able to scale this concept in the way that we have – it's not easy!
We are a disruptor brand – trying to tackle issues of waste in the beauty industry is no easy task! There's a reason that we're the only brand recycling coffee grounds into skincare at scale, because the process presents many challenges. We have to intercept our recycled ingredients at exactly the right time for them to be appropriate for use in our products. We spent years refining our process to get it right, it didn't happen overnight!
What is the best part of your job?
Growing our team is something that excites me greatly. With each new member we have a new wave of excitement, passion, and personality. We hired our first ever staff member last year, we've welcomed another three since, and have two more on the way!
Also, as a female founder a personal target of mine is to speak purely on female-focussed issues once a week. I've given careers lectures in girls' schools, I offer mentorship to teenage girls looking to start their own business, and have done many podcast episodes as a guest speaker, often on the subject of female empowerment or women in business. I love that I am able to use my platform to speak on issues that are important to me.
What has been the most surreal moment of your career so far?
Having three dragons fighting over us on Dragons' Den was certainly surreal! This year we launched our range into over 800 stores with one retail partner in America – that was a pretty big deal too!
But if I'm completely honest I cherish the little things even more. When customers take the time to email or even send letters, showing before and after pictures of their skin and letting us know how much they love UpCircle – those sorts of things are what I value more than anything.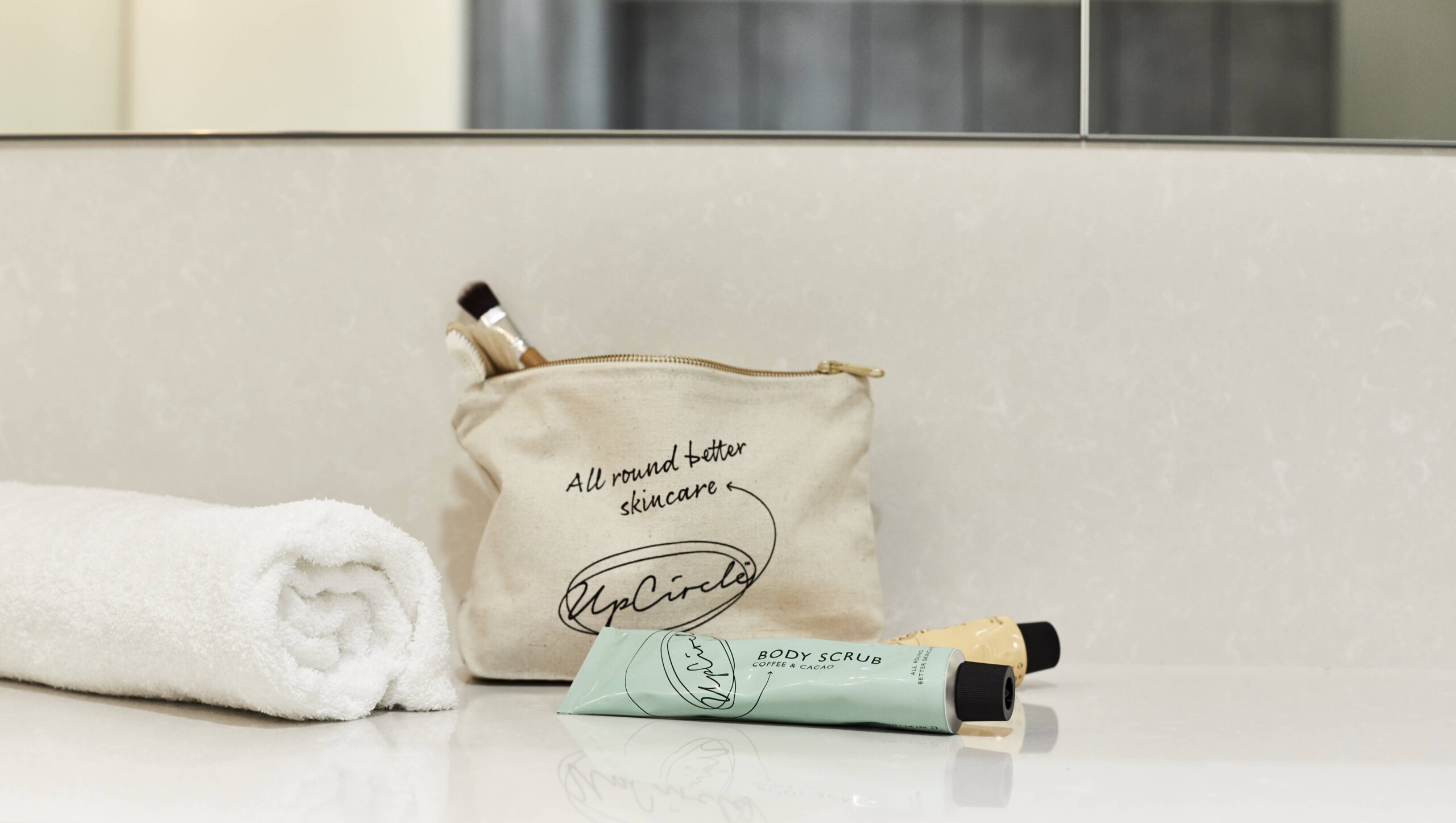 What advice would you give to someone wanting to be a brand founder?
Ironically, to not feel obliged to take onboard everyone's advice. No one knows your business idea, your personality or your life like you do, so trust your instinct. There's no harm in listening, but you don't have to take everyone's advice and run with it!
Also, on a practical level – stay in your existing job for as long as possible and save, save, save. Do as much of your research and resourcing whilst still employed, you need your ducks in a row as much as you feasibly can before taking the big leap!
What deskside essentials are vital to you doing your job?
My desk has about four desk plants on it and I absolutely adore them! They all have names and multi-coloured pots and they truly brighten up my workspace. Watering them is the first thing I do each morning! #PlantMum
What's your top piece of beauty advice?
Nothing you won't have heard a thousand times before… get plenty of sleep, drink plenty of water, and always take your makeup off before bed!! I get asked about my skin and makeup routine all the time – people are often shocked by how simple it is. Quality over quantity is what I'm all about, I think us humans have the tendency to over complicate things!
How would you describe UpCircle to a stranger?
At UpCircle we're all about upcycling by-products from other industries into skin-loving sustainable skincare products. Our products are unique in that not only are the sustainability credentials unparalleled, they genuinely deliver results for the skin.
We're also a brand whose sustainable products are accessible to all – we do not want price point to be a barrier towards making sustainable choices or supporting a sustainable brand. For us to achieve a more sustainable future we must be able to offer products at prices that are attractive to the masses.
What are your favourite UpCircle products?
At the moment I am particularly loving our Cleansing Face Balm and our Face Moisturiser with Argan Powder. I wear our moisturiser every day and think the texture is unbeatable! It's so light and yet deeply hydrating. It doesn't feel greasy and makeup sits really well on top of it. I love our cleansing calm for the scent alone… and love that it's bright yellow! It melts onto your skin as you massage it in, lifting off dirt, grime, and all traces of makeup – including mascara. It's magic! It leaves my skin glowing, I'm obsessed.
My third and final is our certified Organic Face Serum! It has won multiple awards and is our highest rated product. It's made with antioxidant-rich coffee and rosehip oils which fade dark spots and brighten the complexion. It can be used either morning or night to help boost collagen and keep skin firm. I think one of the reasons for its success is that it's extremely reasonably priced.