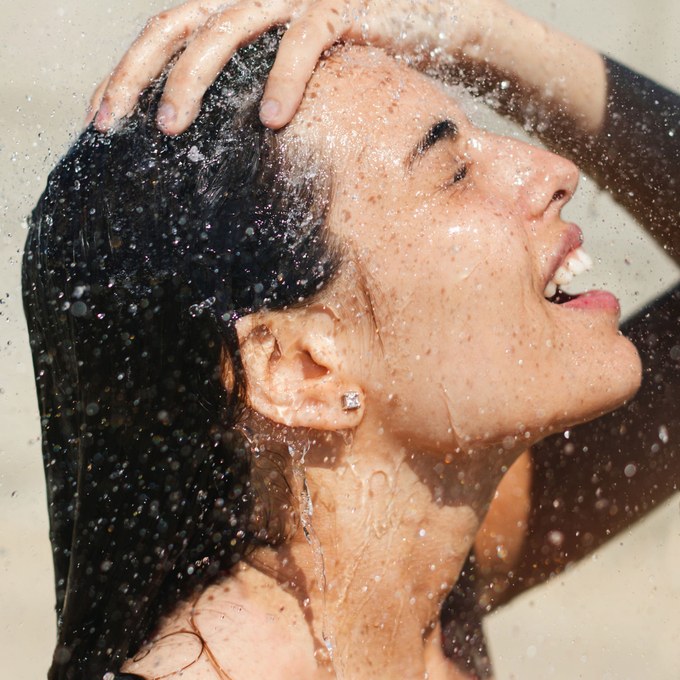 Washing our hair is a force of habit that comes pretty much second nature to most of us, but this means you could be inflicting your locks with damage without even realising it. For starters, how often do you wash your hair? Whilst most hairstylists recommend lathering up just 2-3 times a week, we'll bet that the majority of you do so on a far more frequent basis. The trouble is that washing your hair too often can do more harm than good, and there's more method required than you might imagine…
In fact, 'how should I wash my hair?" is one of the most searched beauty queries on the web, so we've called on the experts to debrief us on the not-so-secret secrets to keeping our hair soft, shiny, and bouncy around the clock. There's a reason why your hair looks (and feels) so good when you've just left the salon…
Prior to getting in the shower, give your hair a thorough but gentle brushing. By removing any knots or tangles this will help to prevent in-shower breakage, and will also reduce hair fallout and make your hair much more manageable post-wash. And when it comes to the perfect tool? The trusty Tangle Teezer has long been our brush of choice – simple, speedy, and super effective. Thanks to the unique formation of the brand's patented 'flexi teeth', the brush is designed to glide through even the toughest of knots, smoothing them out without any painful pulling or snagging.
Tangle Teezer Compact styler
Ensure that your hair is sufficiently saturated by soaking it through before applying shampoo. Moisture is essential to the lathering process and the heat of the water will help to open hair cuticles and remove any trapped dirt and product buildup. Though no exact temperature has (yet) been proven ideal for hair washing, cooler is better according to celebrity hair colourist and Joico spokesperson Denis de Souza, who recommends keeping your shower lukewarm, and says "Never wash your hair in extremely hot water".
Denis also recommends reining it in with the amount of shampoo you use in order to avoid stripping moisture, "a 5p-sized dollop of shampoo is all you need!". Start by lathering shampoo at your roots and at the nape of your neck – the hair closest to your scalp is the oiliest (whereas the ends are dry and delicate) so don't take it through the lengths of your hair. Instead, the process of rinsing will automatically (and gently) cleanse the ends. A healthy scalp results in healthy hair and emulsifies the shampoo so it can reach its full cleansing potential, so as you lather, give yourself a DIY scalp massage (take note of the techniques your hairdresser uses next time you're in the salon). Essentially, massage in circular motions with the tips of your fingers and lift your hair at the roots – but be gentle, friction can permanently damage your hair cuticles, leading to breakage and frizz.
When it comes to cleansing stressed tresses any old shampoo just won't do. We love Rahua's Voluminous Shampoo – a gorgeously-scented golden elixir that gently but effectively washes hair and adds volume and shine with 100% natural ingredients.
Rahua Voluminous Shampoo
Don't be tempted to rinse and repeat (this overstrips hair); instead, just as you wouldn't exfoliate your skin everyday, use a clarifying shampoo just once a week to remove buildup and impurities (ideal if you have oily hair or use a lot of styling products). Denis recommends using Joico's Clarifying Shampoo and leaving it in for up to five minutes for optimal clarifying results. Specially formulated to remove mineral deposits and deep-rooted product buildup, the professional clarifier is ideal for those who live in areas of hard water or have coloured hair. The all-singing-all-dancing formula deeply cleanses, and also leaves hair nourished and conditioned.
It's vital to ensure that shampoo is efficiently removed, so aim to rinse for double the amount of time that you spent lathering. Don't rely on the water to rinse away all residue either – use your fingers to separate and lift your hair, turning your head from side-to-side and allowing the water to flow through and rinse out any stubborn traces of shampoo. Finally, squeeze out any excess water to prevent diluting consequently applied conditioner.
Just as you restricted shampoo application to your scalp, concentrate conditioner on your lengths and ends, which need moisture and detangling. Oil is naturally produced at your roots so the hair there is already well-hydrated, and too much conditioner at the roots will simply cause buildup and quell volume. For maximum results, professionals recommend leaving your conditioner in for 3-7 minutes – as a general rule, the longer it stays on the better. Whilst your conditioner is in, use a wide-toothed comb to distribute the product evenly and detangle any knots without snagging hair and causing breakage.
Between central heating, styling products, heat tools, and weather, our hair is often and easily rendered dry and damaged. For regular use, Grown Alchemist's Damask Rose, Chamomile and Lavender Stem Conditioner makes for a luxe and indulgent hair treatment. The moisture-rich formula contains a blend of natural and organic botanicals, specially selected for their ability to improve hair manageability, enhance styling, and protect hair from environmental aggressors. Award-winning hairstylist Nestor Sanchez also recommends using a conditioning mask at least once a week to keep hair in good condition. "Wella Elements Renewing Mask is perfect for weekly use" he tells us. "Leave it in as long as you can, and for a really deep treatment, wrap it in a towel and sleep with it in."
Once your conditioner is rinsed out, gently squeeze out excess water before exiting the shower. Don't be tempted to towel-dry your hair (this causes frizz), instead use an old t-shirt to blot your hair dry. Hair is particularly susceptible to damage when it's wet, so it's best to let it air-dry for as long as you can before getting too involved with heat tools and styling products. When it comes to doing so, use a comb rather than a brush (we love The Wet Brush Wet Comb, which smooths hair gently) and be sure to liberally apply a heat-protectant to minimise damage. Stylist Angel Montague Sayers is never without a bottle of Cloud Nine's Magical Quick Dry Potion in her kit bag, "it's a magical mix of light, weightless conditioners that prevent static and fly-aways" she says, "vital for putting a stop to a frizz attack".
The Wet Brush Wet Comb
Cloud Nine Magical Quick Dry Potion