There are times when we wonder whether the beauty trends at fashion week are relevant to real life… Bleached brows, ombré lips, and statement eyeliner aren't exactly everyday wear, are they? However, you can totally pull inspiration from these trends without getting side-eye from strangers on the street…
This season, strong contouring is traded in for rosy cheeks, while lips go glossy, and lids take on bold shapes and bright colours. We went backstage to uncover the season's most wearable makeup trends and translate runway into real life.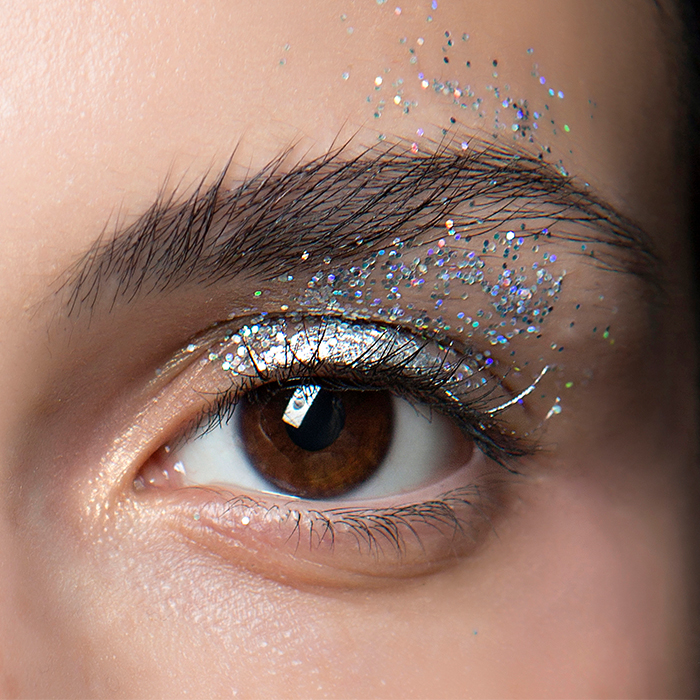 The trend: The glitter trend isn't going anywhere anytime soon… While party-season glitter is all about full-on festive bling, spring's interpretation has a more ethereal spin (think delicate shimmers and sprinkles), and is all about placement – straying from the lid, we spotted sparkle moving upwards and outwards.
The translation: The best thing about glitter is that you can be as bold or as subtle as you like. No brushes required – all that's needed is fingers to apply supersonic sparkles and light-reflecting glitter pigments like LA Splash's Crystallised Glitter onto the lid, under the lashline or into the inner and outer corners of the eye for quirky iridescence with a subtle twist.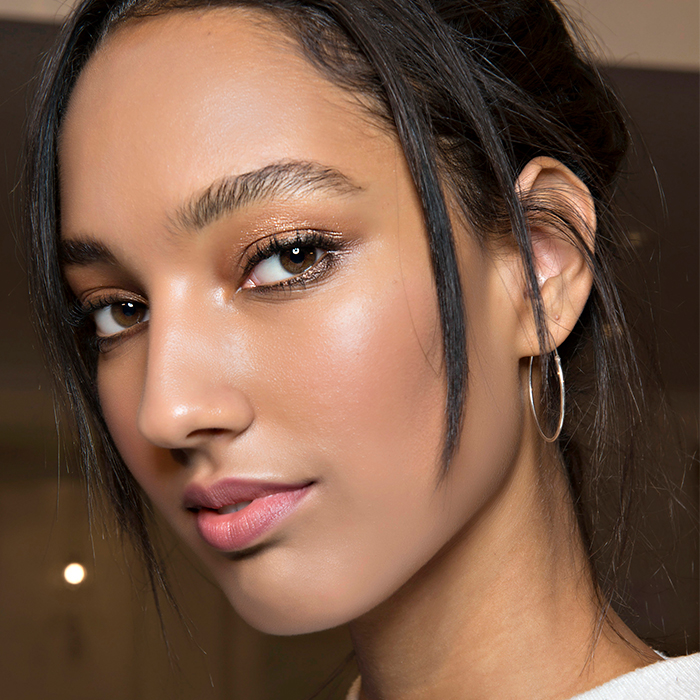 The trend: We love a good highlight, and nothing says spring/summer like healthy, hydrated, glowing skin. MUAs at various shows (like here at Daks) were all about embracing natural shine and radiance, elevating the look from glowy to dewy by packing on the highlighter. The more, the better.
The translation: It's super simple – use a skin-brightening foundation like Stila's Aqua Glow Serum Foundation to give the skin a natural-looking, all-over sheen, and don't be tempted to go in too heavy-handed with the setting powder.
The trend: This is eyeliner with a twist – so think negative space, double lines reminiscent of racing stripes, deconstructed wings, and delicate details on bare backgrounds. A fresh and modern way to shape the eye, it's all we want for spring – and it's easy to recreate at home.
The translation: Eyeko Skinny Liquid Liner is just like the felt-tip pens that artists use for precision detailing – which makes it perfect for subtle (and fool-proof) takes on the season's creative eyeliner trend. Extend your liner inwards, or disconnect it in random places using a Q-tip.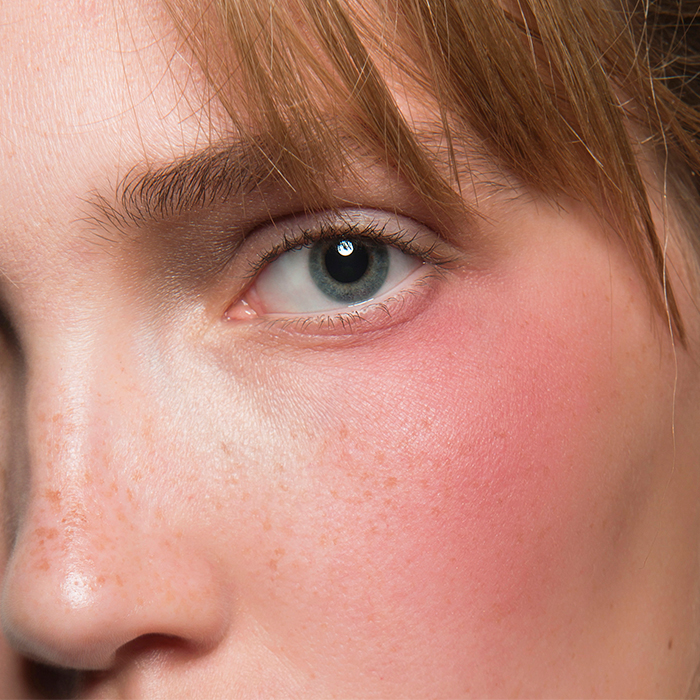 The trend: Last year saw us contouring like Kardashians, but 2018 looks set to be the year that flushed, blusher-heavy cheeks knock out chiselled cheekbones. Using bright powder blushes, makeup artists used colour to subtly sculpt the face, contouring and highlighting features in a not-so-obvious way.
The translation: To achieve this romantic, feminine look, use a blush palette like Anastasia Beverly Hills' Blush Trio to layer multiple shades of blusher – just as you would a contour, highlighter, and bronzer. This technique helps to add dimension and prevents cheek colour from looking flat and heavy.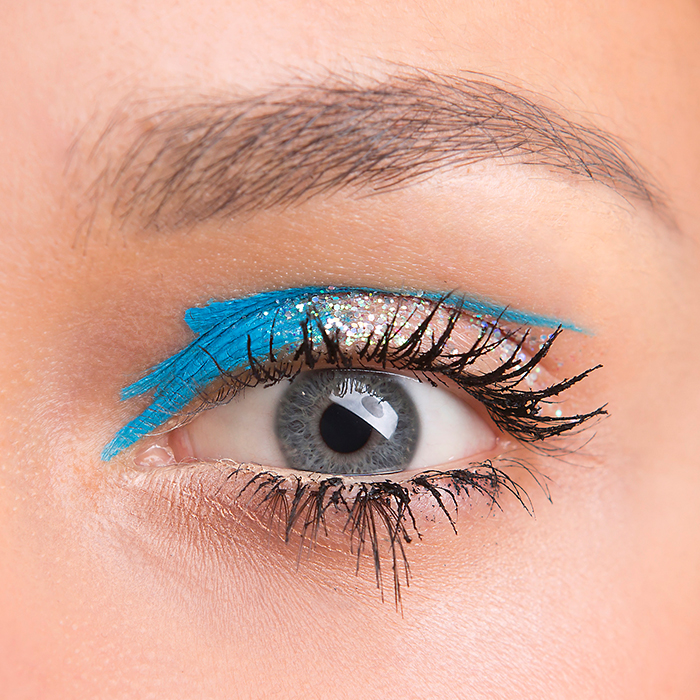 The trend: Colour for spring is hardly ground-breaking (much like florals), but this season we're seeing bright, neon injections of colour splashed across eyelids in eye-catching hues – perfect for adding something a little extra into your daily beauty look.
The translation: Lips used to be the place to show colour, but for a slightly more subtle interpretation, brighten up your everyday black eyeliner or nude eyeshadow. Jeffree Star's Velour Liquid Lipsticks come in every shade of the rainbow and are eye-safe, so you can use them to line your eyes and colour-block your lids too.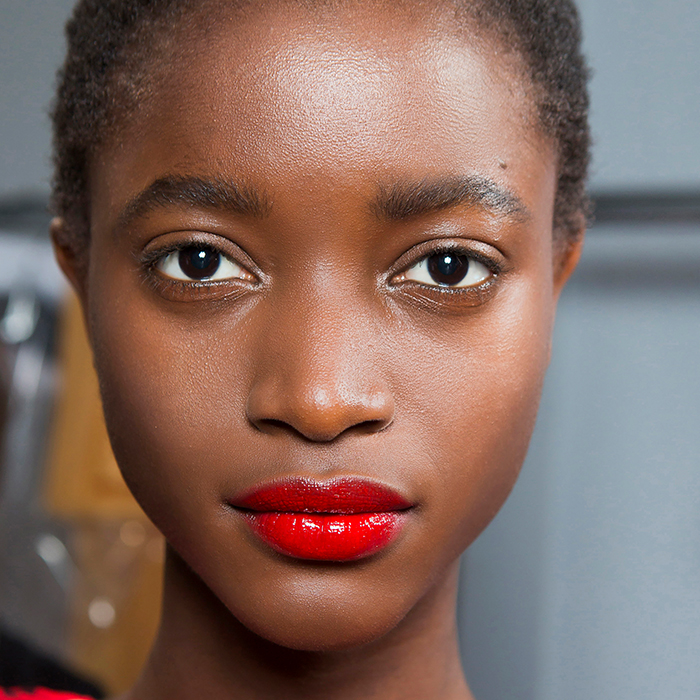 The trend: Nude, matte lips have dominated the catwalks for several seasons now, so it was only expected that the trend would, at some point, dry out (literally). Enter its polar opposite, bright red, heavily-glossed, high-shine lips – evidence of the beauty world's growing obsession with all things dewy.
The translation: Need inspiration? The models on the Philosophy runway will give you plenty. Toss your matte liquid lipsticks in favour of a cherry red gloss with a wet-look finish, like Jouer's Pigment Lip Gloss in Shibuya.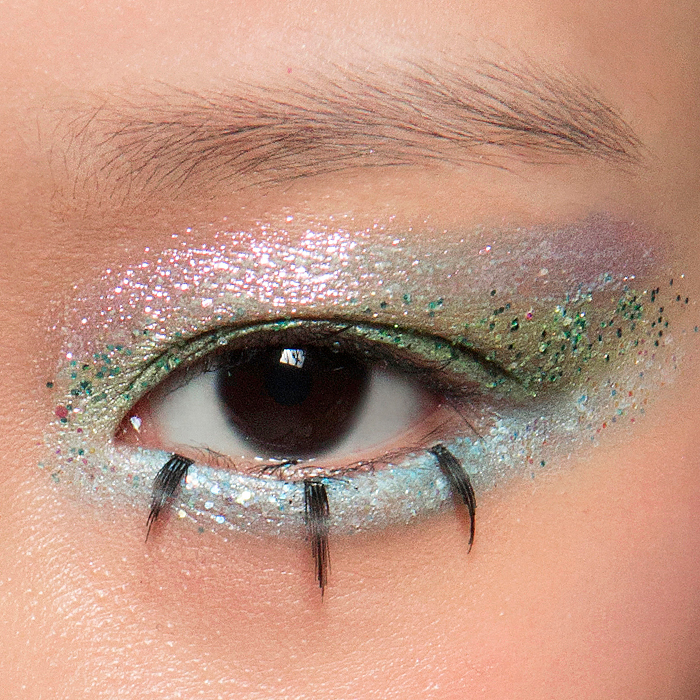 The trend: Mythical creature-inspired makeup looks aren't exactly new, but they are something we're going to see more of in 2018 – if the runways are anything to go by. Iridescent, turquoise-hued shades reminiscent of rainbow fish were all over the SS18 catwalks (unicorns are so last year).
The translation: You might think that mermaid beauty would be hard to interpret subtly, but thanks to its blendable, creamy texture, Stila's Glitter & Glow Liquid Eyeshadows can be applied sheer or layered thick (if you want to turn your eyelids into a shiny, colour-shifting rainbow). Particularly appropriate is the shade Into The Blue.
Colour of the Year: Ultra Violet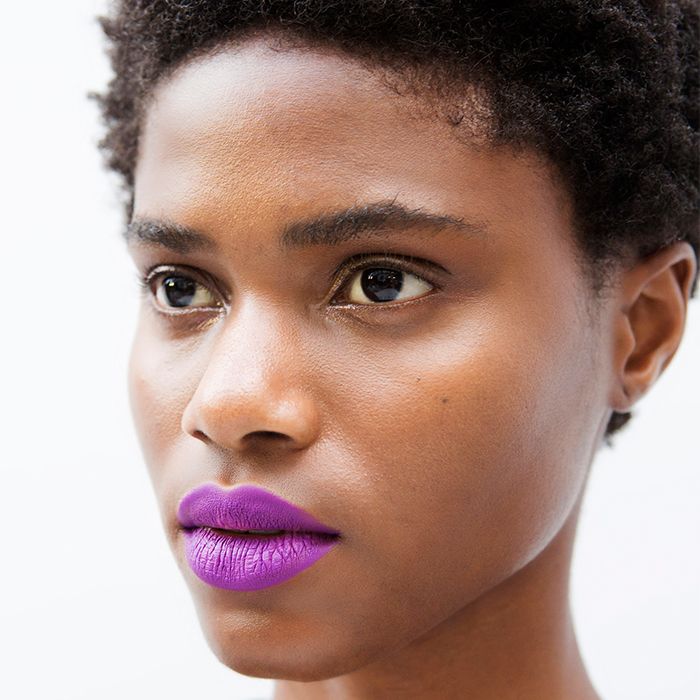 The trend: Pantone's official Colour of the Year is already hot-on-trend in the fashion world. But why stop at clothes when the bold and vibrant hue can be used to achieve striking eye and lip looks too? The rich, royal purple was spotted on the lips of models at MSGM and brands have already started launching Ultra-Violet-inspired eyeshadows and lipsticks in celebration of 2018's most desirable colour.
The translation: If purple lips aren't really your thing, take the colour elsewhere and subtly line your eyes using ZOEVA's Graphic Eyes in Regency. The best thing about the shade is that it'll make eyes of any colour pop.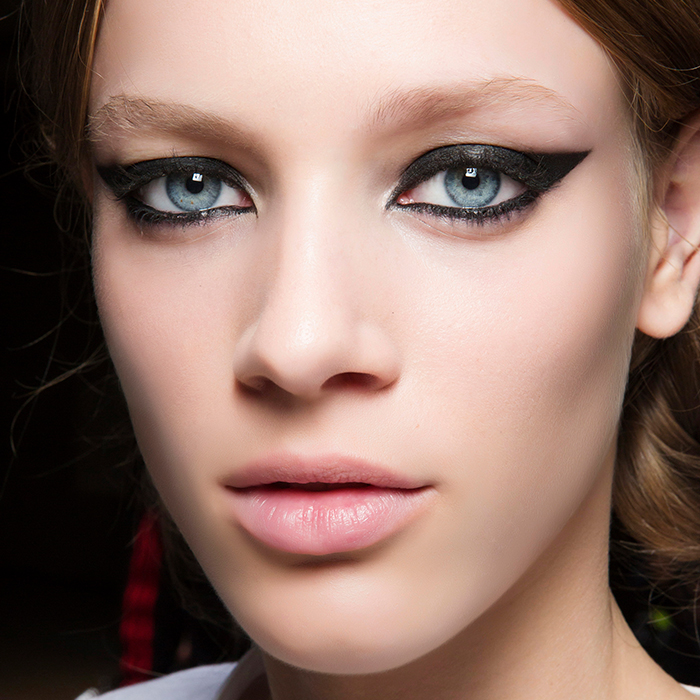 The trend: Forget that faultless, precision thin cat-eye – winged liner has had a fierce upgrade. This season, the classic cat-eye is thicker and more curved (think Amy Winehouse) – which actually makes it much easier to master since it's a more smudged, less perfect look.
The translation: Take your inspiration from the models on the catwalk at Versus and thicken your cat-eye using Anastasia Beverly Hills' Waterproof Crème Colour. The catwalk look focusses on the eyes, but to make it wearable, apply the liner only as thick as you desire, and team it with lashings of mascara and a touch of glitter for a grungy evening look.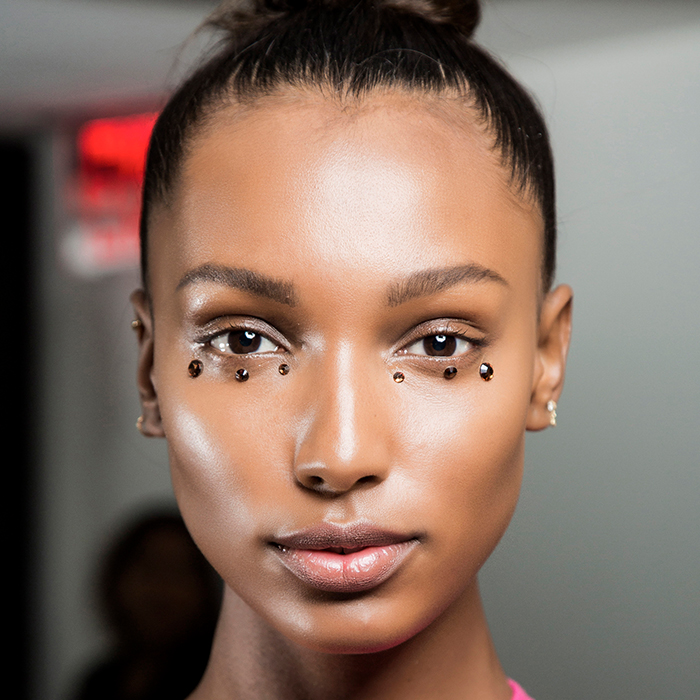 The trend: Jewellery and accessories are another big fashion staple for 2018, so it's no surprise that designers enlisted makeup artists to keep the trend going strong. We spotted loud embellishments like jewels, tattoos, piercings, and even Swarovski crystals on models' faces this season.
The translation: For those who aren't ready to commit to anything permeant just yet (we don't blame you), turn to Gypsy Shrine's Mix n Match Face Jewels first to test if it's a trend for you. A few carefully placed gems around the eyes will add a little extra sparkle without being too OTT.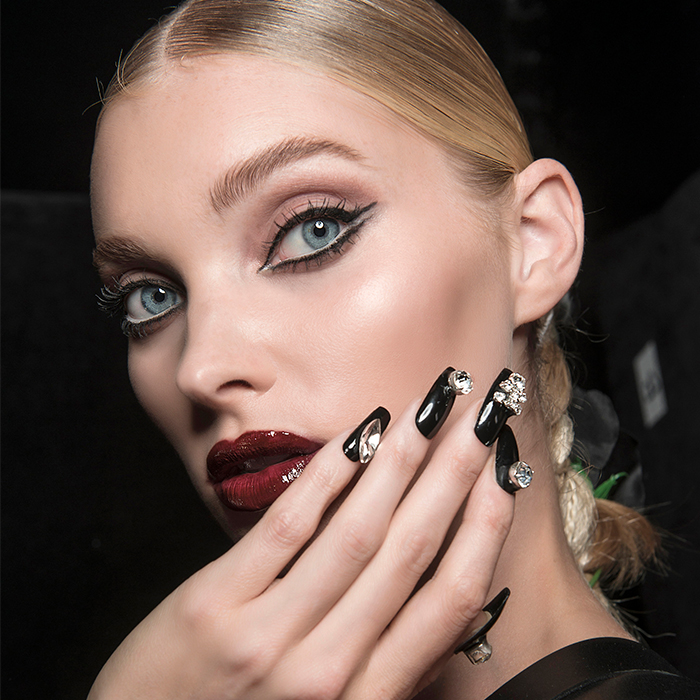 The trend: Last year's blank nails are this year's blank canvas – ready to be adorned and embellished to 2013 levels of selfie-ready nail art. It's been a few years now since our Instagram feeds were 80% #nailselfies, but the trend is set to return with everything from colour-blocking, to pastel gradients, and glitter decoration.
The translation: Okay, so wearing heavy 3D jewels on your nails like the models at Plein isn't exactly realistic when there are dishes to wash… The next best thing? Red Carpet Manicure's Gems and Jewels Nail Art Kit – all the jewels and glitter you could need for a subtle take on nail bling.