We all know just how good retinol can be for the skin, but for many people, it can mean a compromised skin barrier, dryness, irritation, and reactions. So how would you feel if I was to tell you that you can get all of the benefits, without any of the drawbacks?
Let me introduce you to bakuchiol. Dubbed as the all-natural alternative to retinol, bakuchiol is a plant-derived ingredient that has all the anti-ageing and glow-giving benefits of retinol, without any of the irritation. Intrigued? Wanna learn more? Let's get to it.
Is bakuchiol natural? Yes, you can think of bakuchiol as a natural form of retinol. It's an ingredient derived from the Psoralea corylifolia plant, meaning that in its pure form, it's vegan and cruelty-free. It's been used in Chinese medicine and Ayurvedic practices for years, so it's by no means a new ingredient if you're worried about experimenting with it.
Bakuchiol works similarly to retinol by stimulating the cell turnover of the skin. It also stimulates collagen-producing receptors, which is why it's so popular in many skincare routines. The best bit? It's not as harsh on the skin as retinol, meaning fewer side effects. So, if you suffer from dryness, stinging, and tight skin after using retinol but still want to experience glowing skin, then bakuchiol could be your secret weapon.
So, what does bakuchiol do for skin? And what is it for? Yep, you guessed it — the results produced by bakuchiol are similar to those of retinol. First, bakuchiol is an antioxidant, so it protects the skin from any nasties you experience in everyday life, such as pollution and environmental aggressors. Due to its ability to stimulate cell turnover, it's also great at reducing fine lines, wrinkles, and hyperpigmentation, and giving skin a boost. Lastly, it's also super soothing (much more so than retinol), so it's ideal for calming and tackling breakouts, without being too aggressive and damaging your skin's natural barrier.
When should you use bakuchiol?
By now, you might have a few questions… How to use bakuchiol in your routine? What can bakuchiol be used with? Can I use bakuchiol and hyaluronic acid together? Can bakuchiol be used with vitamin C? Here are all your answers.
Another difference between bakuchiol and retinol is that bakuchiol does not increase skin sensitivity to UV rays, so you can use it morning and night. That doesn't mean you can skip the SPF, though!
Depending on whether you're using a bakuchiol toner, serum, moisturiser, or oil, apply in the usual order. Cleanse your face first, then tone, apply any serums, seal it all in with a moisturiser, and top with oil (if you use one).
There are very few ingredient contradictions of bakuchiol, so you're safe to layer it with your vitamin C, hyaluronic, niacinamide, or any other ingredient. And if you're wondering can bakuchiol be used with retinol, the answer is yes. Just make sure to add plenty of hydration too!
Aurelia London Resurfacing Serum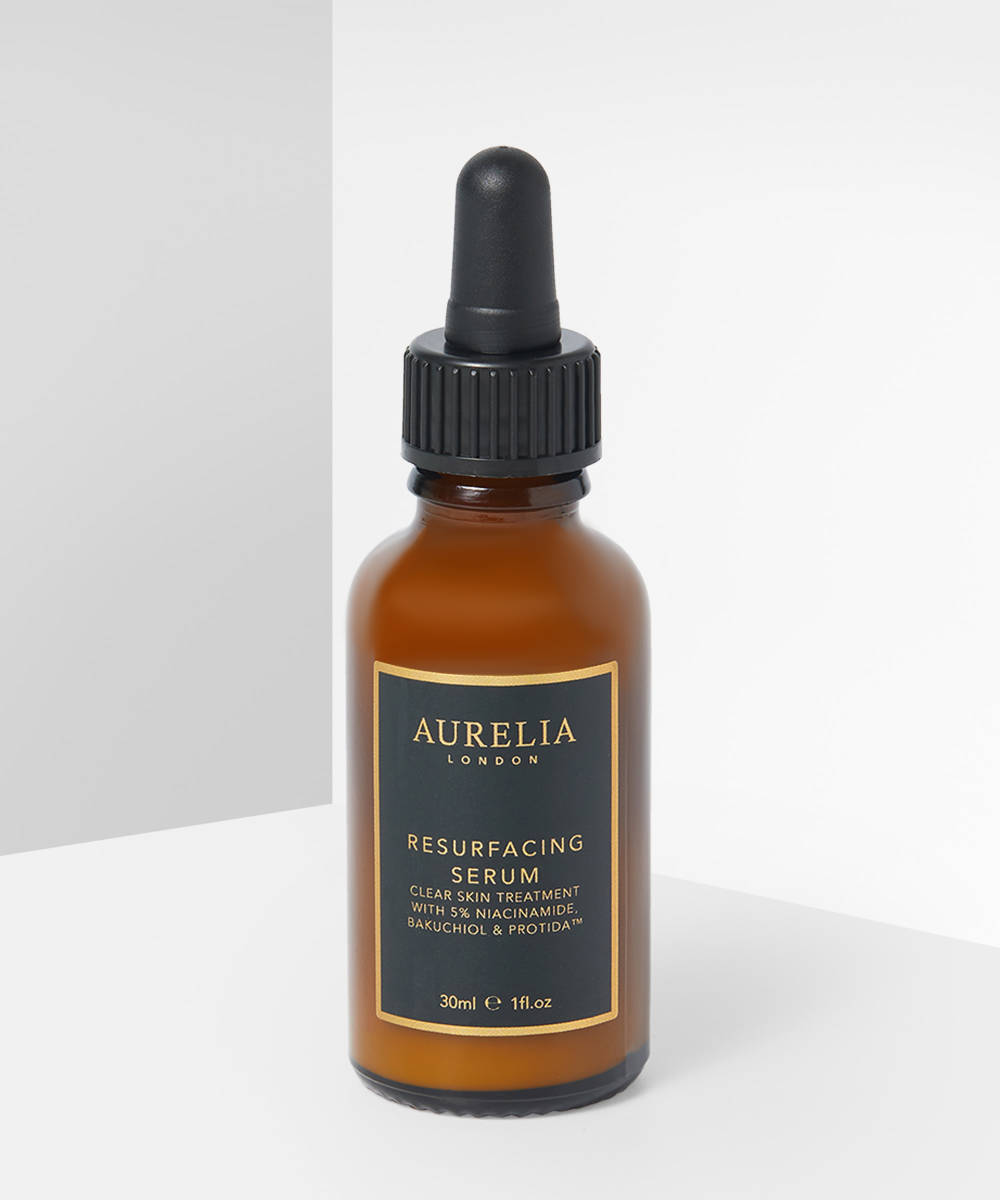 Looking for new, glowing skin in a bottle? The Aurelia London Resurfacing Serum is the answer. Featuring that all-important bakuchiol, this serum softens, smooths, and resurfaces the skin, without any of the dryness or irritation that you might typically get when using a chemical retinol. You'll also find niacinamide in the blend to target breakouts and reduce pores, and Aurelia's signature PROTIDA technology stimulates collagen. This one's a real powerhouse.
DERMAdoctor Calm Cool + Corrected Bakuchiol Retinol Alternative Serum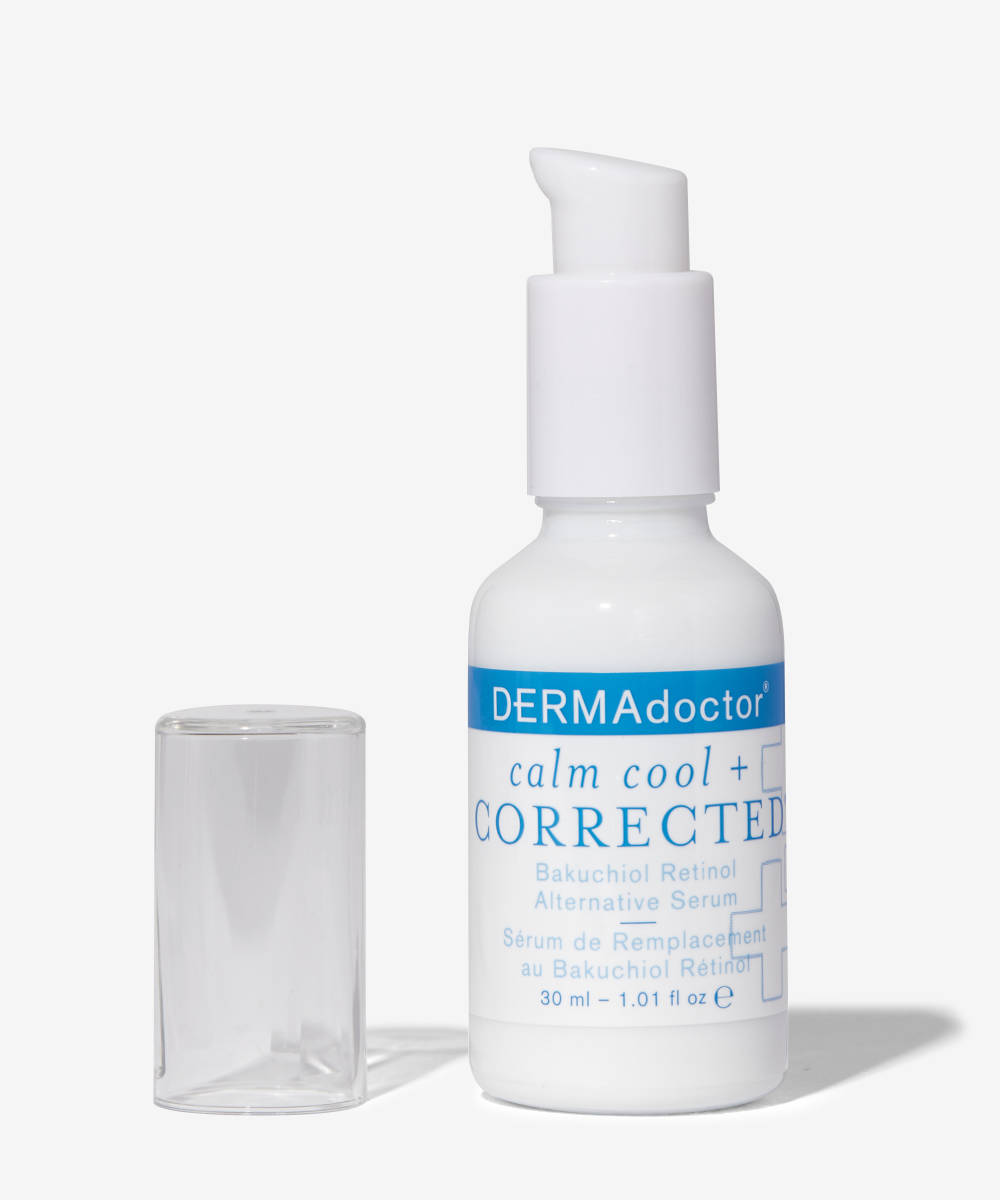 Have sensitive skin but still want all the skin-boosting benefits of retinol? Thankfully, the DERMAdoctor Calm Cool + Corrected Bakuchiol Retinol Alternative Serum uses bakuchiol to its full advantage. Ideal for even the most sensitive skin types, this serum targets signs of ageing, acne, pores, and hyperpigmentation whilst still being soothing on the skin. The addition of polyglutamic acid and vitamin B12 helps to infuse the skin with moisture, meaning you'll have your best-ever skin in no time.
Herbivore Moon Dew 1% Bakuchiol + Peptides Retinol Alternative Firming Eye Cream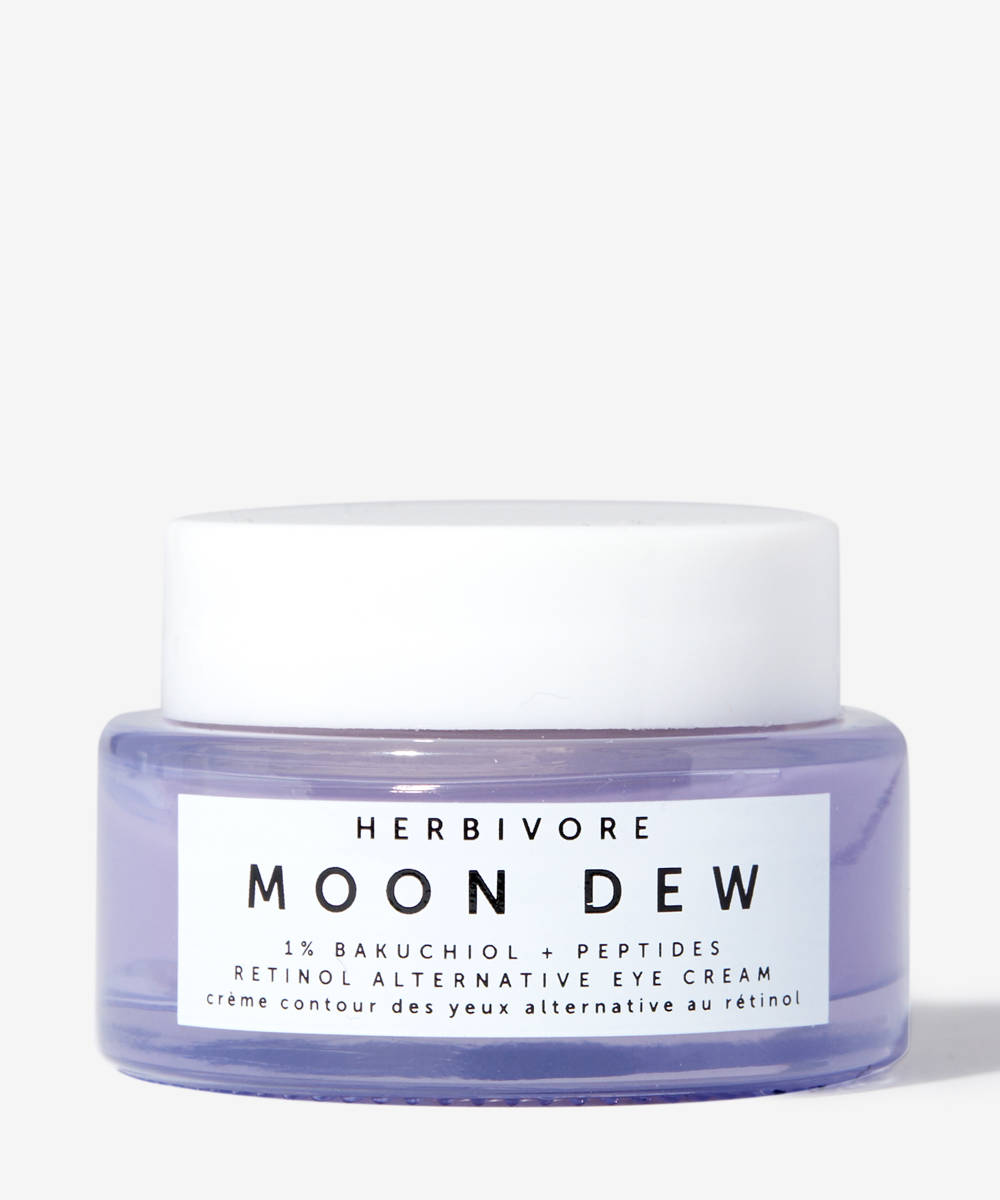 As if the packaging wasn't enough to make you want to haul this one, then the contents will definitely win you over. The Herbivore Moon Dew 1% Bakuchiol + Peptides Retinol Alternative Firming Eye Cream will banish tired, discoloured, and ageing eyes overnight (almost). Bakuchiol is much less aggressive on the skin, meaning it's safe to use around the eyes. Plant peptides help to plump and moisturise the skin, so your fine lines and dark circles will disappear in no time.
Neogen Dermalogy Real Bakuchiol Firming Serum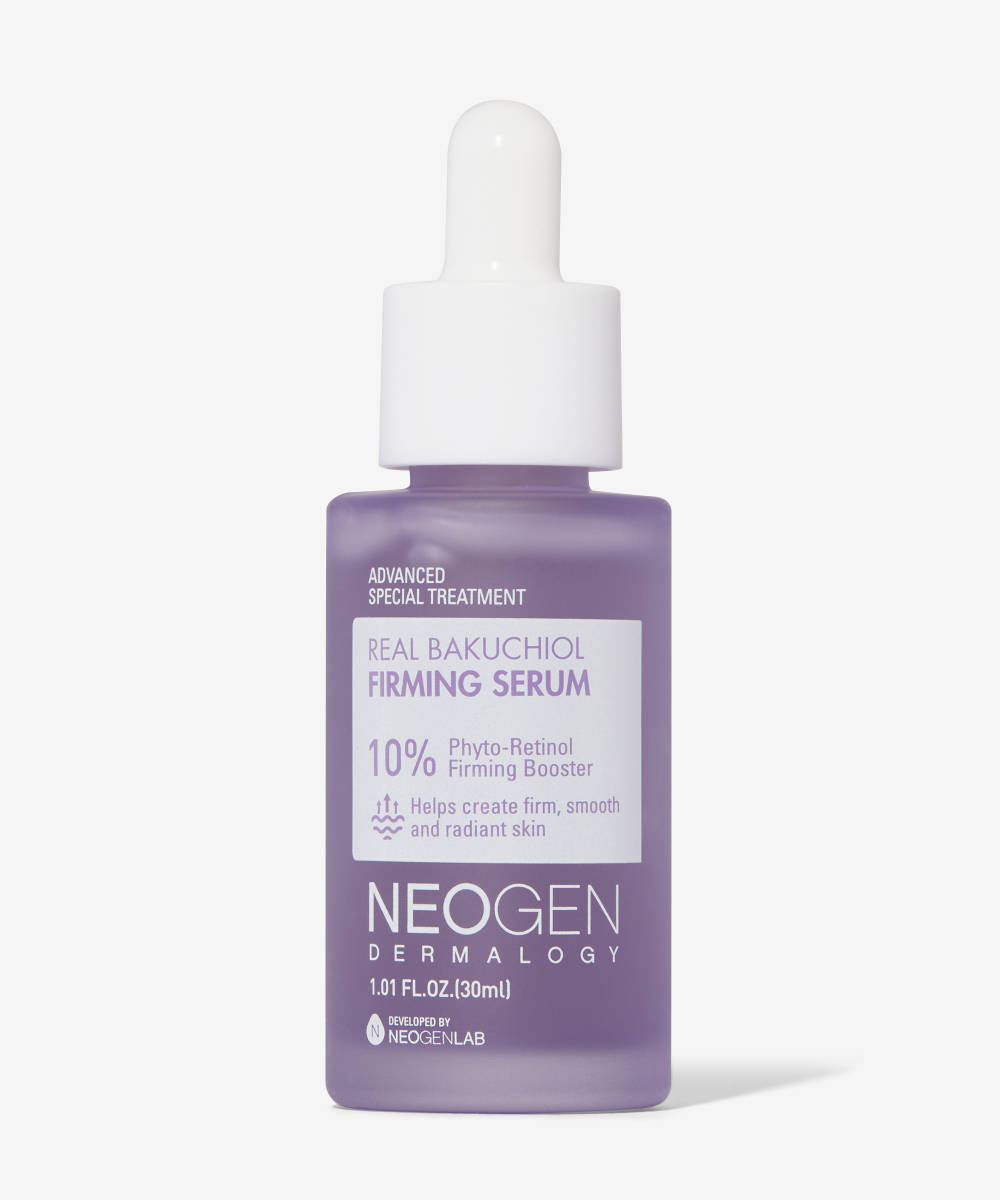 For skin that looks just as good as it feels, you need the Neogen Dermalogy Real Bakuchiol Firming Serum. This super serum uses bakuchiol, vitamin C, e, and lupin peptides to boost collagen, promote glow, and add hydration. The antioxidant powers protect your skin against external aggressors, so your face is protected from every angle. However, we wouldn't recommend using AHAs, BHAs, PHAs, or retinol with this one.
Revolution Skincare Pearlescent Purple Bakuchiol Smoothing Undereye Patches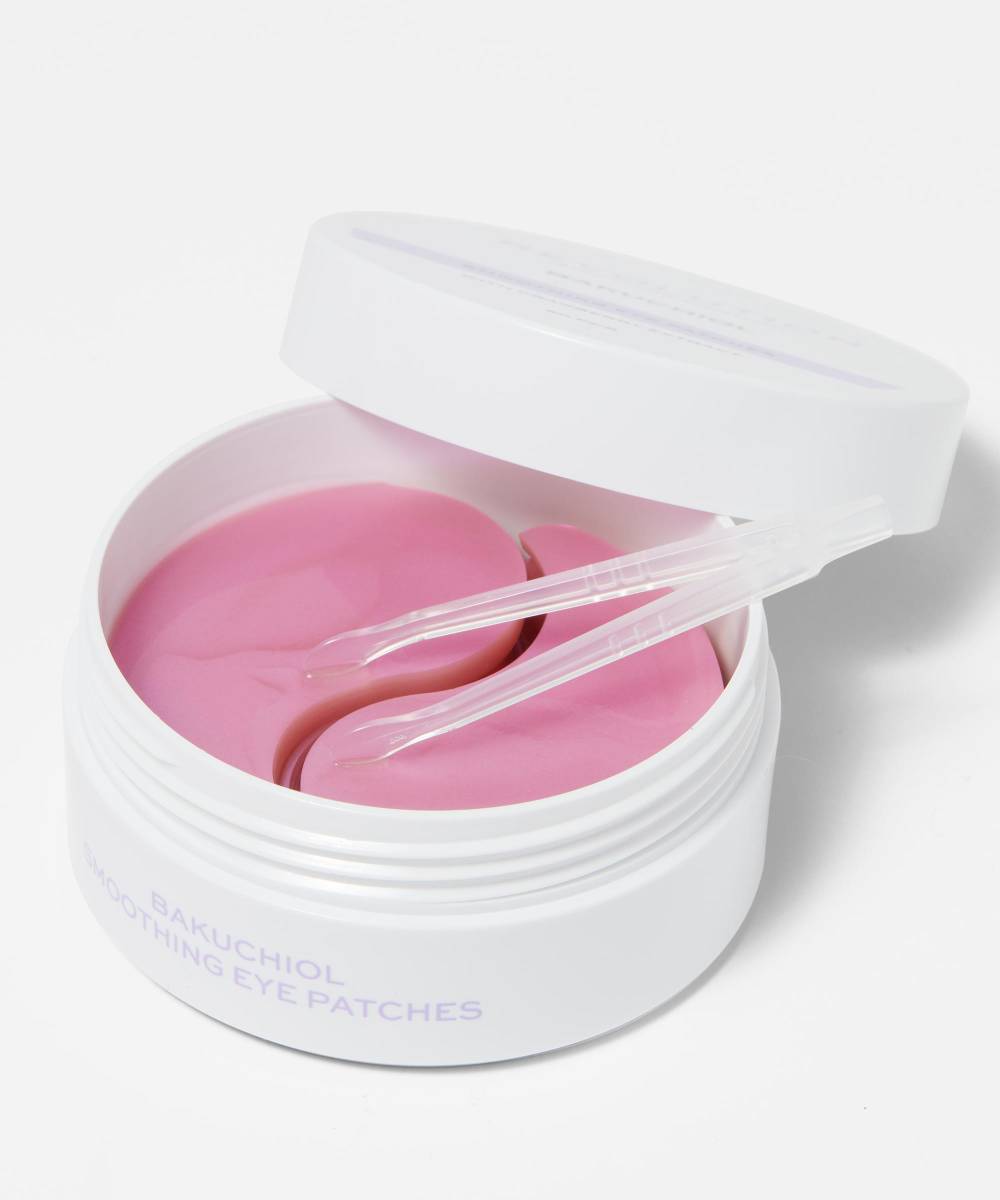 If you want an affordable alternative to trying out bakuchiol, then you can always rely on Revolution Skincare to deliver. The Pearlescent Purple Bakuchiol Smoothing Undereye Patches are our go-to for a quick pick-me-up after a late night, early morning, or as prep for any party. Simply smooth on to reduce fine lines and pigmentation, so you're ready to look your best.