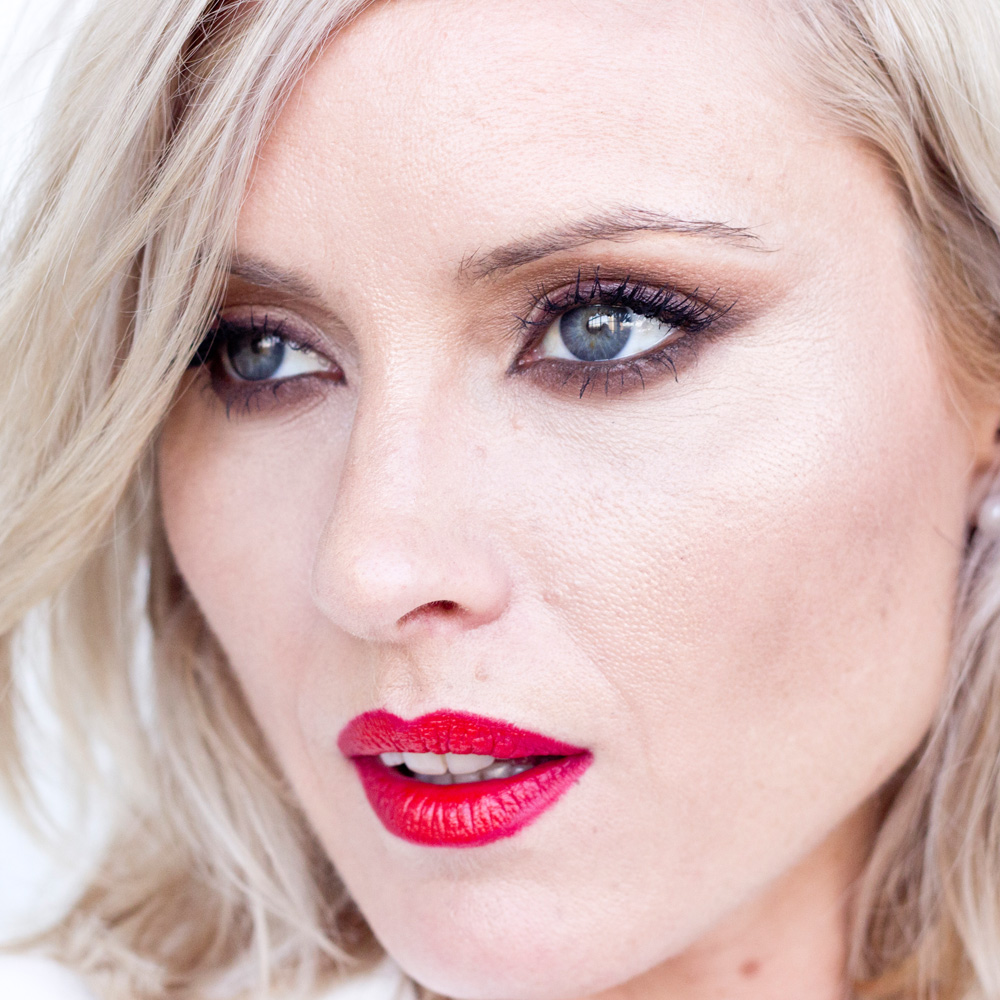 The key to mastering makeup in your forties is in opting for classic looks with a fresh, modern feel. The tricks, techniques, and products that you employed in your thirties can be both outdated and unsuited to your complexion as skin ageing kicks in, so now's the prime time to fine-tune your makeup routine to suit the visible changes in your skin. Maintain your creativity and don't be afraid to look to celebrities for inspiration – copy the looks sported by those in their forties that you admire – you can easily tweak current trends to tone them down and adapt them to your look.
Be Cautious of Contouring
As you reach your forties, skin starts to demonstrate signs of ageing – notably, a loss of collagen that leads to depleted plumpness and skin sagging. Instead of hollowing out your cheeks with aggressive contouring, hone your highlighting skills – switch to strobing and highlighting to subtly sculpt and inject radiance and glow into your complexion.
Dab Anastasia Beverly Hills Liquid Glow Highlighters (a liquid highlighter that delivers flawless lustre) over the high points of your face – the bridge of your nose, your cheekbones, Cupid's Bow, and in a small 'C' shape around the outer corner of your eyes for instant skin brightness. Set it with a powder illuminator like the Cover FX Spotlight Loose Powder Highlighter, a light-reflecting powder, which blends beautifully to create a lit from within glow that subtly shapes the face without exaggerating gauntness.
As you hit your forties, you may notice that everything starts to fade. The solution is simple – just add colour. It's important not to go overboard – you want to look vibrant, but not clown-like – the concept of putting colour on your cheeks is all about mimicking a natural healthy glow and replacing lost colour rather than creating a statement.
A sweep of youth-enhancing blush from the apples of your cheeks to your hairline will add volume and brightness, draw attention from fine lines, and have the effect of providing a natural face lift. To bring sallow skin back to life, opt for Milani Baked Blush, which are wrought through with finely-milled shimmer. The sheer texture delivers just enough colour to last the day, but lets natural skin glow through.
Artfully applied concealer and foundation are vital to evening out skintone and waking up a tired complexion. Wearing tinted moisturisers and lightweight colour correctors and blemish balms will even out discolouration, whilst imparting a fresh, dewy glow without feeling mask-like. Choose multi-tasking products with virtuous formulas; these days most foundations have a wealth of benefits, from added hydration to priming capabilities and SPF protection. We love Alpha-H's Multi-Perfecting Skin Tint, a 3-in-1 tinted moisturiser with SPF coverage and a built-in colour matched concealer.
Unless your skin is very oily, avoid powder and instead use blotting papers to wick away shine, as powder has the tendency to settle in and emphasise fine lines and can dull skin's natural radiance. When it comes to concealing, employ techniques of colour balance in order to conceal imperfections and reduce discolouration without going in heavy-handed. For foolproof coverage, look to the many colour correction palettes on the market. Containing four or more shades, each features yellow to counteract redness, peach to cancel blue tones, lilac to mute yellow, and beige for neutralising. We love Makeup Revolution Camouflage Corrector Palette for it's lightweight, sheer textures.
Move away from intense (and ageing) black kajal, which can look hard and graphic, and instead settle for more subtle tones of navy, khaki and brown to give eyes a softer definition. Coloured liner won't 'close' eyes to the extent that black does, but avoid applying too much, and instead use mascara to enhance and widen eyes. When it comes to eyeshadow, opt for shades that will enhance the vibrancy of your eye colour and brighten the whites of your eyes.
Create a classic and defined look using subtle neutral tones on the lid and in the socket line. Light colours will lift, so apply them to the inner corner of your eye and beneath your brow. Invest in a nude eyeshadow palette for a one-stop means by which to ensure that you have everything you need to brighten your eyes on a daily basis. We love BEAUTY BAY EYN Nude 42 Colour Palette, which features fourteen neutral shades in a butter-soft formula that delivers rich pigment to the lids without settling into fine lines.