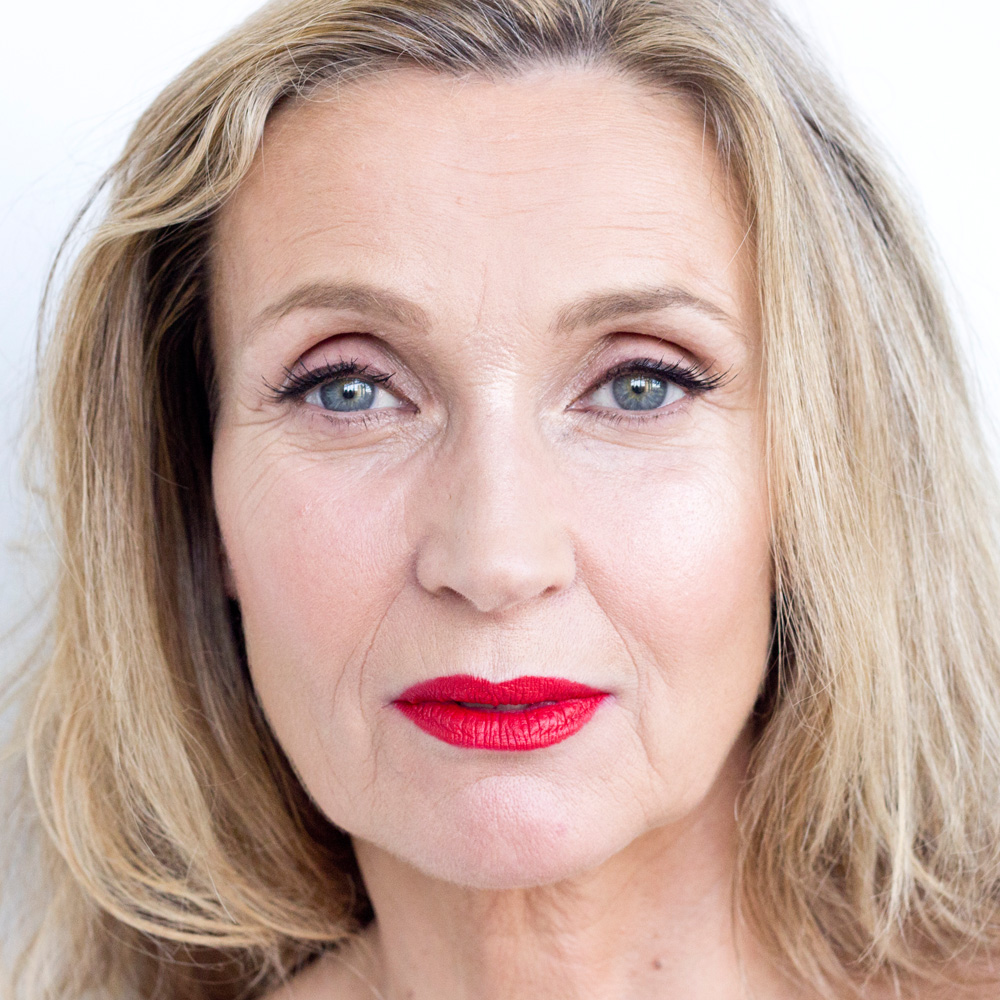 As we get older, we lose the natural glow, colour, and structure from our faces, which noticeably changes what we see when we look in the mirror. At this time, it's important to focus on your beauty in the moment, rather than comparing yourself to the way you used to look. Pick the features that you like and highlight them – let your makeup routine evolve, and change up the techniques and products that you use to keep your look fresh and functional.
In your fifties, your skin can really affect your makeup. Notably, skin tends to be chronically dry, and heats up easily when you experience hot flushes. Your goal is to find base products that will hydrate your skin and boost luminosity, without melting away or smudging off when temperatures rise.
Avoid shimmer, which highlights every fine line, wrinkle and pore, and instead look to glow-giving, and radiance-enhancing base products with light-reflecting formulas that will inject glow, banish dullness, and supercharge brightness. Recreate skin's youthful glow with a radiance boosting primer such as Cover FX's Dewy Skin Primer, which extends makeup's longevity by absorbing excess oils, whilst delivering potent blends of hydrating ingredients to the skin.
There's no reason why a bold lip can't look great at this age, but be wary of anything too dark. Instead, opt for warm brown and vibrant berry shades, which will make your eyes pop and glisten. Alternatively, pink-toned nudes make for a universally flattering and effortlessly wearable daytime look. Avoid matte formulas, which dry out lips and make them appear smaller, and always begin by lining your lips first with a nude lip liner to counter the loss of plumpness in your lips that kicks in with age.
Indulge your lips with extra emollient formulas like Dominique Cosmetics Liquid Lipstick in Nude Kiss, which delivers high shine pigment and hydrating ingredients to boost the appearance of full lips, smooth away fine lines, and counter dryness. If you're conscious of thinning lips, look to the ingredients lists; PMD Beauty Smart Kiss Lip Plumping Serum is enriched with hyaluronic spheres, which plump instantly for a full, smooth pout.
When you start to lose volume and strength in your facial structure, by defining and plumping up your brows, you'll restore balance and structure back to your face. We lose brow hair as we age, so for subtle but gradual definition, use a traditional brow pencil like UOMA Beauty Brow-Fro Precision Pencil to build shape and fill your brows. Apply it in precise and feathery strokes and then brush through your brows with a spoolie to blend the colour and soften the shape.
To amp the effect to full but natural-looking coverage, use Anastasia Beverly Hills' Brow Definer, which allows you to craft strong brows by layering thin, hair-like strokes. The soft, creamy texture fills in sparse patches and plumps up volume, and the perfectly angled nib is ideal for extending your brows if you're finding that the outline has faded.