When it comes to skincare, it doesn't need to be complicated to be effective and that applies to serums too. There is a knack for applying it right though. Serum is the one product that's often worth spending money on thanks to catering to a whole host of complexion concerns.
It can be tricky to know how to get the most out of it and how to apply it correctly. Sure, how to apply serum might sound simple enough but are you doing it right? That's where we come in. We've compiled a straightforward guide on exactly what a serum is and how to apply it to make sure you're getting the most out of it.
A serum is a lightweight formula used after cleansing and before moisturising. A serum is a targeted treatment to address skin concerns, including hyperpigmentation, dehydration, premature ageing, and overall radiance — to name a few. It's where most experts recommend spending your money in your routine because the ingredients are more concentrated and targeted. The science-backed formulas get to work quickly and effectively with little effort needed on your part, which is a win in our books.
They're typically a gel or liquid consistency housed in a dropper bottle and can penetrate the skin quickly, which is why you might feel like your serum disappears as soon as you apply it. Serums are also great if you don't like the feel of thick creams; you might need to layer them to get enough hydration but they can be a great alternative.
The market for serums can be super overwhelming but in general, these are the best serums per concern out there.
– Dry skin – Look for a hyaluronic acid or ceramide-based but use on damp skin to encourage maximum moisture.
– Congested skin – Try a salicylic acid serum a few times a week to unclog pores.
– Uneven skin tone – Go for antioxidants or peptides to fight free radicals during the day to prevent further dark spots and to brighten.
– Fine lines and wrinkles – Invest in a retinoid formula, which increases cell turnover and boosts collagen. But be sure to build up tolerance by using it once a week or twice and seeing how your skin reacts
If you're confused though, it's always best to seek advice from a skin specialist. Although this is more money initially, you'll save on buying products that don't work for you.
When should I apply serum?
The short answer is it depends what type of serum you're using. Most serums can be used morning and evening to get the benefits from using it consistently, but some you may just want to use once a day, especially when you're just introducing it into your routine. Formulas to boost hydration are often used in the morning to combat dry skin during the day. Whereas if it's a serum that contains retinoids, it's recommended to use it at night as UV rays can break down the formula to make it ineffective.
But most of the time, it's down to personal preference. If you don't like how a serum sits underneath makeup in the morning, for example, you can use that serum at nighttime to get to work while you sleep.
How should I apply serum?
Take 3-6 drops of serum on the palms of your hands — don't touch the pipette on your skin as this can encourage acne-causing bacteria — and use just one motion transfer to the other hand too. There's no need to rub the serum into both hands as this just means all of that skin goodness is going to your palms and not your face. Then gently press the serum into your cheeks, forehead and chin. Follow this with your favourite moisturiser.
If it's more of a targeted treatment, like a retinoid serum, you might want to be a little more targeted in your application; focusing on areas you'd like to address and avoiding the eyes and lips.
How much serum should I use?
Since serums are normally the more expensive item in your skincare routine, the good news is that you need less than you probably think. It's recommended to use about a pea-sized amount, which is the equivalent to 3-4 drops, but you might prefer more or need slightly less.
This also depends what type of serum you're using, typically the more potent, the less you're going to need. For example, you might find your skin drinks up hyaluronic acid but doesn't need much retinoid to get the full benefits.
Step-by-step on applying serum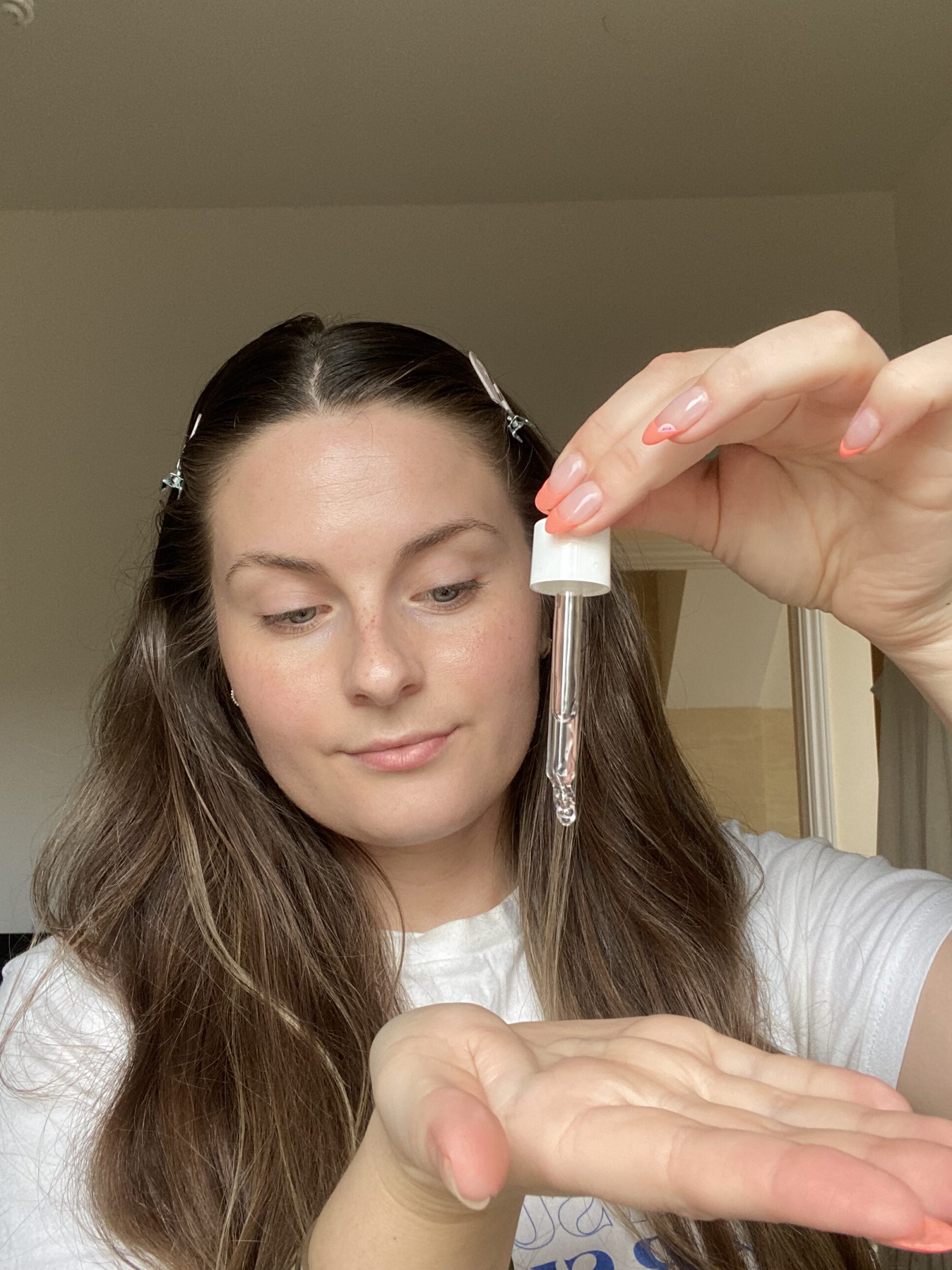 Pinch 3-6 drops — or the equivalent of a pea-sized amount — out of the pipette into the palm of your hand.Though the amount you need is based on you as an individual (some people need more than others) and how the serum applies. If the formula is light in consistency and a little goes a long way, it won't require as much. It might take a couple of applications to get the perfect amount but you really don't need much because a serum is a super potent formula.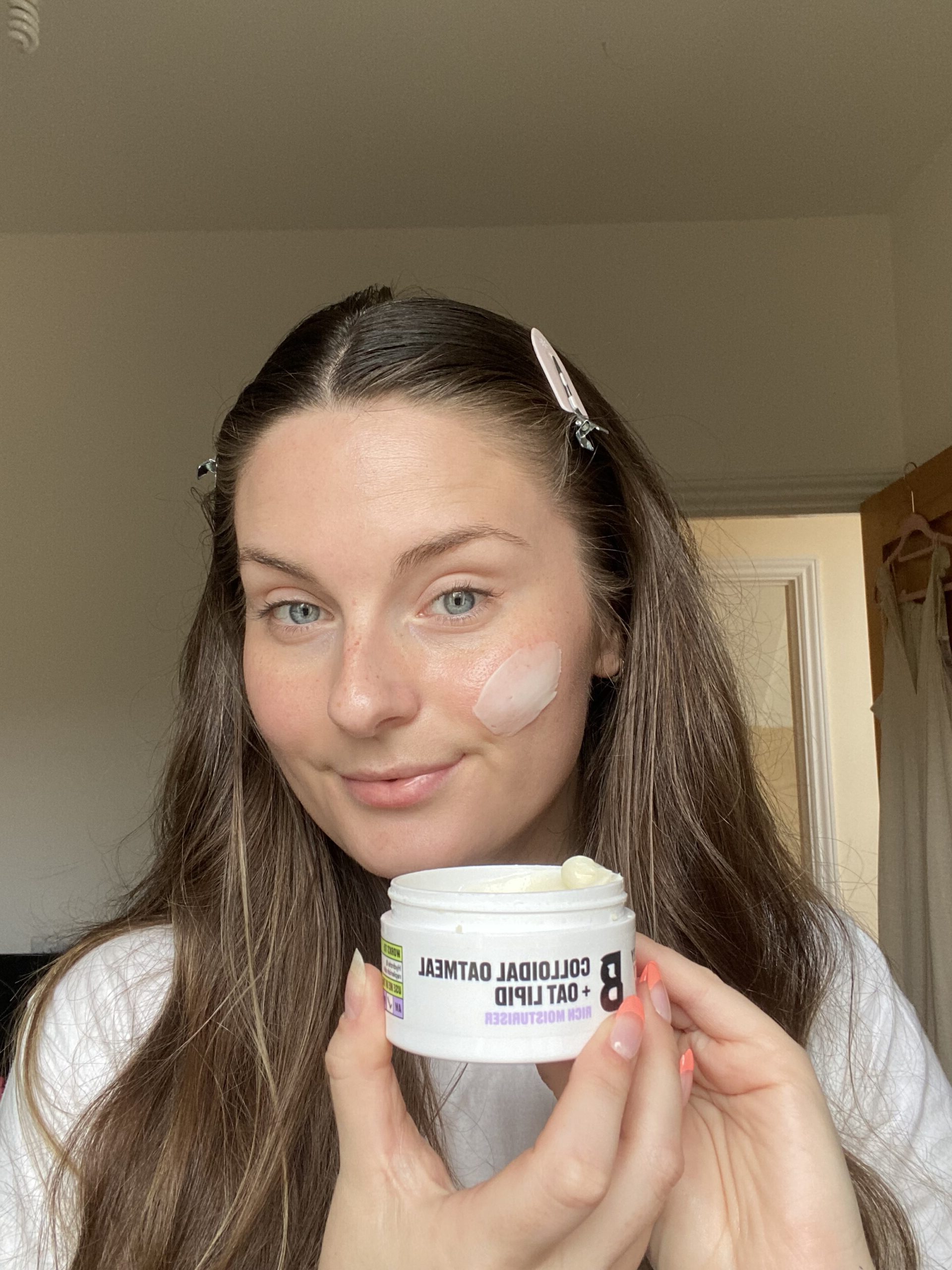 Follow this with your favourite moisturiser or SPF if you're applying it in the morning. It takes a bit of trial and error to find which combination of serums and moisturisers work well together, but it's well worth the effort because the right serum can totally transform your skincare game. Plus, it's only about 30 seconds added to your regimen.