We've been obsessed with Naked Sundays ever since the brand launched last year in Australia. Naked Sundays has totally revolutionised the skincare industry by making sunscreen something you not only need, but want to wear daily – not just on hot days at the beach. Famous for its SPF50 Glow Mist, which can be applied over makeup(!) and with rave reviews from skinfluencers like @ms_hannah_e and @marthaa__k, the brand has become to go-to for skincare obsessives across Australia, and is now (finally!) available in the UK.
We spoke to founder Samantha Brett to chat about the story behind the brand and her product recommendations.
What inspired you to start an SPF brand?
I was a news reporter for over ten years, which meant reporting about the news in front of the camera, standing outside in the blazing Australian sun for hours on end with a full face of makeup. I noticed a few of my colleagues were starting to have to get skin cancers cut out of their faces. This got me thinking about my own skin, and how to most effectively reapply my SPF over my makeup. But I quickly realised it was impossible – most sunscreens on the market are too white, sticky, smelly and not meant for applying over makeup.
I noticed a huge gap in the market so after a few years of research and dozens of iterations and formula trials, I finally came up with the first SPF50+ mist for over makeup, and Naked Sundays was born.
We started with what is now our bestseller and hero product; the SPF50+ Hydrating Glow Mist, which has incredible hydrating properties like hyaluronic acid and kakadu plum, as well as high performance SPF50+. It has made topping up your SPF so simple and easy.
What makes Naked Sundays different to other SPF brands?
After our mist quickly went viral, we realised the power in offering SPFs that were entirely different to other brands due to our innovative delivery systems, high performance ingredients and our skincare/SPF hybrids making getting ready in the morning simple with multi-purpose products that would double up as your skincare.
We created our SPF BFF Brush to apply our mineral sunscreen and serum, and this has surprised so many people who never thought to apply sunscreen with a brush before! But it makes the whole experience enjoyable, easy and efficient too. We aim to make putting on sunscreen simple and fun. It's something that is so vital to your everyday routine, we wanted to take a boring, stodgy category that is known for being white, sticky and smelly, and turn it on its head with fun and enticing packaging, innovative delivery systems, first of their kind formulations, 100% vegan products and everything packed with antioxidants and skin-loving ingredients.
What did you learn/find interesting during the process of formulating the products?
I found it fascinating just how difficult it is to create a sunscreen! The barrier to entry when it comes to skincare seems to be a little less complex. But when it comes to SPF, there are so many rules and regulations around sunscreens (which is a good thing!). I also discovered it was quite a challenge to re-educate an entire generation about the importance using sunscreen everyday, and also the importance of topping up sunscreen at least every two hours when out in the sun. But as a brand, we are not only about fun and simplicity, but also a huge focus of ours is on education.
What are some key ingredients within the range?
We are obsessed with skin-loving antioxidants and ingredients. We've focused on Australian botanicals like kakadu plum which is the most vitamin C dense fruit extract on the planet; we love hyaluronic acid for hydration while our new serum contains tomato extract, squalane and watermelon extract for intense hydration and antioxidants to help fight free radicals.
What is the benefit of buying Australian-made SPF?
Australian SPF is created under the harshest regulations on the planet thanks to the Therapeutic Goods Administration which regulates sunscreens. So you know when you're buying an Australian sunscreen, the testing, ingredients and efficacy of the product is going to be the highest quality SPF on the planet.
SPF50+ Hydrating Glow Mist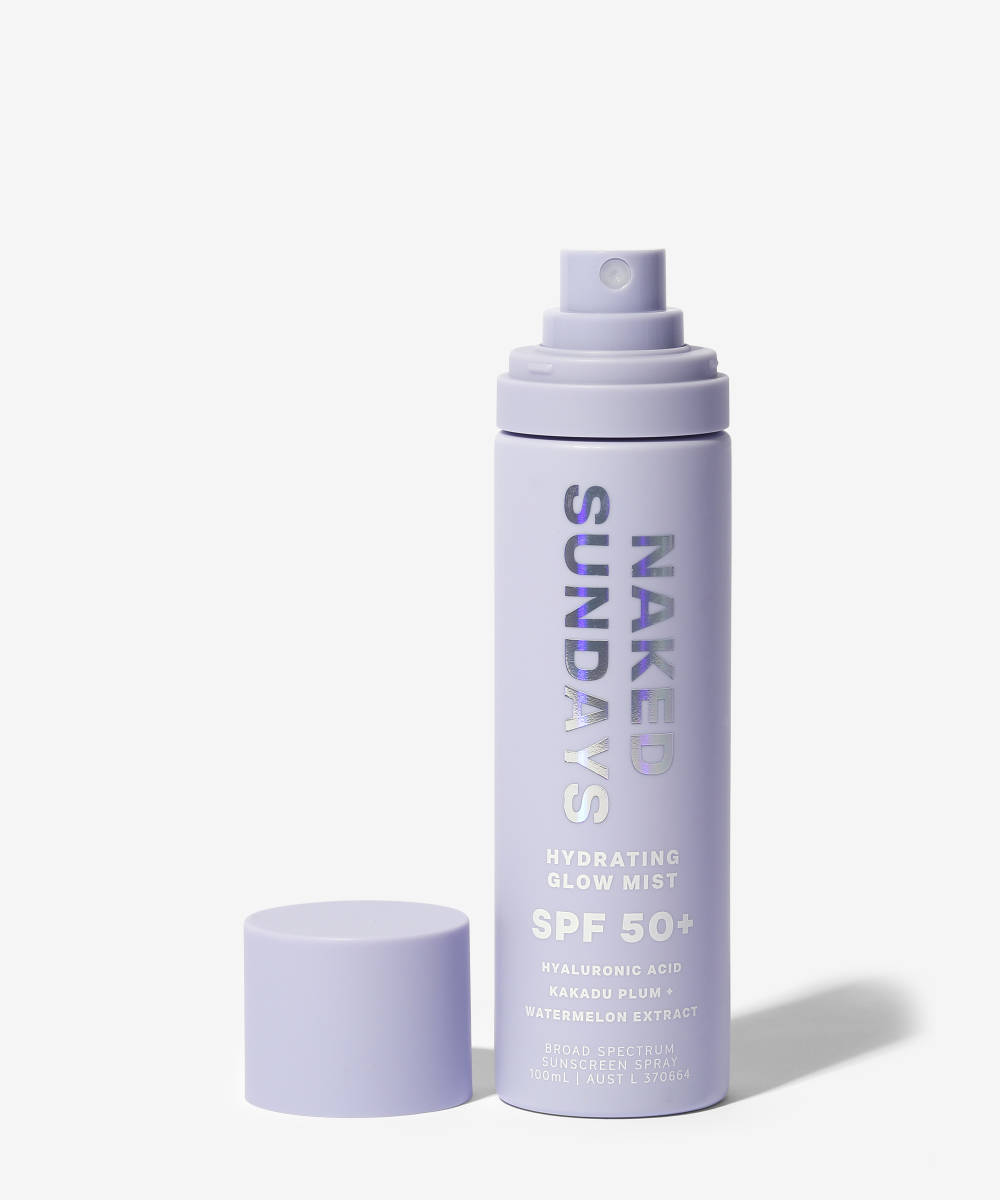 Carrying this award-winning SPF50+ Mist in your handbag and use to top up your SPF over your makeup or on its own! Infused with hyaluronic acid and watermelon extract, gives your skin an extra glow!
Why we love it: Gives skin a subtle glow, can be used on limbs as well. Perfect for garden parties, or lazy summer lunches.
SPF50+ 100% MINERAL COLLAGEN GLOW PERFECTING PRIMING LOTION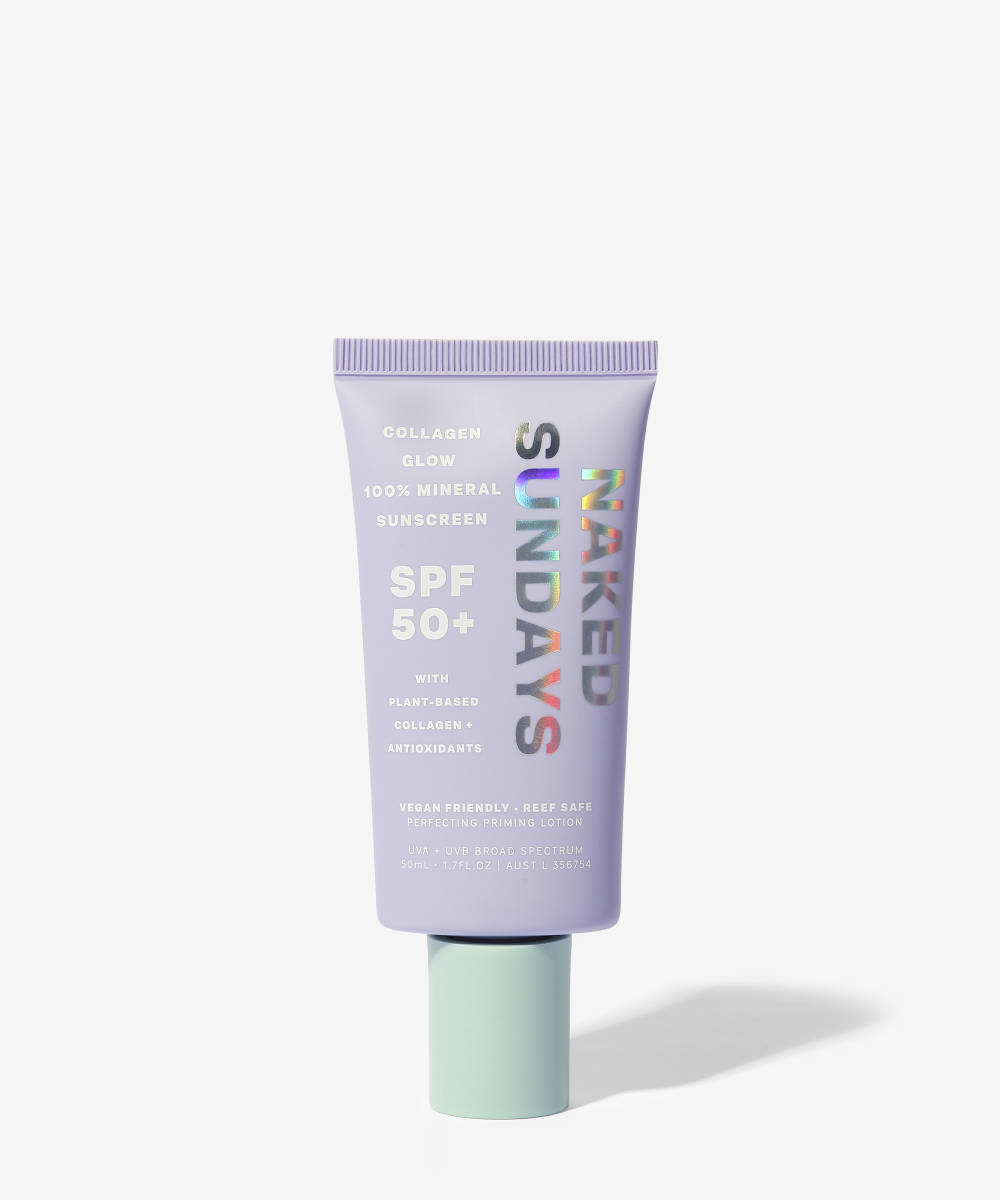 This award-winning 100% Mineral SPF is a mineral unlike any other! With zero white cast (thanks to a unique blend of iron oxides), packed with vegan collagen it helps blur pores and fine lines. Thicker than a traditional sunscreen thanks to zinc filters, it's 100% natural so ideal for sensitive skin.
Why we love it: Perfect as a primer for under makeup, or on its own it will give you the most flawless finish! Plus helps protect against blue light damage.
SPF50 CLEAR GLOW RADIANT SUN SERUM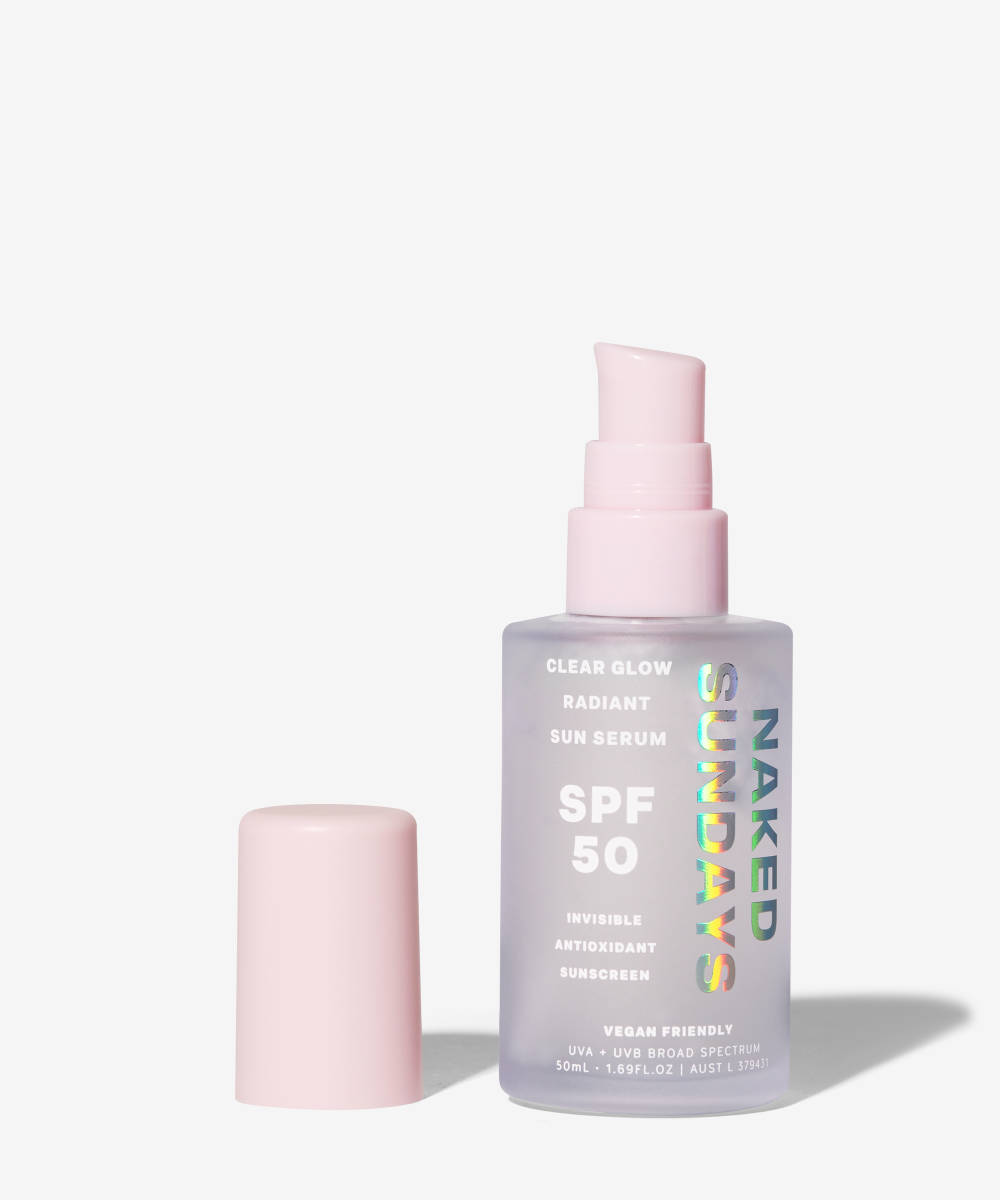 This is a multi-tasking SPF50 serum that is 100% invisible! Doesn't feel, look or smell like a sunscreen, this antioxidant-packed serum means you won't need anything else in the morning. Packed with vitamin C, tomato extract, squalane for extra hydration and watermelon extract, this serum dries down in 5 seconds flat for a satin finish.
Why we love it: It means you need only one product in the morning and is in place of your serum, moisturiser, SPF and vitamin C. For the busy gal on the run, this one is for you!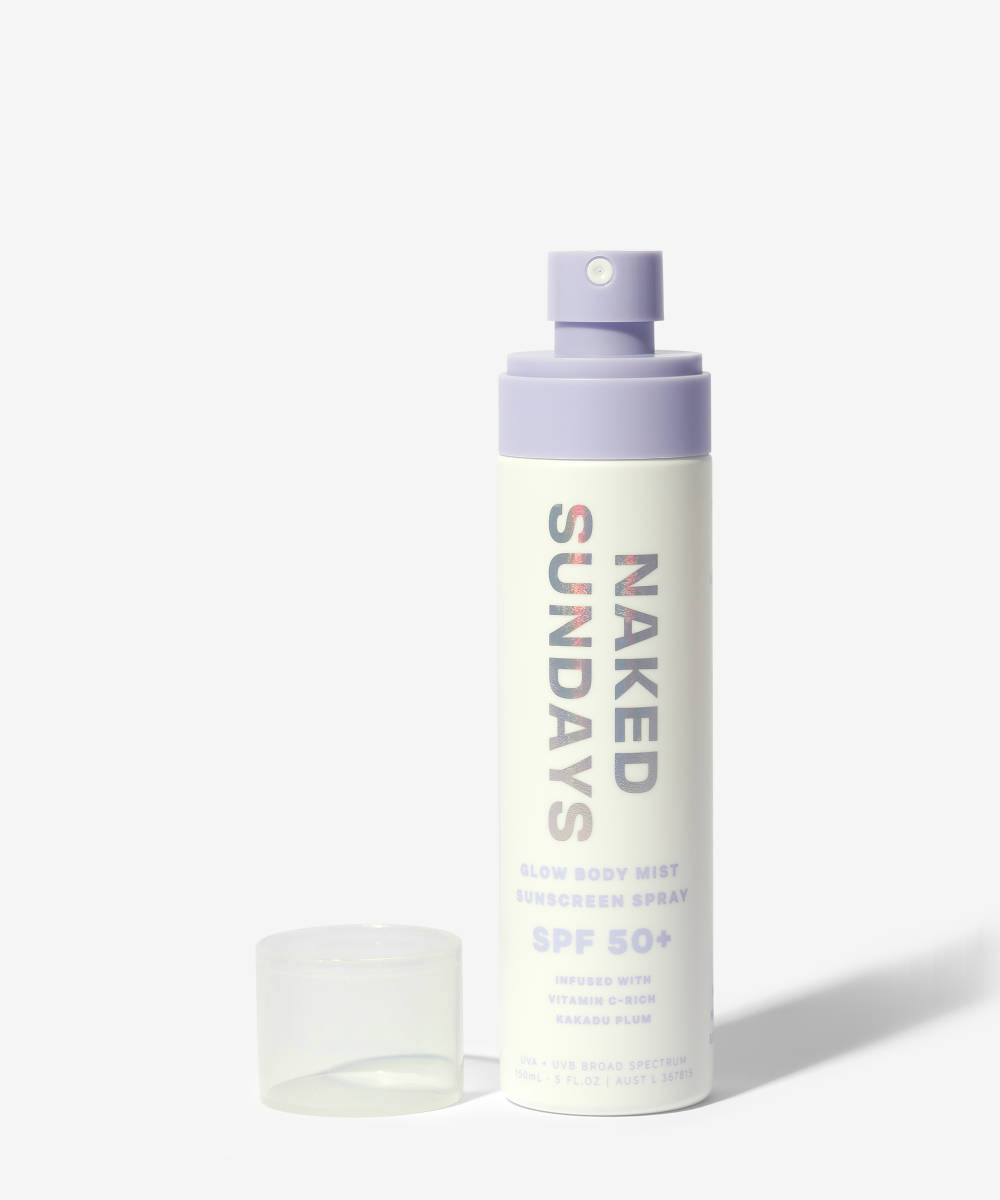 A body moisturiser and SPF50+ Body Mist in one! This body mist with leave your limbs glowy, hydrated and infused with antioxidants like vitamin C (from kakadu plum) and lycopene from watermelon extract. Spritz on the go too for double protected limbs all day long!
Why we love it: Non-sticky, non greasy and zero whitecast. Plus simple to use and can be sprayed on the limbs of kids and boyfriends … anyone who hates sunscreen will love this!