Scalp care may seem to be a new beauty trend but professional haircare brands like Philip Kingsley have long since been raving about the benefits of looking after your scalp in order to achieve your hair goals. We spoke to consultant trichologist (hair and scalp expert) Lisa Caddy to get to grips with the science of hair and scalp health.
What does your job involve?
My job straddles a few areas! I'm the educator for Philip Kingsley and pre-pandemic I travelled globally, educating our distributor partners and international retailers all about our brand philosophy, products, and about trichology. These days it's more Zoom than planes! I'm also a qualified consultant Trichologist and so I have private appointments with clients in our Mayfair clinic. They come to see us for all sorts of problems with their hair or scalp – sometimes its just a hair MOT to make sure they're doing all the right things for their hair to keep it in tip top condition.
What are the most common hair or scalp concerns your clients have?
The most common hair loss condition is probably one called telogen effluvium, otherwise known as excessing hair shedding. This can be quite scary for clients as you often see a significant amount of hair fall out when you shampoo and brush, but it's actually one of the best type of hair loss conditions to have as it's temporary so the hair does return. Seborrhoeic eczema is a really common scalp condition. It causes flaking and itching to the scalp and is often confused with a dry scalp but its actually an oily condition. It's relatively easy to treat with anti-microbial ingredients in products such as our Flaky Itchy Scalp range but frequent shampooing is one the best ways to help alleviate it.
What are your top pieces of hair advice?
One of the best thing you can do for your hair and scalp is to shampoo frequently. It cleanses the scalp of dead skin, sweat, oil, pollution, and provides a healthier scalp environment for hair to grow optimally. Eating a balanced diet which includes plenty of first class proteins is also essential. Hair is made of protein and it's important to include it with every meal to ensure your hair is good quality, strong, shiny, and healthy.
What hair myths would you like to debunk?
The first is the myth that hair will self-clean! Treat your scalp like your face, we know our facial skin doesn't self-clean, dirt just builds if we don't wash our faces and our scalp is just an extension of our face.
Another common one is that trimming hair encourages growth. Trimming the ends of the hair will not help it to grow. Hair grows from the roots not the tips (like grass does!) and so what we do to the ends won't influence the hair cell division in the hair follicle.
How important is lifestyle in hair and scalp health?
The hair is a very good barometer of our general health as it's often the first to change when we've been unwell or are under the weather. As trichology is a holistic approach to hair and scalp health, it encompasses not only cosmetic products but also diet, lifestyle, general health, and medications. Therefore, lifestyle is particularly important as this influences what we eat, how much we exercise, and stress levels – which all impact the hair. Paying attention to these things, managing stress, and incorporating mindfulness or meditation into our daily routine can benefit the hair in numerous ways.
What is the Philip Kingsley approach to hair and scalp care?
Philip Kingsley's approach to hair and scalp care is based on science. The scalp is the bedrock of hair growth and therefore our scalp health can help or hinder our hair. Prioritising scalp health (for example using a pre-shampoo treatment) can optimise hair growth, condition, and quality. My number one tip for having a healthy scalp is to shampoo frequently!
What is the purpose of a pre-shampoo treatment?
Pre-shampoo treatments such as those found in our new Pre-Shampoo Treatment Bundle are supercharged cocktails of ingredients formulated to treat specific hair concerns. A new step in your hair care regime; they are applied to damp hair prior to shampooing and left to absorb for a timed application— ranging from five to twenty minutes. They combat individual hair issues such as dullness, dryness, or damage, and perform a job unlike any other step within your hair care routine. Every hair texture can benefit, even the finest of hair types. Plus, using a pre-shampoo treatment actually enhances the performance of products within your existing hair care routine, without the need to switch up your favourite shampoo, conditioner, or styling products — making it the perfect addition.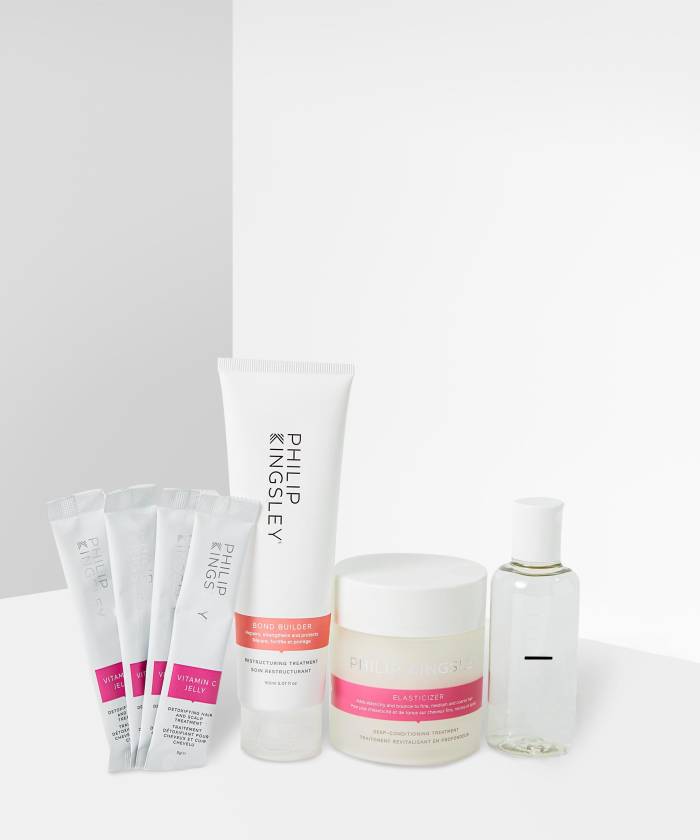 Which products are in the bundle?
There are three powerful pre-shampoo treatments in this bundle, each targeting a different concern:
This is your once a week deep-conditioning treatment, suitable for all hair textures and conditions, but particularly dry hair. It delivers an intense surge of moisture, helping to recover softness and movement, and improve elasticity and strength.
This is a detoxifying, powder-to-jelly pre-shampoo treatment for the hair and scalp, used to deeply cleanse and remove impurities caused by hard water minerals, pollution and product build-up. I recommend to use at least twice a month to remove any impurities or product build up, maybe more if you are travelling in a city. It's suitable for all hair textures and/or scalps experiencing build up.
The perfect additional step if you regularly use heat styling tools or chemically process your hair and experience broken, split ends and damage. I recommend to use this intensive treatment at least once a week, alongside Elasticizer, for best results of less breakage, improved strength, sharper ends and definition.