TikTok has quickly replaced Instagram as the go-to place to discover new beauty products, tips, dupes, and trends. From makeup transformations to breakout treatments, everything has the potential to be a viral sensation on the app. Plenty of BEAUTY BAY products have shot to instant fame (and sold out straight away!) thanks to TikTok, and we've made our fair share of beauty discoveries after getting stuck into the cycle of endless scrolling.
Read on to discover Senior Executive – Trend Forecasting & Campaign Planning, Alex's latest TikTok beauty find…
The Ordinary AHA/BHA Peeling Solution is SERIOUS skincare. TikTokers are obsessed with its pore-unclogging and acne-scar-clearing powers, but be warned: this solution is strong. My skin type is very oily and non-sensitive, which is why this product is a total match for me because I can handle strong acids and my pores get clogged easily. Multiple acids in The Ordinary AHA/BHA Peeling Solution help to exfoliate away dry skin and bacteria that can lead to breakouts – think of it as a deep clean for your face.
Used in the right way, The Ordinary AHA/BHA Peeling Solution will be your next skincare fave – it's viral for a reason! TikTok is going wild for this blood-red, super effective product, there are some tips to keep in mind and be aware of if you're going to give it a try.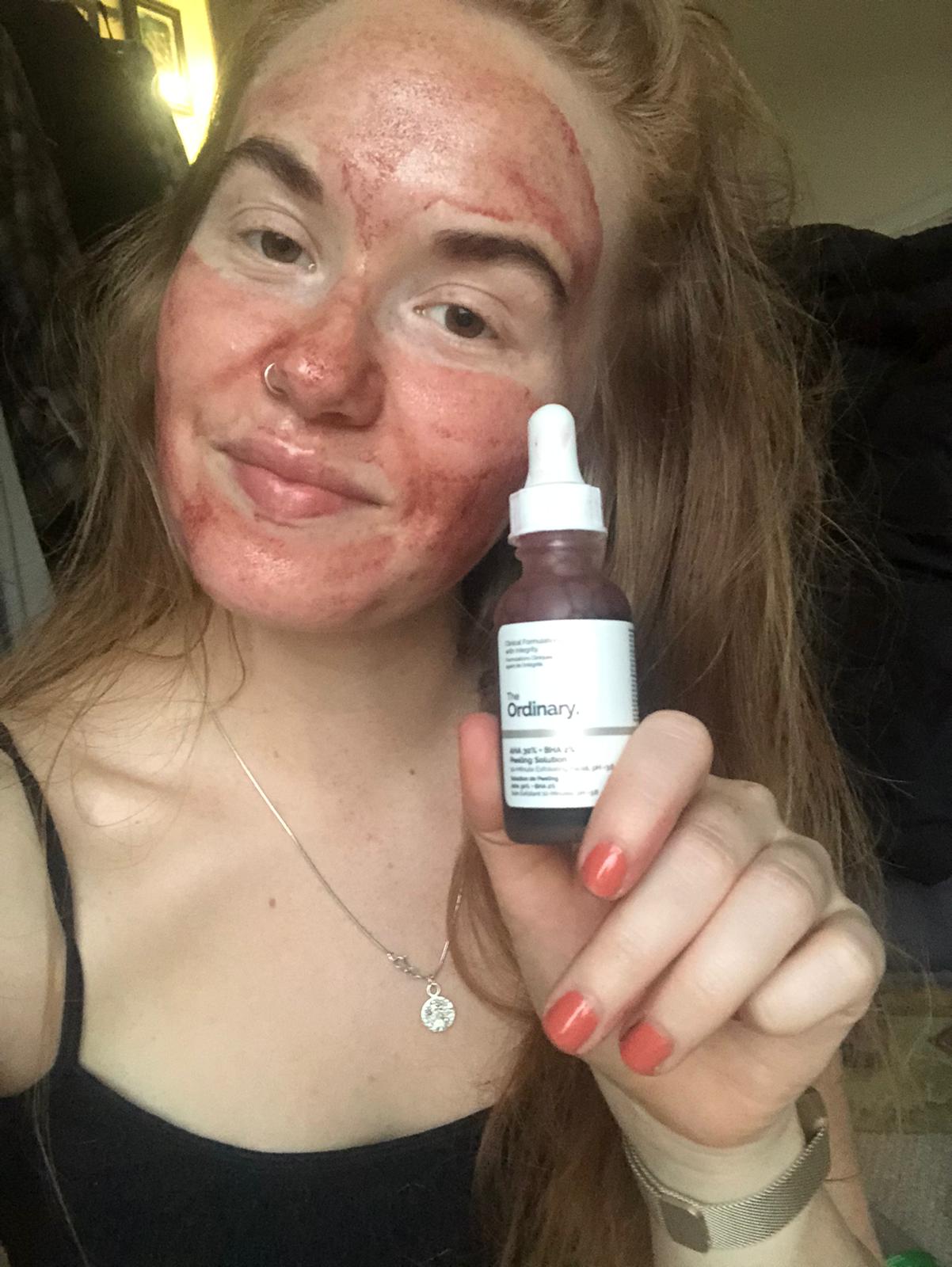 What is The Ordinary AHA/BHA Peeling Solution?
The Ordinary AHA/BHA Peeling Solution is an acid exfoliant, that treats the top layer of your skin revealing a brighter and clearer complexion. AHAs are naturally occurring acids that are more gentle to skin. BHAs go deeper into skin and are primarily used for sun-damage and acne. Basically, this product has a LOT of acids which is why your face will feel tingly when you apply it.
How does The Ordinary AHA/BHA Peeling Solution work?
When applied to skin, the different acids in The Ordinary AHA/BHA Peeling Solution work to exfoliate the top layer of the skin, while also penetrating more deeply into pores to clear congestion. Apply the product to freshly cleansed skin and wait up to 10 minutes max (we really mean it – don't leave this on your face for more than 10 minutes), then rinse off with warm water.
Here are some of the top tips we've learned from TikTok for using The Ordinary AHA/BHA Peeling Solution:
– Cleanse first to wash off any dirt and makeup. If your face is cleansed, then the product will work better on your skin.
– Use a balm on your lips and around your eyes or any sensitive areas first, to protect them from the super-strong acids.
– Mositurise straight after. These acids are technically an irritant, so your face will be ready for a little TLC.
– Don't use a vitamin C or retinod with this mask. This product contains strong ingredients, so don't mix with your other high-powered heroes.
– Use an SPF straight after if you're going outside, or stick to using this product at night.
– Before you use this product, try a patch test to see how your skin reacts before putting it all over your face.
– This product is not for sensitive skin or damaged skin. Stick to gentler acids like lactic or hyaluronic.
– Don't leave on for longer than 10 minutes. Seriously don't do it. You also don't need to leave the solution on for a full 10 minutes if your skin doesn't need it or is starting to feel very irritated.
– Use once or twice a week only. It's strong stuff, so once or twice will do the job.
– Apply a thin layer. Don't waste product and don't overload your skin.