Instagram might make contouring look super easy, but if you're not clued up, when it comes to perfectly sculpting the angles of your face one small slip-up can ruin the results in a single brush stroke…
There are also a lot of miscommunications around contouring – for example, did you know you should never use a bronzer to contour? Or that you need both light and dark shades to contour properly? That's right, contouring is when you use matte products that are both slightly darker and slightly lighter than your base to shade areas in order to tweak their shape. The light shade offsets the dark by creating a contrast.
Below are a few handy techniques, charts, tips, and product recommendations to help you contour like a pro.
1. Start by applying your foundation and concealer as normal.
2. To create chiseled cheekbones, suck in your cheeks and start by applying product into the hollow and as close to the hairline as possible (near the top of your ear). Follow the hollow downwards and inwards until it's in-line with the corner of your mouth, before blending well so there are no harsh lines.
3. To emphasise the contour, apply highlighter onto the tops of the cheekbones directly above and in line with the contour to create an angular effect. Blend from the corner of your eye to the centre of your cheek.
4. To contour your forehead for a slimming effect, apply contour shade to your temples and blend up into your hairline, then apply highlighter to the top centre of your forehead to bring it forward.
5. To contour your nose (which also has a slimming effect), use a cream or stick product and dot contour down each side of your nose then blend well. Then dot highlighter down the bridge of your nose from between your brows to the tip before lightly blending.
6. Once you've finished contouring, complete the rest of your makeup routine – blusher, bronzer, and setting powder should always come after contouring.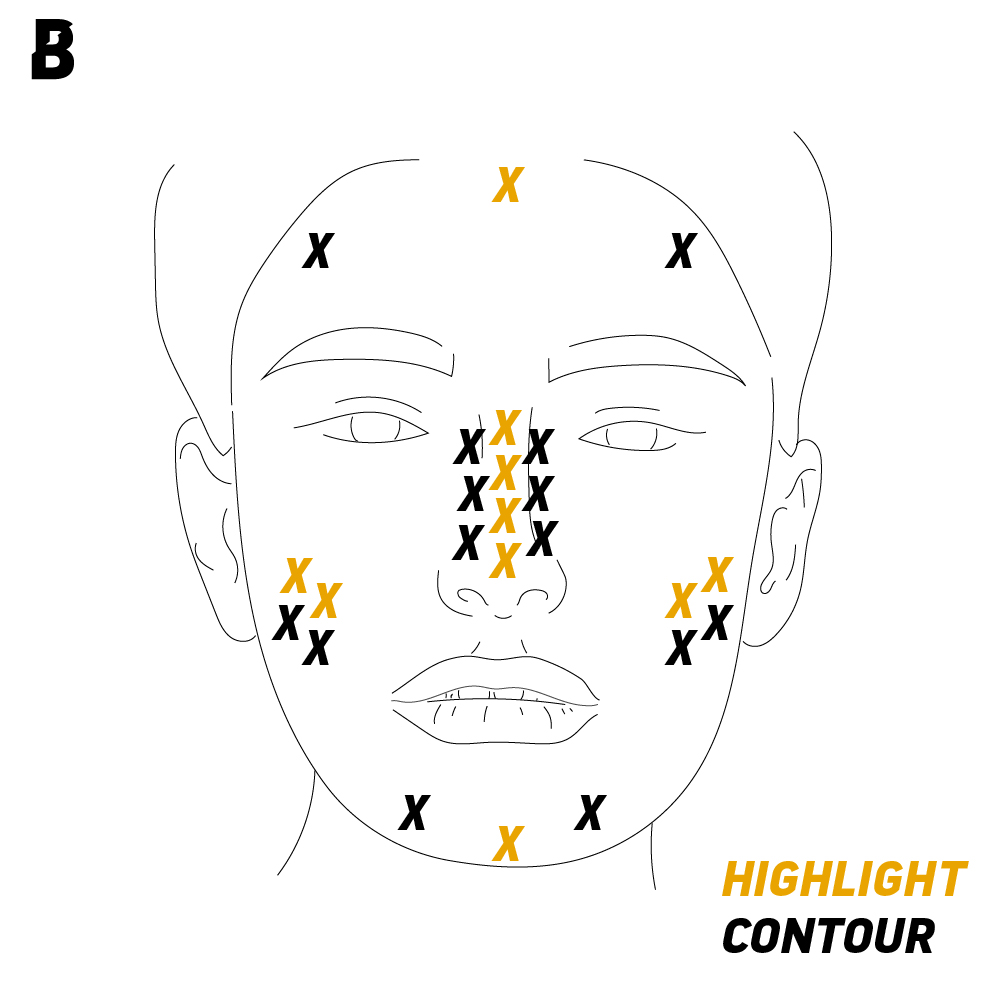 – As a rough guide, choose a contour shade around 2-3 shades darker than your base and a highlighter shade around 1-2 shades lighter.
– Whether you have dark or fair skin, it's important to choose shades with cool undertones to create a more realistic looking contour.
– If using stick products, the easiest way to apply is to sketch small 'X's then blend them together, but if using a powder, use a tapered brush to apply product in a line before blending.
– You don't have to use a highlighter to highlight – a light concealer is ideal for creating a more angular effect. Likewise, you can use a darker shade of foundation or concealer to contour.
– When blending, use upward strokes, as your aim is to lift contours, not drag them down.
Pro-MUAs love this product because it creates such a convincing shadow effect – it has ashy, taupe undertones which realistically contours without an orange tinge.
Sticks are easy to handle and creams are easy to blend, so this is great if you're new to contouring. The silky texture melts into skin for a natural but buildable effect.
Using the right brush can make all the difference – this has a tightly tapered head which is the perfect size and shape for blending product into the hollows of your face.