You've seen the palette, it's featured in all of your favourite influencers Instagram's and now it's time to finally make it yours – Me, Myself & MMMMitchell has launched at BEAUTY BAY. We've been partners for years and we decided it was time to take it to the next level and create a collaboration. @mmmmitchell has worked tirelessly to be the self-made success that he is today as an international MUA, and this collaboration is the next step on his incredible journey. This is more than just a palette, it's the opportunity for you to try out new looks with an unreal formula, next level shade range and it's here to help you realise your potential and start your own makeup journey. It's Mitchell's baby, and he's been in it every step of the way. Get yours now and you'll be just as obsessed as we are.
"So for me, this palette is more than just a palette. It's not just pressed pigments and it's not just something you put on your eye. It's really just a symbolisation of everything that I have been working on for the past couple of years. BEAUTY BAY and I have such an amazing relationship and this has been the cherry on top of everything, especially now we have seen the incredible response from it." – @mmmmitchell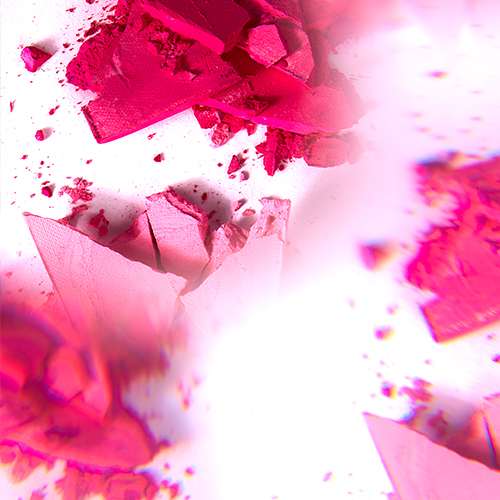 This is a pressed pigment palette and there is so much you can do with it, not just put it on your eyes. Each butter-soft shade has next level pigment payoff and blends like a dream for a seamless finish. Eyeshadow? Yes. Blush? Yes. Highlighter? Yes. Place the pigments exactly where you want them and run wild with this palette. The all-new matte formula is incredibly light, making it perfect for layering and blending without feeling heavy or creasing. The signature BEAUTY BAY shimmer formula has been pressed lighter, meaning the metallic effect is so much more blinding. AND the pans are bigger than average – who says you can't have quality and quantity.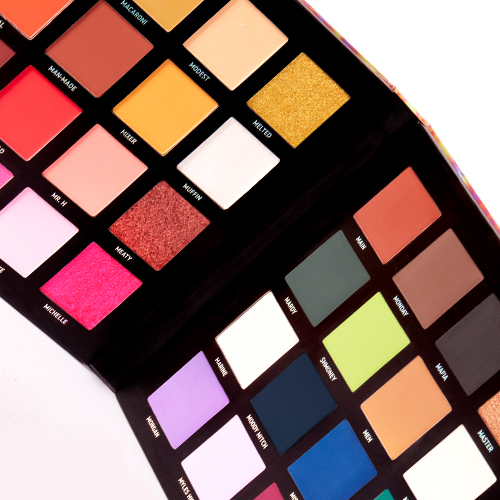 This isn't your average rainbow palette. Filled with 32 shades (24 mattes and 8 shimmers), this palette has everything you could ever need. One side is bright and bold and the other is neutral and unusual. Each row features a harmonious colour family of three mattes and one shimmer pigment that work together and complement each other, but this doesn't mean that you can't have creative freedom and mix all the colours in the palette. These shades will blend, transition, pop and mix – whatever your vibe, you need this palette. To make it personal, each shade name begins with an M and has a sentimental reason to Mitchell.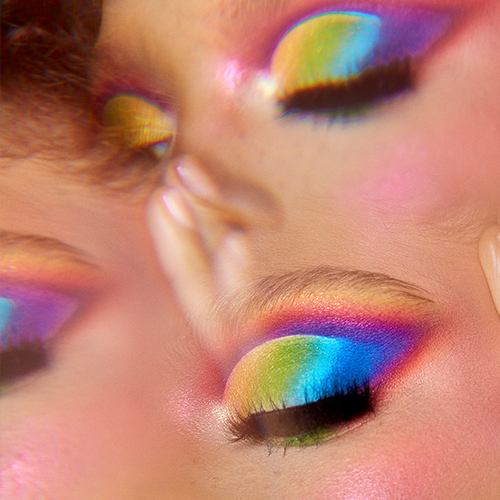 Take a step inside Mitchell's mind. It's a crazy world filled with fun, family and the future. We've never seen a palette design like it. The psychedelic and holographic cover represents Mitchell's journey from Manchester to LA and all the people who have helped him grow into the artist that he is today. The Manchester skyline and LA vibes feature personal references that are close to Mitchell's heart…see if you can spot baby Mitchell! The palette opens up like a book, as Mitchell's work is all about educating and teaching people to help them realise and explore their makeup potential. Something that makes this palette truly unique is the removable, magnetic mirror, making it perfect for on-the-go application – this is the only palette you need to travel with. Oh, and the plastic protective sheets are resealable. Messy palette? Never heard of her.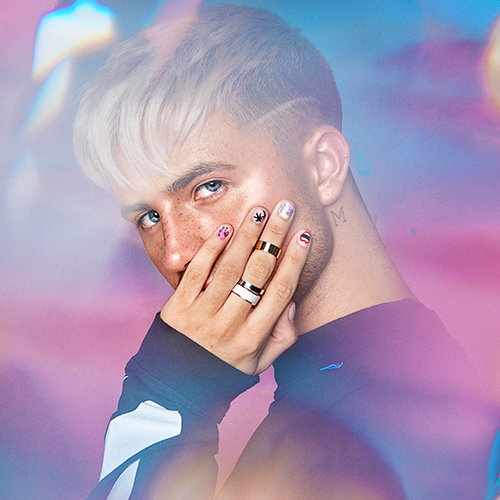 After three years of working side by side, it only felt natural that BEAUTY BAY and MMMMitchell collaborated on something we knew you would want to get your hands on. For Mitchell, it was so important that this wasn't just 'another' palette. He wanted it to be different and to become a staple in everybody's kits, no matter if you are a professional MUA or just love doing your own makeup. It's a symbolisation of everything that he has been working on to get to where he is today. The inspo comes from all of his knowledge as an MUA, his individuality and his passion to share his love for makeup with his followers. Mitchell has been at the centre of this palette every step of the way – from shade choice and formulation, to the design and of course, the makeup looks.